THE PINT-SIZED FOODIE: An introduction to Firebirds Wood Fired Grill
The latest from our kid food critic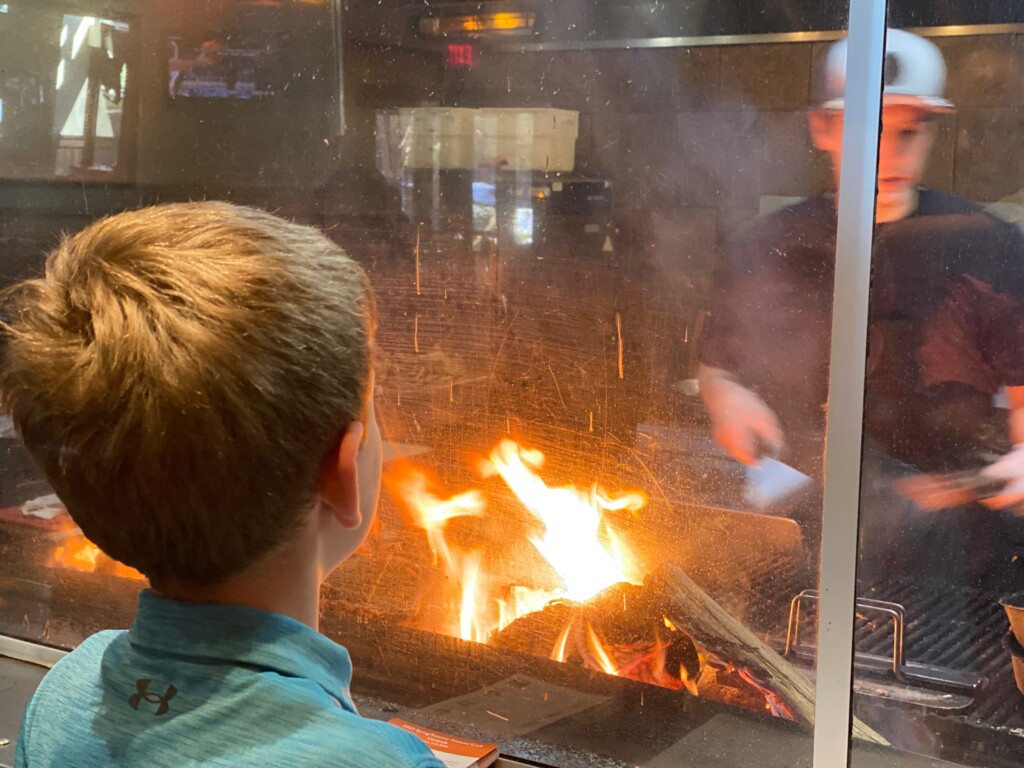 Each month, our 9-year-old resident foodie visits a different Charlotte-area restaurant that's kid-friendly—but not a kid-topia. He orders something he's never tried before and reports back with his recommendations for kids and their parents. Here is his review of Firebirds in SouthPark.
What we ordered:
First we got the Bacon Deviled Eggs ($10.95) and the Smoked Chicken Wings ($16.95). Since we went on the weekend, they let us order off the brunch or lunch menu. I wanted lunch food, so I got the Firebirds Chicken Pasta ($16.95) with a Caesar Salad ($9.95). Mommy got the Shrimp & Grits ($18.50), Daddy got Grilled Salmon Salad ($17.95), and my sister got Kids' Mac & Cheese ($8.50) with fries and fruit. (Editor's note: Brunch is available Saturday and Sunday beginning at 11 a.m.)
How it works:
It's a sit-down restaurant where they take your order at the table. Kids get a pack of crayons and a paper menu you can draw on. The menu is fun cuz it's got mazes and word searches, plus a picture of a kid you can read about that has cancer. On the back you can check what you want to order with a crayon. Oh, and the money for the lemonade goes to help kids with cancer, I think. (Editor's note: Firebirds donates $1.25 for each cup of lemonade sold to Alex's Lemonade Stand Foundation, which has raised more than $250 million for childhood cancer.)
Why I liked it:
The food was all really good, especially the candy bacon on top of the deviled eggs. The manager was super nice, too. She gave me and my sister T-shirts that look like chef's coats and let us look at the kitchen through the glass wall.
What I didn't like:
Ummmm, maybe just that my caesar salad was so big? I didn't save much room for my pasta.
What I tried for the first time:
I never had that pasta before. It had chicken and bacon and tomatoes and the sauce was kinda spicy. Our waitress said she could make it not so spicy for me—I don't think she believed me that I like my food so spicy!
Why other kids should try it:
I think kids would like the kids' menu cuz you can check whatever you want with a crayon, and that lemonade helps kids with cancer get better. It's also really good lemonade.
What I liked best:
I liked getting to see all the cooks in the kitchen through that big glass window. They had stools set up so kids can come watch.
Why parents will like it:
It's got a lot of food grown-ups like…salads and burgers and pasta and steaks, plus a kids' menu that keeps us occupied. Mommy wanted us to read the stories about the kids with cancer—hey, we should have counted that for my reading homework!
Why I would come back:
Dessert! Next time I won't eat so much caesar salad so I can order that big chocolate brownie with ice cream.