THE PINT-SIZED FOODIE: An introduction to Fat Cat Burgers + Bakeshop
The latest from our kid food critic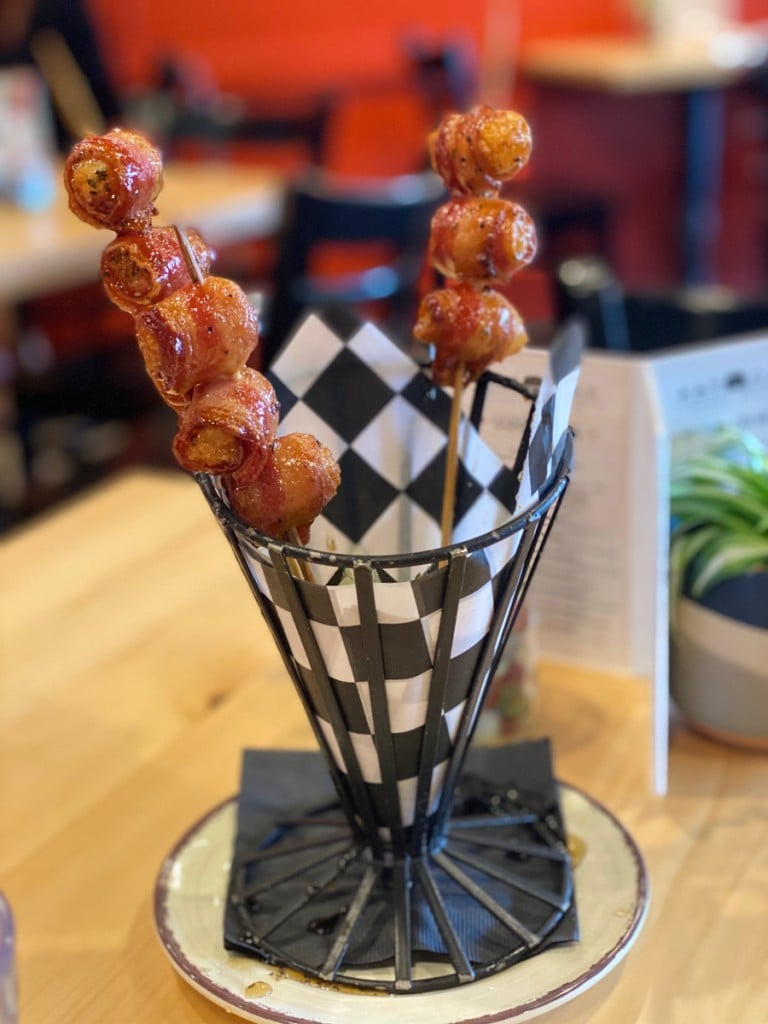 Each month, our 8-year-old resident foodie visits a different Charlotte-area restaurant that's kid-friendly—but not a kid-topia. He orders something he's never tried before and reports back with his recommendations for kids and their parents. Here is his review of Fat Cat Burgers + Bakeshop in Dilworth:
What we ordered:
First we got the Bacon-Wrapped Tater Tots ($9) and the House Soft Pretzel ($7). I got that spicy sandwich with the honey (read: Hellacious Honey, $13) and waffle fries. Mommy got that burger with the cheese and onions (read: New American, $14) and crinkle fries. We also got a Chocolate Sprinkle Donut to take home.
How it works:
You can eat inside the restaurant or outside on the patio if you're there for lunch or dinner. If you just come for breakfast or a treat, you can walk up to the donut window outside. We had lunch inside, so the waitress came and took our order at the table.
Why I liked it:
I liked how you can pick all the stuff for your own burger or sandwich. Like, I got a pretzel roll with my sandwich and I picked the crispy chicken instead of the regular hamburger. Mommy picked lamb for her burger and got it on a potato roll. (Editor's note: lamb is an additional $2) Also, the food showed up pretty fast.
What I didn't like:
That you wouldn't let me eat my donut first!
What I tried for the first time:
Um, that hell-ish (read: Hellacious) sandwich. It was pretty good with the spicy honey and bacon. Bacon's good on anything.
Why other kids should try it:
The Bacon-Wrapped Tater Tots are like two kid foods in one, and they're super fun to eat cuz they're on a skewer! Also, the soft pretzel with the cheese dip—I think every kid would dig that.
What I liked best:
Some of the sandwiches were huuuuge! Like that one, I think it was called the Fat Franny? They ordered it at the table next to us. I was like, holy flip! It had donuts instead of a hamburger bun!
Why parents will like it:
They have a bar where parents can order wine and beer. Also, you can buy loaves of bread and scones and stuff at the bakery to bring home.
Why I would come back:
The donut window! But we gotta come earlier next time, Mommy, before all the good ones are gone.