THE PINT-SIZED FOODIE: An introduction to Easy Like Sunday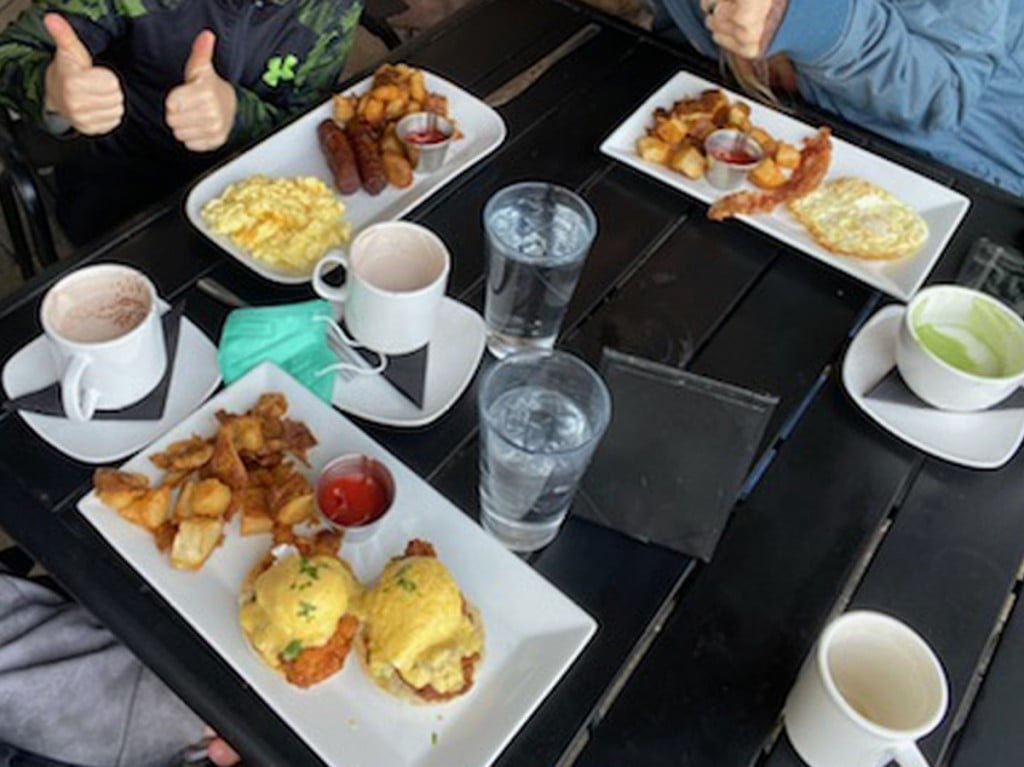 Each month, our 8-year-old resident foodie visits a different Charlotte-area restaurant that's kid-friendly—but not a kid-topia. He orders something he's never tried before and reports back with his recommendations for kids and their parents. Here is his review of Easy Like Sunday:
What we ordered:
Me and my Aunt Lindsey went halfsies on some French Toast ($11.95) and A Bit of Everything ($14.95), which is, like, a gi-normous plate where they let you pick whatever you want. So I picked scrambled cheesy eggs, potatoes, and chicken sausage. Uncle Whit got Fried Chicken Eggs Benedict ($14.95) with potatoes. And I got a cup of hot chocolate ($3.95).
How it works:
You can sit inside or outside, but most of the inside tables were already taken so we sat outside. It was kind of cold out, but they have those space heaters set up so it wasn't so bad.
Why I liked it:
Because I love breakfast food! And Uncle Whit let me drink one of those little packs of syrup.
What I didn't like:
We had to wait a few minutes for a table even though we got there right when they opened. Maybe Sunday's their busiest day because that's in the name of the restaurant.
What I tried for the first time:
I never had that thing Uncle Whit got (read: eggs Benedict) before and I liked the fried chicken they put on it.
Why other kids should try it:
I think most kids like breakfast food. They have huuuuge pancakes and French toast and stuff, and the hot chocolate's really good.
What I liked best:
That big plate where you can try a bunch of everything.
Why parents will like it:
They have lots of tea and coffee and that green drink Aunt Lindsey always gets (read: matcha latte).
Why I would come back:
Next time I want to come at night and have breakfast for dinner since they stay open for dinner. —T.B.