THE PINT-SIZED FOODIE: An introduction to Calle Sol
The latest from our kid food critic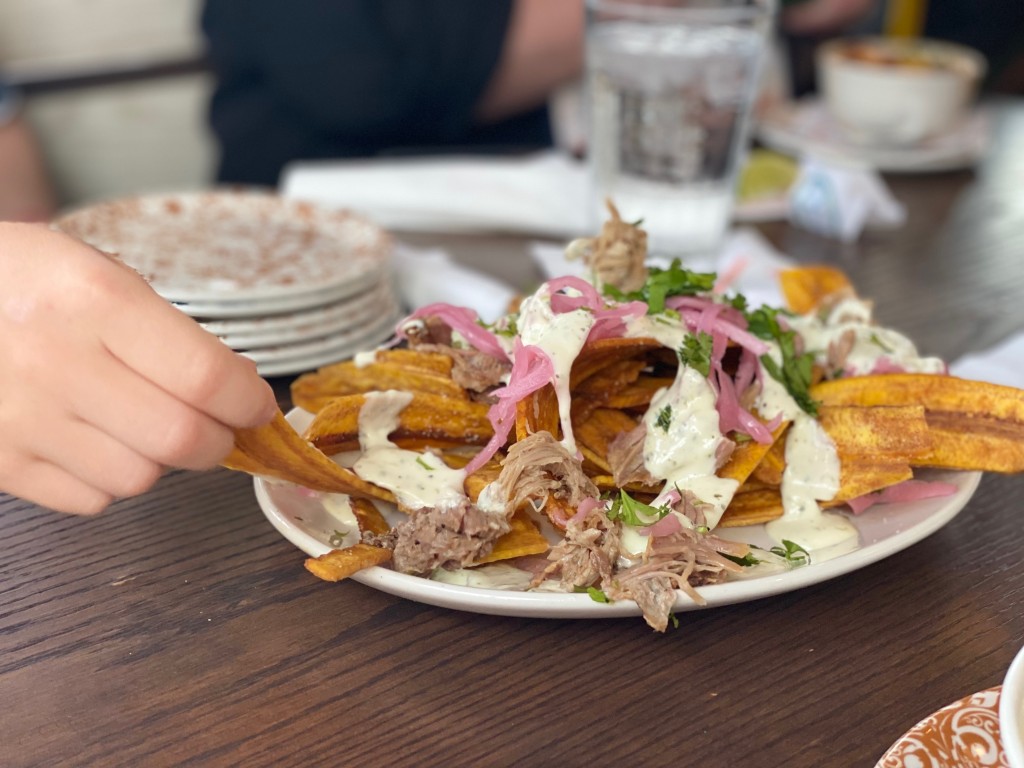 Each month, our 8-year-old resident foodie visits a different Charlotte-area restaurant that's kid-friendly—but not a kid-topia. He orders something he's never tried before and reports back with his recommendations for kids and their parents. Here is his review of Calle Sol in Plaza Midwood:
What we ordered:
We got Mariquitas Nachos ($9) and the Classic Ceviche ($17) for our appetizers. I got Shrimp Chaufa ($13), my sister got the Buttered Noodles ($5), Mommy got Shrimp Mojo ($18), and Daddy got Vaca Frita ($15). (Editor's note: the Pint-Sized Foodie had help with pronunciation and spelling of these dishes)
How it works:
It's like a normal restaurant where you sit at a table and they take your order, but there's also a window outside where you can grab your food to go if you order it on your phone.
Why I liked it:
They give kids paper menus and crayons so you can color and play tic-tac-toe while you wait, but your food comes out pretty fast. I like the food cuz it's kind of like Mexican food but also kind of like Chinese with the noodles and rice. And I love fish and ceviche!
What I didn't like:
We had to wait forever for a table and me and my sister were starving. Mommy finally went to the walk-up window to order us some Sprite since it was taking so long. (Editor's note: if you go on a Saturday night with hangry children, make a reservation)
What I tried for the first time:
I never had nachos with those long crunchy banana chips (read: fried green plantain chips), but they were soooo good! And I really liked my shrimp noodles—I couldn't finish it, so I brought the rest home to finish later.
Why other kids should try it:
I think a lot of kids would like the nachos with those banana chips, and they have a plate of French fries with chopped up hot dog on top (Editor's note: the Salchipapa is a plate of Peruvian fries topped with crispy hot dog, a fried egg, ketchup, aji amarillo mayonnaise, and cilantro aioli). We didn't order that, but it looked really good. And there's a kid's menu with like, nuggets and butter noodles if you're picky like my sister.
What I liked best:
Ummmm…everything?
Why parents will like it:
They had that grown-up lime drink you love, Mommy. What's that called again? (read: mojito) And I think most parents would like this kind of food cuz it's a little different than most Mexican restaurants.
Why I would come back:
I want to try those French fries with the hot dog pieces next time.