The Pint-Sized Foodie: A Visit to Blacow Burger
The latest from our kid food critic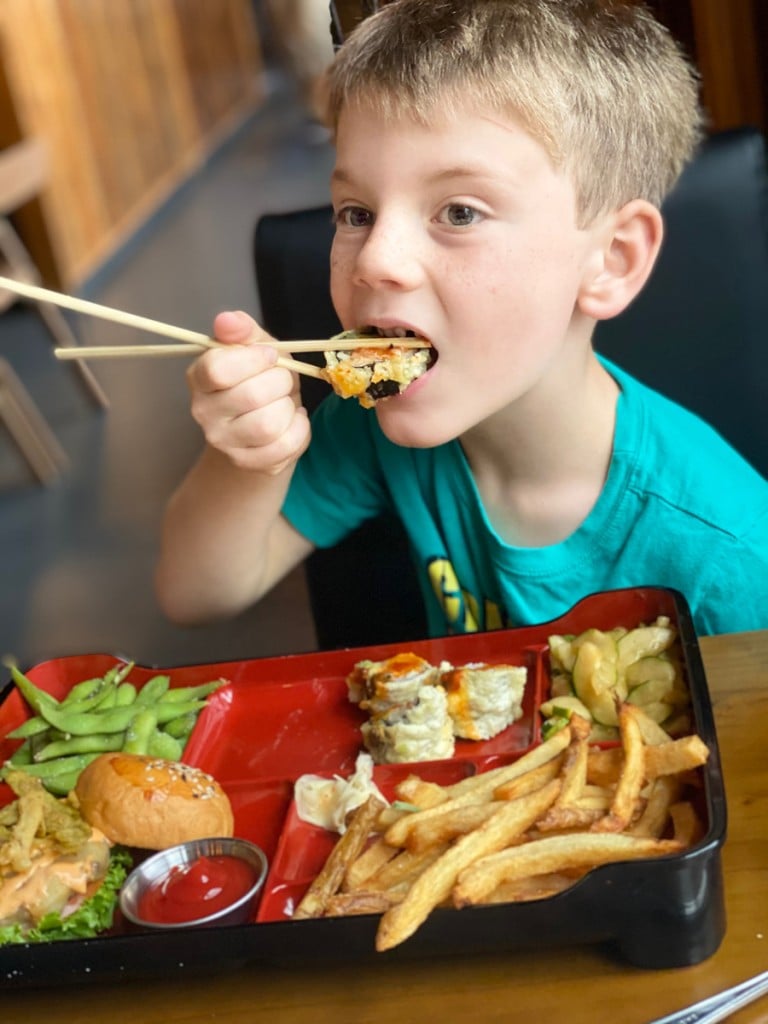 Each month, our 7-year-old resident foodie visits a different Charlotte-area restaurant that's kid-friendly—but not a kid-topia. He orders something he's never tried before and reports back with his recommendations for kids and their parents. Here is his review of Blacow Burger in South End:
What we ordered:
I got the Bento Box ($15) so I could try lots of stuff. It looked like a lunch box only way better than the ones Mommy packs for school. My sister got the chicken tenders ($6.50) from the kids' menu and Mommy got the Nutty Goat burger ($12) with Brussels sprouts (+$2 to substitute sides).
Why I liked it:
The Bento Box was really good; it had French fries, edamame, and cucumbers, and I got to pick what kind of burger and sushi rolls I wanted. I picked the Flaming Cow for my burger and the Spicy Girl sushi rolls because I like spicy stuff—the waitress never believes me! The sushi rolls were my favorite—they were crunchy on the outside (read: tempura) and really big but I still got one all in my mouth with my chopsticks! And popping edamame beans into my mouth is fun. Oh! Aaaaaand there were TVs on the walls so I got to watch the Panthers!
What I didn't like:
The burger was OK but I didn't finish it—it had too much mayonnaise—and I didn't like the cucumber stuff (read: Thai cucumber) so much.
What I tried for the first time:
Mommy got Brussels sprouts for her side since both me and my sister already had French fries. They were pretty good for a vegetable, but not as good as French fries.
Why other kids should come here:
There's sushi AND burgers! I didn't know you could get both in the same restaurant but you can. If kids don't like sushi, there's hot dogs and grilled cheese and stuff on the kids' menu. Plus you can watch sports on the TVs.
What I liked best:
The sushi rolls!
Why parents will like it:
There's kid food and grown-up food. And they can watch sports.
Why I would come back:
For the sushi. And I like coming to South End because we can hunt for murals after.—T.B.