Taking Care of Kids' Teeth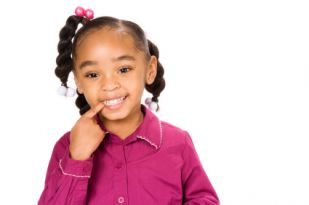 February is Dental Health Month, and thousands of children will receive visits at school from dentists and hygienists across the country. But what do parents need to know about keeping children's teeth healthy?
Lanita Brooks, an experienced dental hygienist, currently works with Dr. Evan G. Long in Concord. She helps children and their parents take good care of their teeth and gums. In a recent interview, she went beyond the basics of being sure to brush and avoiding too much candy. Here are the five things she said parents may not know about caring for kids' teeth and gums:
1. Skip the sugared cereal and fruit snacks. Even if it says "whole grain" or "vitamin enriched," sugar is one of the most prominent ingredients in many of these products, particularly those marketed to children. "I like to tell children that Dora and Scooby Doo are cartoon characters, they are not food," Brooks says.
2. Watch what they drink. Beyond avoiding soda, parents should be wary of fruit juice. It, too, is loaded with sugar. Even watered down juice has sugar that can feed bacteria in the mouth, especially if children are sipping it continually during the day.
3. Tea. As children get older, some parents give them tea (sweetened or unsweetened) as an alternative to soda. Even unsweetened tea can build up too much fluoride in a child's mouth, damaging their teeth.
4. Toothpaste. Don't use too much and don't get worried about the kind you use. Even if a child can't spit, the fluoride in small dab won't be harmful.
5. Get rid of the pacifier. Brooks (and Long, the dentist) recommend that parents take a pacifier from a child at about 6 months to avoid the possibility of developing a cross-bite or other distortions. "It may mean a couple of sleepless nights, but it's worth it," Brooks says.