Summer Arts Camps in Charlotte
You get alone time; your kid gets an arts education. Win-win.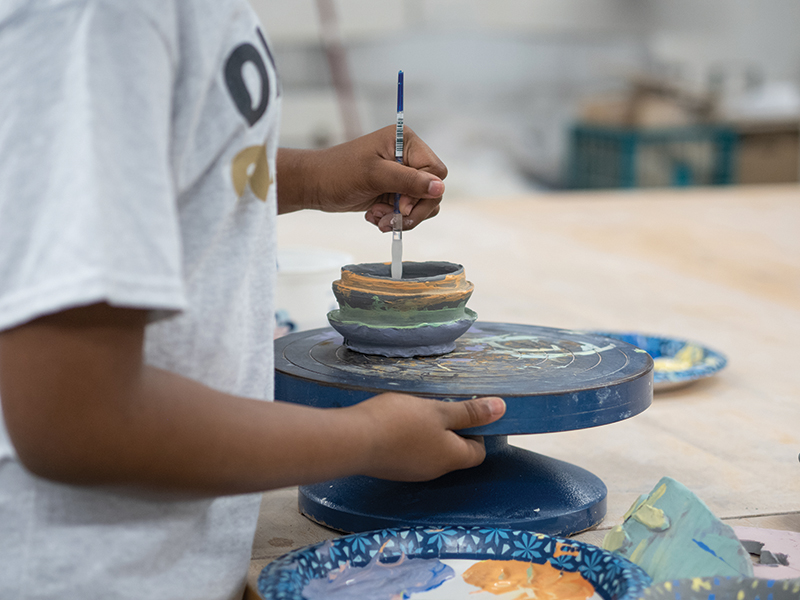 Gratefully, Charlotte is full of camps to keep the kids busy and productive this summer. Here is a sample of several camps offering unique arts opportunities for your budding artist.
Dates vary
Ages: 3-18
$185-$650
If your child doesn't have enough drama, Children's Theatre of Charlotte offers four levels of summer camps: Early Childhood, Primary, Performance, and Summer Teen Studios.
June 12-July 21
Grades: 6-12
$650
During a weeklong session of this summer camp hosted by Bold Music of Charlotte, students work with local professional musicians to write and record their own songs—and perform them at the Evening Muse in NoDa.
June 12-16 (additional sessions in July)
Ages: 8-14
$350
Send your kid off to the circus for a week to learn about aerial silks, aerial hammocks, static trapeze, acrobatics, and more.
Dates vary
Ages: 7-16
$185
Try courses Fashion 101, Watercolor, Drawing Fundamentals, Digital Illustration, Adventures in Printmaking, Sketchbook + Creative Journaling, or Ceramics, all led by professional artists. Supplies for each camp are included in the cost.
Central Piedmont Community College Summer Camps
Beats and Jams: Digital Music Creators
June 20-23
Grades: 4-9
$235
Kids learn about music production by designing their own beats or remixing some of their favorite songs.
Clay Creations
June 26-29
Grades: 7-12
$350
They get their hands dirty, and you don't have to clean up. At Clay Creations, campers learn hand-building and wheel-throwing pottery techniques, as well as how to work with ceramic glazes and kilns.
Dates vary
Grades: 1-12
$250+
The university offers summer camps for all ages on topics like music, culinary arts, creative writing, musical theatre, anime, filmmaking, graphic design, and more.
Dates vary
Grades: PreK – 12
$300+
Kids will be led by professional artists and musicians to develop their skillset in their preferred medium.