Student Gardening Initiatives in the Queen City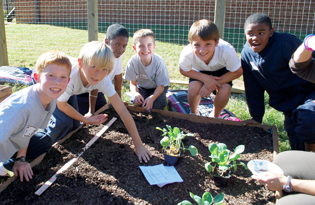 It doesn't take a high-profile example to educate children about the benefits of eating homegrown fruits and vegetables. As the gardening trend continues to gain momentum, student gardens are becoming more and more in vogue – and with good reason. Far beyond the White House, schools and communities are working together on garden projects; in fact, there are some student garden initiatives right here in the Queen City.
Harvesting Opportunities
At Trinity Episcopal School, students in every grade level get their hands dirty when it comes to the student garden.
While kindergarteners plant potatoes, first-graders plant pumpkins for a fall harvest. Second-graders are growing tomato plants hydroponically in the classroom while fourth-graders are nurturing seedlings on carts under grow lights. The middle grades are focused on a compost program, and all Trinity students are pitching in on the Native American "Three Sisters Garden" consisting of corn, beans and squash.
All efforts are part of the center city school's recent launch of a collaborative inner-city garden project with the mission of joining together and growing healthy, local food. The food serves recipients of Friendship Trays, a local nonprofit meals-on-wheels program, as well as residents of First Ward. Trinity kindergarteners play a key role in the initiative, going weekly to deliver trays to the elderly and sick.
As Mary Kluttz, assistant academic dean, explains, garden projects have long been an integral part of stewardship education at Trinity. "From vegetable barrels on our temporary deck, to the creation of the hummingbird and butterfly garden, the garden program has been tightly integrated into our curriculum in a hands-on, interdisciplinary manner, applying garden facets into science, math, language arts, social studies and art," she says. "Our gardens are an extension of our classrooms where active learning can occur."
Shamrock Gardens Elementary is another school that's tying a garden project not only into classroom learning but also into community partnerships. Friendship Trays is again the recipient of the harvest, and in this case, Shamrock relies on the organization to water and maintain the garden during the summer months. The children tend it throughout the school year. The harvest feeds Friendship Trays' recipients as well as the students.
"Our school is a Title 1 school, so many of our students fall below the poverty line," explains Bobbie Mabe, parent and PTA member. "When the students see the gardening process, they make better food choices later in life."
The Slow Food Charlotte organization helped initiate the Shamrock garden, along with parent volunteers like Mabe. The children recently harvested broccoli and held a broccoli party. Volunteers supplied dips to accompany the veggie and sparked conversations with the kids, including what they like to eat with broccoli and the different ways it can be cooked. Many children were surprised to find how much they like the cruciferous vegetable, says Mabe.
Shamrock's goal is full participation on the part of the student body, and for the garden to become a part of the daily learning curriculum. The kitchen cart helps make these goals a reality. Volunteers stock the cart with harvested produce and visit various classrooms. Then local chefs come to prepare foods, and everyone enjoys eating them together.
Future plans at Shamrock include the planting of fruit trees and a grape arbor, as fruit has been one of the most popular items harvested to date.
"The kids see me in the hall and say, 'Hey, Garden Lady, can I get some raspberries?'" says Mabe. "Instead of reading a book about the berries in science, I say, 'Let's go out and see how they grow. Let's plant them.'"
A Culinary Oasis
Foundation for the Carolinas offers Front Porch grants as a way to bridge people from different backgrounds and encourage them to work together on a common goal. It's fitting, then, that the organization awarded a Front Porch grant to St. Patrick's Catholic School and Brookstone School for their collaborative student garden.
After St. Patrick's held a book drive for Brookstone, the two schools held a get-to-know-you event. Rather than going separate ways upon completion of the events, the two schools decided to create a sustainable garden.
"We (as parents) decided we'd love for our kids to continue the friendships," explains Kathleen Smith, a parent leader at St. Patrick's. "The garden provided a place to work side by side, work on science lessons and learn about healthy eating. There are endless opportunities."
A chef from Haylcon Restaurant, whose goal it is to use as many fresh foods as possible, visited and whipped up bruschetta and gazpacho for the students, using ingredients from their garden.
"The chef melted the cheese on top of the baguette with a blow torch," recalls Smith. "He made it really exciting for them – and rewarding, as they were able to eat the vegetables that they grew."
Many of Brookstone's students live in what's known as a food desert, lacking adequate access to fresh fruits and vegetables. The garden exposes them to healthy eating choices, from sugar snap peas to cherry tomatoes to eggplant. "But the biggest hit was probably worms," says Smith. "Worms keep the soil loosened and act as a natural fertilizer, and the kids got the biggest kick out of working with them."
Around Garinger High School, another food desert exists. "We have absolutely incredible students and individuals at Garinger, but their access to and awareness of healthy and nutritious vegetables and food is a deficit within our community," explains Andrea Hendee, an earth and environmental science teacher at Garinger. The Garinger Greenhouse project speaks to this need. Students are revamping an old greenhouse, growing food to harvest and ultimately selling it at the farmers market. The nine-month process will also serve as a framework for students to learn about economics and basic business practices.
"Ultimately we are building relationships and connections that will serve students within the classroom and beyond the four walls of the classroom as they continue to become our future leaders and innovators," says Hendee.
Lee Rhodes is a writer and mother of two in Waxhaw.