STAY PUT: 5 thematic staycations for a spring break at home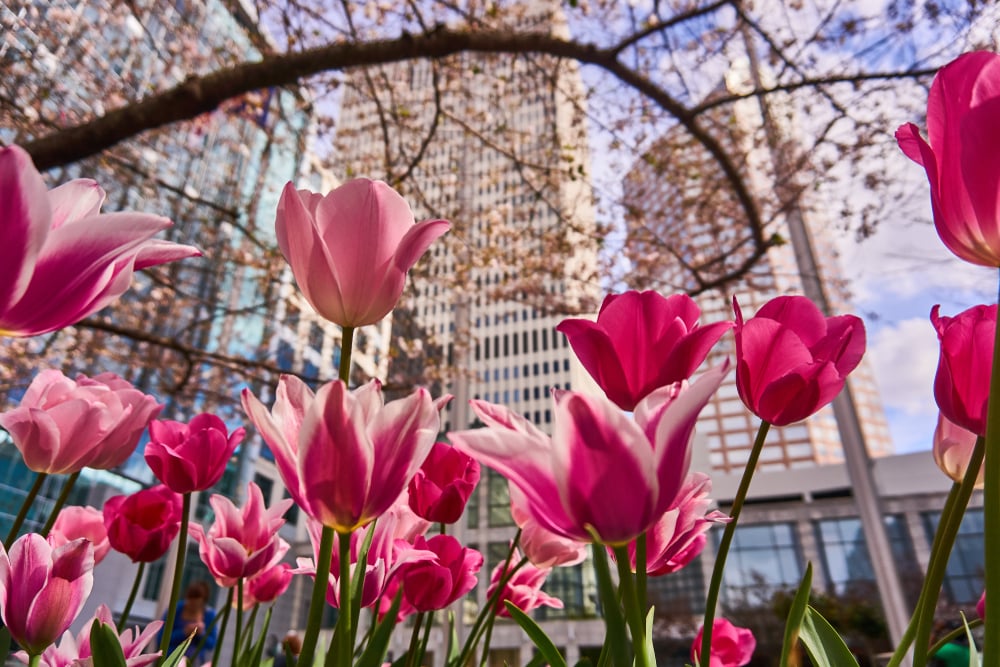 If a traditional family getaway isn't in your plans this spring break, you can still have a week of fun and relaxation in your hometown. Below is a roundup of thematic staycations to help you ditch your day-to-day routine and experience the Queen City like a visitor. Choose any one from the below, or create a hybrid version where each family member gets to pick something that appeals to them.
The Foodie Family
From Armenian to Salvadoran to Ghanaian, this city is full of foodie field trips. Stop by The Market at 7th Street, the city's original food hall, and choose from a variety of counter-serve eateries, bars, and bakeries. If you have adventurous eaters, venture to Camp North End and get your fill of ramen, arepas, and Southern comfort food, or head to Optimist Hall for dumplings, sushi, empanadas, and more.
If your crew prefers to be outdoors, download the Visit NC Farms app to research and plan an agricultural tour or day trip. Most surrounding farms will be in full swing for strawberry season over spring break. Book a tour at Hodges Family Farm, or visit The Hunter Farm to learn about the family's conservancy efforts and its heritage. At The Ivy Place, Farmer Terry Graham is always happy to answer kids' questions.
When you get home with all of your fresh produce, make a meal of it. Learn to cook something together at Chef Alyssa's Kitchen parent/child/teen class, or prepare a meal from your own kitchen with a virtual class ($15 per class per household). Then break out the crystal and china you save for special occasions and enjoy your meal in the formal dining room.
The Outward Bound Brood
Take a hike, walk, or bike ride through one of the many greenways or trails in and around Charlotte. The free Kids in Parks TRACK Trails program allows young children to earn prizes as they complete different routes at places like Crowders Mountain and Latta Plantation.
Have an outdoor adventure at U.S. National Whitewater Center and take on roaring rapids, zipline through trees, or scale rock walls. Everyone in the family, from the youngest to oldest, can find an activity to suit their comfort level. Pro tip: The ropes courses can get pretty challenging, but the free obstacle challenge is great for ages 5 and up. It makes the obstacle more doable with cargo nets, rope climbs, and wall traverses.
Visit one of four nature preserves in Mecklenburg County. Get wild at Latta Plantation's Carolina Raptor Center or set up camp for $20-$30 at McDowell Nature Preserve, where you can gather around the campfire to roast marshmallows and tell spooky (or silly) stories.
Closer to the center city is Discovery Place Nature, where kids can tromp through the Paw Paw Trail before practicing duck calls at Freedom Park. Take a guided hike and learn why birds chirp certain ways, how to safely examine underneath logs, and what a spit bug is. The nature museum is also a great place to learn about the complexity of beehives and to let a butterfly alight on your hand.
The Sports Fans
If your spring break falls in March, you can still snag tickets to a Hornets game. If it's in April, take the family to see the Knights play. The Charlotte Checkers also play at Bojangles Coliseum through April. And with the inaugural season of Charlotte FC underway, soccer fans can catch a game at Bank of America Stadium.
For kids who need to get up and move, spend an afternoon at Top Golf or go bowling at 10 Park Lanes. Treat yourselves to some pretzel bites between rounds. If they're itching to ice skate, head to the Pineville Ice House.
Racing fans can visit NASCAR Hall of Fame to see exhibits and more than 50 interactive experiences, like the iRacing Simulator and Pit Crew Challenge.
The Artsy Clan
The Mint Museum offers free monthly art kits, virtual bilingual music and story hours, and summer events at both the Randolph and Uptown locations. Pro tip: Entry is free 5 to 9 p.m. every Wednesday. Before you head out, review the Mint's "Know Before You Go" info and check out these pointers from Charlotte Parent's "Introducing Children to the Arts" guide.
If your kiddos like to get their hands dirty, check out a parent and child pottery class for some one-on-one bonding time, or book a Family Art Session at Small Hands Big Art to make a family masterpiece.
Reserve seats to a show at Children's Theatre of Charlotte in March or April, or check out an event at Blumenthal Performing Arts. Some spring highlights include Star Wars: The Empire Strikes Back in Concert, National Geographic LIVE, and Charlotte Ballet's Sleeping Beauty.
The History Buffs
Use your staycation to learn more about the Queen City, starting with its nickname. Take the Charlotte Liberty Walk and make your way to Marker 12, Queen Charlotte's Statue. To keep younger kids engaged, pack paper and crayons for them to do stone rubbings.
Near Marker 6, Thomas Polk Park, you can spot Charlotte's "Past, Present, Future" statues at each corner of Trade and Tryon. This is a great opportunity to ask your kids questions about their place in the city: What have you learned about your home's history? What do you like about living in Charlotte? What are your predictions for this city 10, 20, 50 years from now? How do you think you'll be a part of making history as a Charlottean?
Along with railways and cotton mills, Charlotte was integral to the American Gold Rush. Visit Reed Gold Mine between April 1 and October 31 to pan for gold and tour the grounds. For the flight enthusiasts in your crew, pack a picnic and head to "The Overlook" at Charlotte Douglas Airport. Park your car and chill while you watch takeoffs and landings. You can discuss North Carolina's "First in Flight" history, but also take time to daydream about your next family vacation beyond Charlotte. Listen to each other as everyone shares where they might like to fly off to next.
SHANNON BLAIR is a certified nutritionist, part-time freelance writer, and full-time mother of two. Follow her adventures in wellness and writing on Instagram @lessismorenutrition or @pinkpenwriting.