Introducing Children to the Arts
Add theater, art and museums to your family time.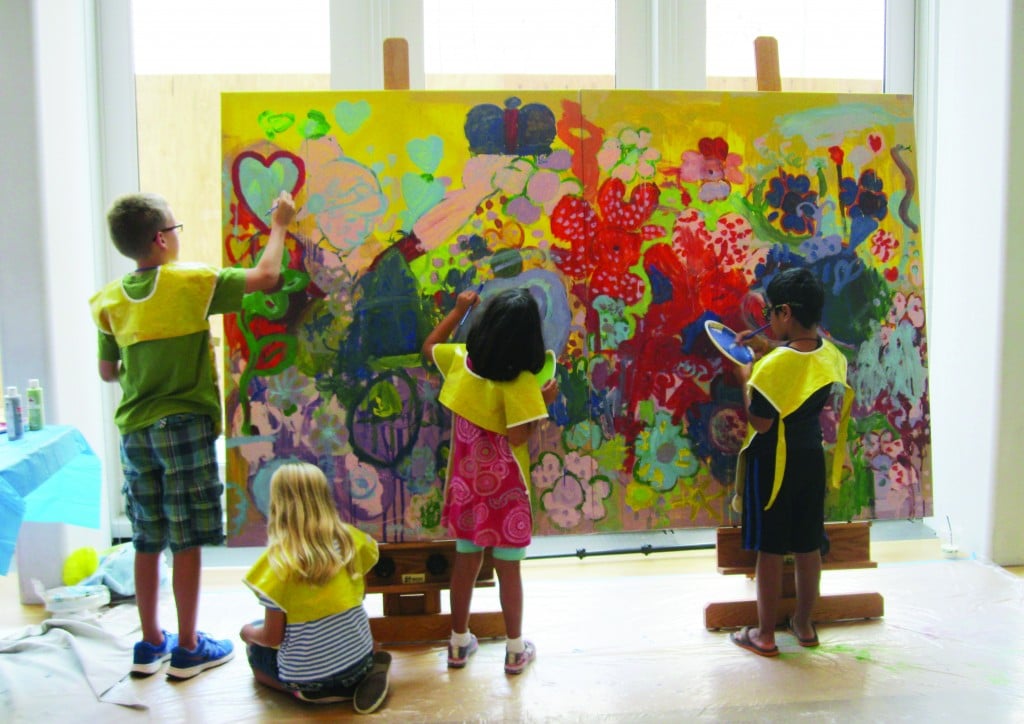 Navigating art museums, theaters and cultural events is trickier with kids. It takes preparation, planning and research to figure out what works best for your child. Age, interest, style of program and readiness play a role in the decision-making process. We offer the tips below as a guide to experiencing Charlotte's art scene with kids.
Don't Wait to Visit a Museum
There are many opportunities for young children to learn about art, theater and culture in Charlotte. A great place for younger children to start exploring art is the Lewis Family Gallery at the Mint Museum uptown. The gallery is a family-friendly space within the larger museum. It allows children and parents to interact with art in a safe and contained space.
Nicia Carla is owner of Paperhouse Theatre and mom to Pearl Moore, 10, and James Moore, 7. Carla considers her children's interests before deciding where to go. Her son James carries a notebook and pencil around wherever he goes, so a trip to the Mint Museum's Sunday Fun Day is a treat. Sunday Fun Day is offered one Sunday a month in 10 months each year. Admission is free for kids and half-price for adults. It is an opportunity to take a mini-tour, meet artists and see performances.
For an in-depth look at the museum, Leslie Strauss, who heads the family and studio programs at the Mint Museum, suggests a Mini-Masters Art Workshop for ages 3-5 and their parents. Participants in a Mini-Masters class visit exhibits for 20 minutes and participate in tactile experiential activities for a program fee.
"Every kid is totally different. Parents know their kids best and they know how much they can handle," Strauss says.
The Bechtler Museum of Modern Art offers special activities for kids at its Family Day events held throughout the year. The Harvey B. Gantt Center for African-American Arts + Culture hosts Family Firsts the first Saturday of each month that includes engaging activities for families inspired by current exhibitions
---
On Stage for Kids
Charlotte has many affordable theater and cultural event options for kids. Places like Matthews Playhouse, Children's Theatre of Charlotte, Davidson Community Playhouse and Levine Jewish Community Center offer kid-friendly performances throughout the year. PlayPlay! Theatre shows, performed on Children's Theatre of Charlotte stages, are designed for infants through age 3, and Central Piedmont Community College presents a children's musical every summer like the summer 2017 performance of "James and the Giant Peach."
"Typically we advise parents that if your child can sit through a movie in a theater, then they would probably be able to handle a ballet," says Katelyn Pounds, education and outreach coordinator at Charlotte Ballet. She recommends sitting by an exit so that if you do have to leave, you can do so quietly.
Charlotte Symphony's Lollipop series and Summer Pops are easy ways to introduce orchestra music. Children 12 and younger are admitted to Summer Pops concert free of charge. During the school year, the Symphony Guild of Charlotte showcases its Musical Petting Zoo at ImaginOn: The Joe and Joan Martin Center and before Lollipops series' concerts. For an introduction to the opera, Opera Carolina offers a student night on dress rehearsal dates at a much-reduced rate.
---
Discuss What to Expect
Many parents review expectations with their children before a new experience. This same practice is helpful before attending a performance or visiting a museum.
"Kids just want to know what the rules are. It shows a sign of respect to your kids to let them know what is expected in the museum," Strauss says.
The "no touch" rule at museums is different than hands-on science museums. Strauss expresses the importance of explaining why the objects may not be touched. She tells the younger groups, "We want it to last for when you bring your kids or your grandkids someday."
Engaging children in an activity or discussing the program they are about to attend can make the experience more meaningful. Several museums offer activity packs with games and scavenger hunts. This encourages the children to find certain items on display and learn about them.
For theater productions, start with a children's play that is tied to a book. "It gets my children more interested in it when we read the book before we go see it," Carla says. After the play, ask kids to compare the book to the play. A lively discussion about why there were differences is valuable family time.
"In a time when we are all staring at screens separately, that shared time is really important," Carla says.
---
Just for Families
Bechtler Museum of Modern Art hosts a Family Day various Saturdays throughout the year. On those days, the museum is free for kids under 18 and $8 per adult from noon-4:30 p.m.
Levine Museum of the New South is half-priced admission every Sunday, and $2 admission every day for people who hold EBT cards or WIC vouchers.
Harvey B. Gantt Center offers its Family First series on the first Saturday of every month. On these days, Bank of America account holders receive free admission.
The Mint Museum hosts Sunday Fun Day on 10 Sundays throughout the year that offer family-friendly art projects, gallery visits, artist demos and yoga sessions. Admission is free for children and $6 for adults.
---
Special Accommodations
Performing arts organizations are providing more sensory accommodations for children with special needs. Charlotte Ballet offers a modified performance with a shorter program, controlled volume and no special effects, with volunteers available to help families.
Children's Theatre of Charlotte also offers a sensory-friendly performance for each of its performances in which only one-third of seats are sold and there is more room for guests to move around. Weighted stuffed animals and fidget devices are also available to help children if they get restless.
Vanessa Infanzon is a freelance writer in Charlotte. Follow her on Facebook, Twitter and Instagram @morethanVMI.