SPRING BREAK WEEKENDER: Key West
An oceanfront playground full of literary landmarks, Bahamian and Cuban cuisine, and roosters that run wild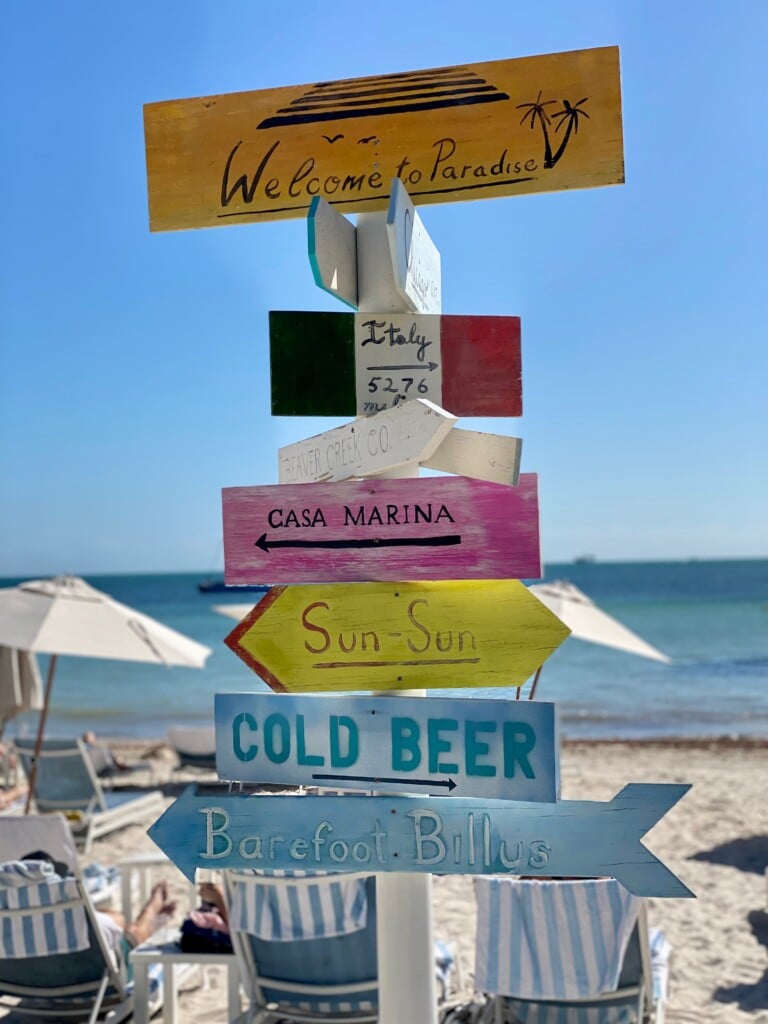 The two-by-four-mile island on the Florida Keys' southernmost point is a bit of a departure from pristine resort towns like Palm Beach or Seaside. Pastel, conch-style houses dot the narrow streets where roosters are free to roam, and colorful murals and sandcastle sculptures delight visitors of all ages. Stroll through downtown and you'll see restaurants and boutiques alongside dive bars frequented by famous residents like Ernest Hemingway and Tennessee Williams. The island is accessible by cruise ship and a ribbon of bridges that connect the Florida Keys to the mainland; from Charlotte it's just over two hours on American Airlines, making it an easy and accessible destination when you want to spend your spring break soaking up the sun.
STAY
The Reach Key West is a beachfront retreat that's tucked away from the bustle of Duval Street, but still walking distance from the restaurants and shops that line this main thoroughfare.
The property, which underwent a multi-million dollar renovation in 2019, is named after the nautical term "reaching," or a relaxed point of sail. The 150-room hotel has an outdoor pool, onsite seafood restaurant, and a rooster mural by Cuban American street artist DaveL that greets you on the patio. Most days you can find the resort's resident sand sculptor, Marianne van den Broek, creating 3D masterpieces on the beach, where she teaches sand sculpting workshops.
EAT
For a classic Key West breakfast (think seafood eggs Benedict and homemade banana bread), head to Blue Heaven, a blue shuttered building in the historic Bahama Village neighborhood. For a no-frills lunch or dinner, head to B.O.'s Fish Wagon, a driftwood shack that slings fried fish, conch fritters, burgers, and chicken sandwiches. The restaurant's 80-year-old owner, Buddy Owen, began his operation out of a little wagon on Duval Street; today his wife Holly still does all the cooking. If you explore the Key West Historic Seaport, have dinner at Half Shell Raw Bar. Feast on fresh seafood like Key West pink shrimp and conch ceviche at picnic tables while the kiddos watch boats in the harbor. Four Marlins, the Reach's onsite restaurant named after the famous photo of Ernest Hemingway on a fishing trip with his sons, is open for breakfast, lunch, or dinner. Enjoy bottomless mimosas, mahi mahi tacos, and giant wedges of key lime pie in the dining room or on the patio.
PLAY
Book a jet ski tour at Barefoot Billy's and circle the island on a Yamaha PWC with a guide who takes you on a 90-minute ride into the Gulf of Mexico and the Atlantic Ocean. Ages 14 to 15 can drive a Jet Ski with an adult as a passenger; ages 16 – 17 can drive their own Jet Ski with a valid ID, Boater's Safety test, and a guardian present at check-in. Give the kiddos an interactive history lesson at the Hemingway Home & Museum, where they can explore the rooms and gardens where the Nobel Prize winner wrote classic works like Death in the Afternoon and For Whom the Bell Tolls. A colony of 57 cats, many of them six-toed, roam the property; according to tour guides, they descended from a sea captain's feline given to the author. The Truman Little White House, which initially served as the naval station's command headquarters during the Spanish-American War, WWI, and WWII, was later as the winter residence for President Harry S. Truman. Hear stories from his 11 visits there and see the original mancave, where his custom poker table and bourbon bar stand frozen in time. When your crew needs a sweet fix, visit the original Kermit's Key West Key Lime Shoppe on Elizabeth Street. Pick up a key lime pie (obviously) and stock up on essentials like key lime candy, oils, seasonings, juice, salad dressing, and soaps.
DOLPHIN WATCH
Book a Dolphin Watch tour with Honest Eco Sustainable Nature Tours and discover a new eco-friendly option: SQUID, Key West's first electric-powered charter boat. SQUID is a lithium ion battery-powered hybrid charter boat with electric motors for four-hour dolphin watching and snorkeling tours. Guests can watch wild dolphins as they play, sleep, hunt, and mate, and then snorkel in Key West's tranquil, turquoise waters.