Setting the Bar High Despite Autism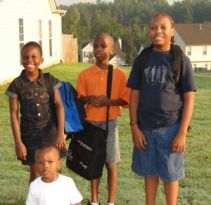 Stephanie and Verdell Rice of Charlotte are the busy parents of four children: Davon, 12; Darien, 11; Diarra, 9; and Deuel, 2. The Rice family is different than others because the two eldest children have autism. Diagnosed separately when they were only 3, the brothers are on different sides of the autism spectrum, but their mom always has been their biggest advocate and cheerleader.
"I grew up volunteering in the special education department of the New York public school system," says mom Stephanie Rice. "When my sons were diagnosed, I wasn't scared. Parents have to really take charge —you can't wallow, or ask 'Why me?' That's not going to do the kids any good."
For a working mother, having two autistic sons can be difficult. "You can't sugar coat how hard it is. Some days are hectic," she says. Rice feels lucky to have the boys in great schools, and she takes advantage of the resources Charlotte-Mecklenburg Schools offers for children with special needs, such as summer camps.
"When you have a child with autism, you have to be 100 percent proactive. I want my boys and all of my children to go to college. I never treat them like they have autism. They have the same responsibilities as my other kids, because they are going to have to learn to be independent."
Davon and Darien enjoy music, movies and video games. Davon, a gifted swimmer, competed in the Special Olympics in April at Charlotte Country Day in swimming, as well as track and field.
Finding balance can be hard while working, but Stephanie makes special time for her daughter and appreciates all of her time with her family. "My boys are the sweetest people in the world. If they know anything, it's how to love.".