ROOM WE LOVE: Small Footprint, Big Style
Designer Taylor Silverstein creates a gender-neutral nursery in her NoDa bungalow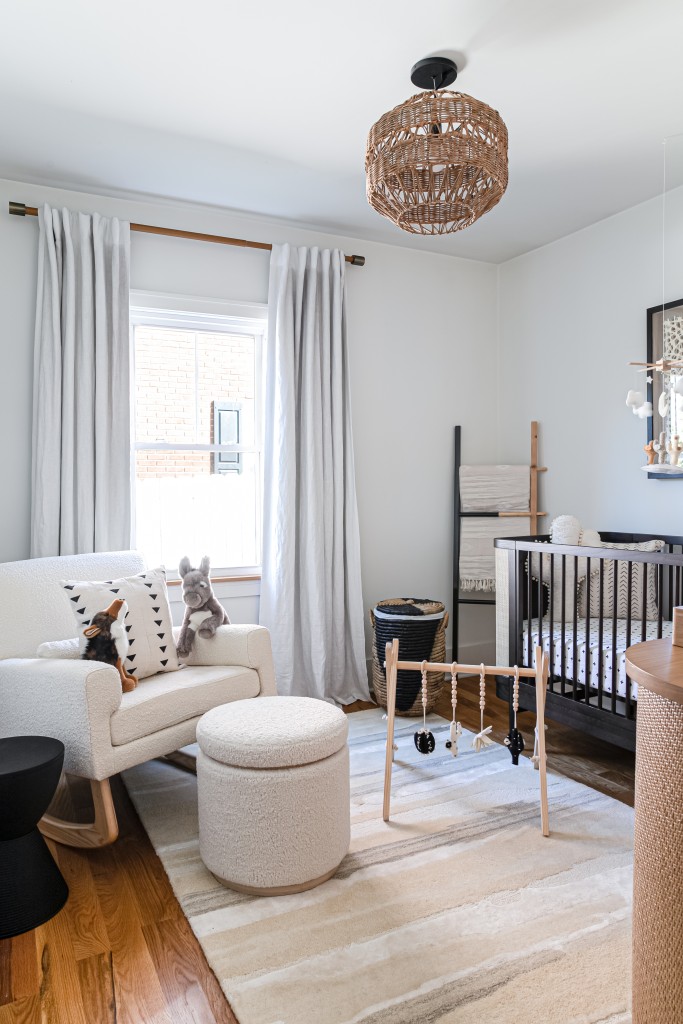 When Taylor Silverstein and her husband Eric moved from New York to Charlotte in 2018, they fell in love with a 1946 bungalow in NoDa. At just under 2,000 square feet, the home was cozy, but that was hardly a deal breaker for this couple. "When you live in Manhattan for almost a decade, you know how to work with tight spaces," Taylor says. In 2021, the owner of Taystefully Made found out she was pregnant. She knew their home was about to get even tighter, so she added a design studio behind the home and transformed the room that had been her home office into a gender-neutral nursery for their new baby.
BLANK SLATE
The Silversteins worked with the team at Roma Homes of Charlotte to update the interior before they moved in to their bungalow in 2019. The walls, which they painted with Sherwin-Williams' Pure White Eggshell, provided a blank slate for a nursery. "We didn't find out what we were having, so I made a gender neutral room," Taylor says. "I wasn't bringing in a lot of color, so I wanted to bring in a lot of texture with fabrics and accents."
BUILDING BLOCKS
The crib and changing table, both from Crate & Barrel, have cane detailing that complements the rattan light fixture from West Elm. The abstract area rug, also from Crate & Barrel, adds some warmth to the blonde oak flooring. Taylor found the black and white crib bedding on Amazon and the pillows from a Moroccan vendor on Etsy. Above the crib, she added wall art made with laser-cut paper in a black pine frame.
DOWN TO THE DETAILS
To personalize the space, Taylor hung hand painted baby desert animals from Tiny Toes Design over the changing table. Black floating shelves hold framed family photos and a pair of white tennis shoes that belonged to Eric. The wooden floor gym has black and white cacti hangings that are a nod to Taylor's hometown in Arizona. Details like these help tell the story of their family, which now includes their baby boy who just celebrated his first birthday. "I always think of how a space will evolve, and that's why I kept it neutral," Taylor says. "A room like this can change as he grows."