ROOM WE LOVE: A Neurodivergent-Friendly Space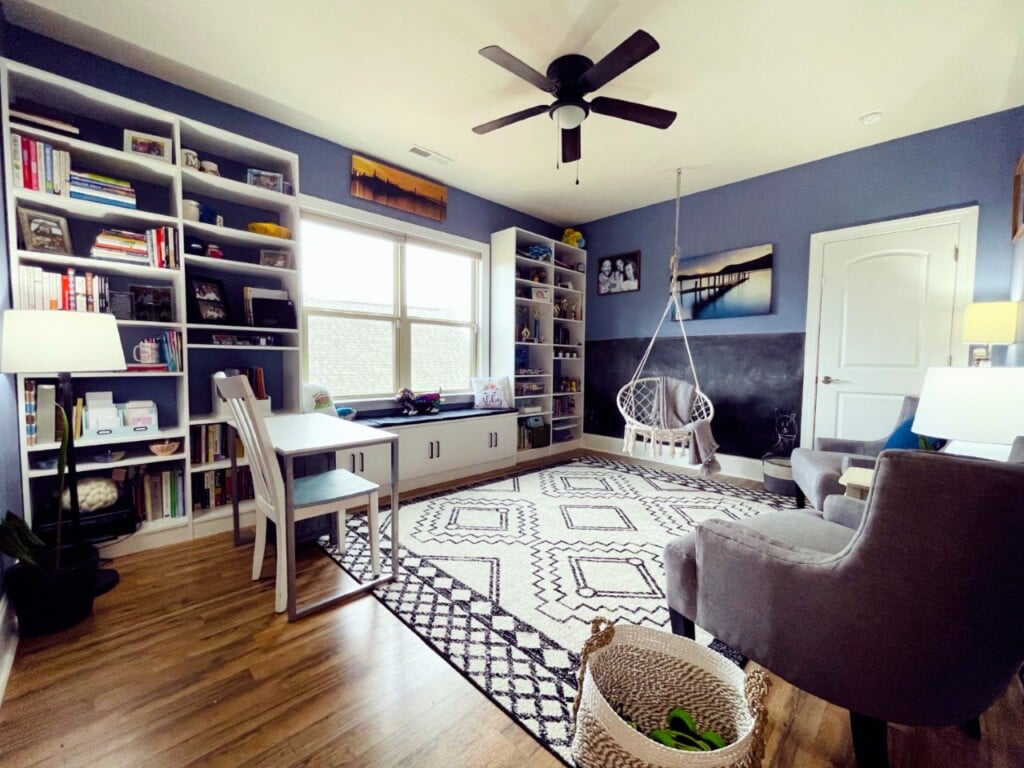 In my book Our Neurodivergent Journey, I write about how important it is for your home to accommodate your child's needs. Kids need a space that elicits feelings of calmness but also leaves room for rambunctious behaviors. Our library allows their senses to be at ease with decor that reflects who they are. During the COVID lockdown, this was our designated school zone; now it's our homework zone, separate from the noise of the rest of the house. Each family member has a column filled with things they need and books they love, and it's a distraction-free spot for my two neurodivergent children.
A BURST OF COLOR
The shelves are filled with fidgets and manipulatives to help an anxious mind focus, and the bin is a neutral black and white paisley pattern that highlights the color within. Fidgets help with concentration and focus and can soothe the nervous system. The bin also contains brightly colored items that can easily be spotted in a state of distress when kids don't have full access to the part of their brain that can be reasoned. I rotate the type of fidget displayed throughout the year, but the Rubik's cube is a favorite.
HOMEWORK CENTRAL
The homework stations are a place for both creativity and academic work. My son is homeschooled, so it's his classroom during the day; when my daughter gets home from school in the afternoon, she does her homework or creates artwork. Children with ADHD can be easily distracted, and my kids are no exception. The chair seat has a coat of KILZ Chalk-style paint in Blue Juniper. The back post, painted Krylon Chalky Finish Ultra Matte Classic White, is opposite the drawers to avoid the constant closing and opening of the drawers in the desk.
DISCONNECT TO RECONNECT
This space is a screen-free zone but we allow an electronic device that plays music. Our family uses it to connect with weekly board games and quiet reading time. The center of the room is intentionally empty to leave room for puzzles and games. I often find my children building towers in this open space. The room has only essential items because clutter creates stress. It also makes for easy cleanup for two children with executive dysfunction issues.
SHADES OF BLUE
Our home is filled with warm and moody colors, but for this space I chose Sherwin-Williams Bracing Blue because blue can evoke feelings of calmness. It's pleasing to the eye but reinforcing to the senses. The accent pillows and desk chair add a few more pops of blue. I use the chalkboard wall to work out math problems with my kids, but it's also a place where my daughter can actively create. Drawing helps her unwind after a long day of activities. The two pieces above the accent chairs and the one above our fidget storage are both hers.
Beatrice (Bea) Moise, M.S., BCCS., is a board-certified cognitive specialist, parenting coach, national speaker, and author of Our Neurodivergent Journey. Her UNIQUE parenting channel on YouTube is dedicated to educating individuals on neurodiversity. Bea is also a digital parent expert for Verizon on Neurodiversity and Technology. She has been featured on NBC News, Parents, PBS-Kids, and The EveryMom. Bea and her husband have two children, Jacob, who is awesomely neurodivergent, and Abby, who is simply marvelous!