REV YOUR ENGINES! Introduce your family to the world of NASCAR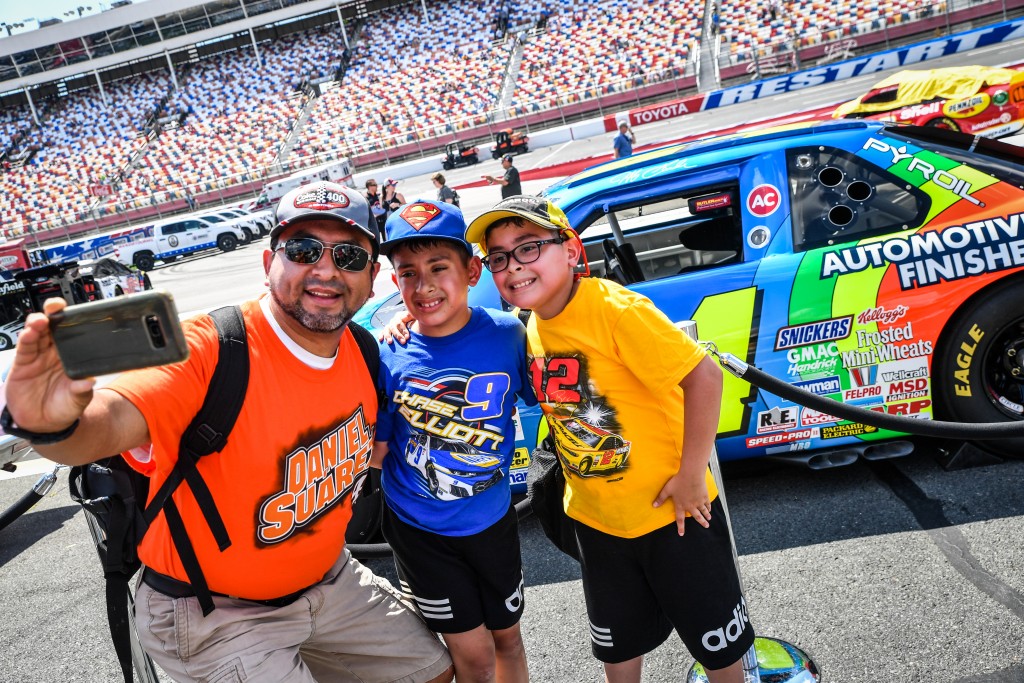 Motorsports are part of the community in Charlotte, celebrated in local museums, the annual Speed Street Festival, and at nearby complexes like Charlotte Motor Speedway and zMAX Dragway. If fast cars and pit crews have piqued your children's interest, it may be time to introduce the family to the world of NASCAR, National Association for Stock Car Auto Racing.
Here are four steps to making the NASCAR experience positive for kids and adults:
GAS UP: Educate your family about NASCAR
Start by learning about NASCAR's history by visiting the NASCAR Hall of Fame in uptown Charlotte. The 12-minute video in the High Octane Theater is a must see before beginning the self-guided tour through the displays of memorabilia, trophies and fire suits. Interactive activities keep everyone busy: paint a virtual car, look at 3D images of engines and tune an engine with a simulation model. Every guest receives a "hard card" – a personalized way to add your favorite team, driver and other information to be used for activities throughout the museum.
NASCAR Hall of Fame's staff have received sensory training through the nonprofit KultureCity. Free bags with a fidget toy and headphones are available at the front desk. Quiet Zones are labeled in certain parts of the museum and warning signs hang where loud noises may be expected. For guests in wheelchairs, a special simulation is available to experience alternate banking, different angles on the oval.
Like any sport, NASCAR has its own set of vocabulary. Make it a family game and learn the lingo before you head out to a race: fire suit, oval and roval, drag race, stock car, pit crew and banking.
Consider visiting these museums in Cabarrus County to increase your knowledge of racing:
The Curb Motorsports Museum

Morrison Motor Car Museum

Roush Fenway Keselowski Racing
Add an art component to your family's education and view the Daytona Vortex at the Mint Museum Uptown through June 5. New York artist E.V. Day created a sculpture from the fire suit NASCAR driver Jimmie Johnson wore when he took the win at the 2006 Daytona 500.
GREEN FLAG: Purchase tickets to the right race
Jonathan Coleman, senior director of communications at Charlotte Motor Speedway, recommends first-time fans consider a lesser known race for the first experience. These races draw a smaller crowd which means parking is easier and there are shorter wait times at the concessions.
The National Hot Rod Association Four-Wide Nationals are April 29- May 1 at the zMax Dragway. Each race lasts less than four seconds. Tickets include an all access pass: Guests can walk through the midway, see the drivers and the crew working on the cars. Kids 12 and under are free with the purchase of an adult ticket. Ticket prices range from $20 to $40.

The North Carolina Education Lottery 200 is May 27 at Charlotte Motor Speedway. Trucks race 250 laps as part of NASCAR Camping World Truck Series. Kids 12 and under are free with the purchase of an adult ticket. Ticket prices start at $20.

The Alsco Uniforms 300 is May 28 at the Charlotte Motor Speedway. It's part of the NASCAR Xfinity Series. The race is 300 laps, just over two hours. Kids 12 and under are free with the purchase of an adult ticket. Ticket prices start at $25.

Purchase tickets by phone at 800-455-FANS (3267). Customer service representatives will guide you through the process and answer questions about tickets, seating and parking. Or purchase tickets online: Charlottemotorspeedway.com
QUALIFY: Bring the right gear
Coleman suggests families check the weather before heading out to a race. Layers and comfortable shoes work well. Bring sunscreen and headphones or earplugs. Unlike most arenas, Charlotte Motor Speedway allows guests to bring in a soft-sided cooler, no larger than 14 inches. It must fit under the seat. Pack it with snacks and drinks, just no glass. Ticket holders may go in and out to replenish, if needed.
GET MOTORING: Set expectations
The trick to planning a successful family outing is setting expectations. Here are a few tips to make the most of a NASCAR race:
Discuss how long the event may be. The race is just part of the experience: The Fan Zone, which opens before the main race events, has interactive games and activities, souvenirs and concessions. Plan for several hours of family time at the racetrack.

Talk about the noise of the cars and trucks racing around the track. Headphones and/or foam earplugs are highly recommended for everyone to wear.

Ask everyone to choose a driver to cheer on. Let family members base their decisions on their favorite number, paint scheme, sponsors or even the driver's record.

Rent headphones on-site to listen to your favorite driver talking to the crew chief.

Plan for food. Bring your own or purchase a variety of items at concessions, grab and go locations and food trucks.

Prepare for a lot of walking to and from the parking lot, to your seats, around the Fan Zone and anywhere else you want to explore during the race.
VANESSA INFANZON is a Charlotte-based writer and mom. Follow her on Instagram and Facebook @morethanVMI.