Questions to Ask About Maternity Leave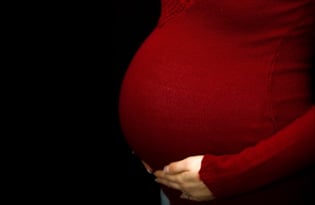 Just found out you are expecting a baby? Now is the time to learn about your company's maternity and paternity leave benefits and the federal Family and Medical Leave Act. Here are five key questions to get the conversation started with a human resources professional.
1. Does the company have a maternity and paternity leave policy?
The Family and Medical Leave Act provides eligible employees with up to 12 weeks of unpaid leave (see sidebar). In addition, some employers provide leave benefits to their employees over and above the minimum required by the FMLA, says Angela Cummings, an attorney in the Charlotte office of Littler Mendelson, the nation's largest employment and labor law firm.
Many employers not covered by FMLA, however, voluntarily provide maternity and/or paternity leave benefits to their workers. For example, Triangle Community Foundation in Durham has 17 employees, so it is exempt from FMLA. Yet, the organization pays a new mother's full salary for her time off. An unpaid six-week leave is first, but it is usually covered by short-term disability, which pays two-thirds of the employee's salary. The monthly premiums for short-term disability are paid by the Triangle Community Foundation, one of Carolina Parenting's Family-Friendly 50 honorees for 2010. All benefits continue while the employee is on leave.
Expectant parents should contact their company's human resources representative for information about any maternity/paternity leave policies, as well as FMLA.
2. What about short-term disability coverage for maternity leave?
Many companies offer short-term disability for employees to use for maternity leave. Using short-term disability, the employee can be paid all or a percentage of her salary while on leave.
Lori Mayette, the director of human resources for Raleigh-based Luihn Food Systems, says salaried employees with the company can take short-term disability and be paid a portion of their salary. This runs concurrently with FMLA leave. Luihn employs about 300 salaried workers and a total of 2,200 employees in three states. The time period for short-term disability can vary, but generally is six weeks for a typical delivery and eight weeks for a cesarean delivery.
Some larger companies pay an employee all of her salary while on short-term disability, while smaller companies often pay a percentage of the salary. The timing for when short-term disability coverage begins depends on the employer's policy. Many policies have a seven-day waiting period before starting. During this waiting period, the employee often can use accrued paid time off, such as vacation time, or can take unpaid leave. Employees also can buy private short-term disability policies.
3. If you want more paid time off than what short-term disability provides, can you use accrued vacation time and sick leave?
Whether an employee may, or even must, use vacation or sick time while on leave depends on the individual company's policy. Some companies allow employees to use their paid time off after the short-term disability leave period ends, says Alison Nolan, a human resources manager with BASF Corp. in High Point. For example, an employee could use short-term disability for six weeks and then take additional paid time off by using vacation time and sick leave. In addition to short-term disability of six to eight weeks for new mothers, Hewitt Associates in Charlotte, a 2010 Family-Friendly 50 company, offers one additional week of paid time off within the 12 weeks of the FMLA. An extended personal leave of absence also can be requested if an employee is eligible.
4. Does the company offer paternity benefits?
Similar to maternity leave policies, paternity leave options, beyond what the FMLA mandates, vary by company. At UNC-Chapel Hill, the faculty-leave policy allows men and women to take 15 weeks, or one semester, off within a year of a birth or adoption, says Melanie Joyner, the director of academic personnel at UNC. The popular leave policy was adopted in 1997 to increase faculty recruitment and retention. Most other public university campuses across the state have similar leave policies for fathers and mothers.
Hewitt Associates in Charlotte offers new fathers and adoptive parents one week of paid time off within the first year after the birth or adoption of a child, outside of one week of paid parental time. Fathers also have access to extended leave beyond FMLA if they are eligible.
5. Does the company offer any other benefits that may ease the transition from maternity leave to a return to full-time employment?
Other than what is required by the FMLA, companies operating in North Carolina do not have to provide maternity-related benefits. According to Cummings, though, many companies voluntarily have adopted policies that allow an employee to take an extended unpaid leave, telecommute for a period after a leave, or even return to work on a part-time basis after maternity leave has been exhausted. In addition, a growing trend among larger companies is to provide onsite child care for employees and/or employee discounts at national day-care providers. Employees should review company policies and contact their human resources department to find out more information on what policies and benefits are available to them after the birth or adoption of a child.
Jane Paige is a Triangle-based freelance writer.
FMLA Explained
The Family and Medical Leave Act allows eligible employees of covered employers to take off up to 12 weeks of unpaid, job-protected leave in any 12-month period to care for the employee's child after birth, or for placement for adoption or foster care. It also can be used, among other things, in the event of the employee's, or a close family member's, serious health condition.
An employee is entitled only 12 weeks of leave per year under FMLA. Time taken off work because of pregnancy complications before a birth counts toward, and can lessen, the number of weeks of leave an employee may take after the birth.
An eligible employee is one who has worked for a covered employer for at least one year and worked at least 1,250 hours during the previous 12 months. The 12 months do not have to be consecutive. Also, to be eligible, the company must employ 50 or more people within 75 miles of the worksite. Government employees are eligible for FMLA leave.
FMLA also requires employees' group health benefits be maintained during the leave. Upon return from FMLA leave, most employees must be restored to their original job or to an equivalent position.
"Some states have additional leave laws that provide greater coverage than the federal FMLA. However, North Carolina does not have any state law equivalent of the FMLA," says Angela Cummings, an attorney in the Charlotte office of Littler Mendelson, the nation's largest employment and labor law firm. "North Carolina employers and employees should become familiar with their rights and responsibilities under the federal law."