Playing Dress-Up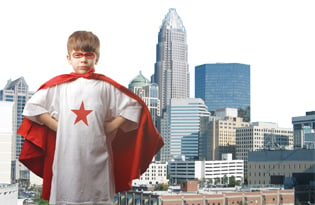 A few years ago, I had the pleasure of accompanying my mom and my aunt on a tour of their childhood home. They hadn't been inside the place in decades. A church owns the house now, so it looks quite a bit different than it did when they were kids. The living room serves as a Sunday school classroom, the dining room is a conference center, and the bedrooms have been converted to office and storage space.
Still, enough of the house's original character was left intact to spark some colorful memories – like the one winter when they sprayed the basement floor with a garden hose to make an indoor ice rink (note to my boys: I know it's a sweet idea, but don't even think about it!); the time their little brother was launched head-first from a rocking horse that he rocked on too fast; and some wonderful Thanksgivings, including that November day back in 19… well, back when my mom was born. It was a thrill for me to hear all of those stories while standing in the house that was so integral to their lives.
As we walked up the stairs to the second floor, my mom and aunt were immediately drawn to the giant, floor-to-ceiling cupboards that lined the hallway. "Dress-ups!" the two joyfully said in unison. My aunt opened one of the cupboard doors and explained how the sisters used to keep their "dress-up" clothes in that very spot. They loved to play dress up and they had shirts, skirts, dresses, pants, coats, hats, gloves and shoes fit for a thousand adventures – a spot of tea with the Queen of England, dinner at the White House with the President of the United States, or an afternoon of being shipwrecked on an island in the South Pacific. Whatever the occasion, the girls could imagine themselves right in the middle of it, dressed the part.
In today's age of electronics where traipsing an avatar through parallel universes is as easy as pressing the "on" button, "dress-up" play may sound quaint, but it also sounds wonderfully refreshing. To be a kid with an imagination – a real imagination – is an awesome thing.
Until recently, I was getting a little concerned that my two boys, ages four and six, may have been a little lacking in the imagination department. They just didn't seem to be into the whole imaginative play thing. And they certainly weren't fans of getting dressed up, unless ringing a doorbell for candy was part of the deal. At their cousins' house, where fun make-believe costumes are readily available, the boys scowl at the mere suggestion that they don a safari hat and vest or a hard hat and tool belt. Not no way, not no how.
The two boys were just not into dressing up and it had me scratching my head. My brothers and I played cops and robbers and cowboys and Indians when we were kids. We put on the costumes. We became Superman and Captain America when we wore our Underoos (sing it with me: "Underoos are fun to wear!") and we were KISS when we painted our faces white and cranked up "Rock and Roll All Nite" on the record player. I remember that being pretty silly and fun and I didn't want my kids to miss out.
Then it happened. My older son joined his first Little League team last year and was issued a uniform. Not the generic red shirts and caps we were given as kids, but the real deal. A real Major League Baseball-style uniform. Suddenly, he was a player for the New York Mets wearing a pinstriped jersey with his name and number on the back. And his imagination soared.
For the rest of the summer, even after Little League season had ended, my son would put on his jersey and baseball pants every single day and pretend he was in the big leagues, swinging a real bat outdoors and an imaginary one inside the house. We encouraged the whole thing by supplying miscellaneous sports gear like batting gloves, wristbands and facemasks. My mom, the dress-ups expert, sent her grandsons a couple of junior football uniforms, complete with helmets and shoulder pads. The boys began carefully storing these precious "dress-up" items in a box under the bed.
Now, at nearly any time of day, you can hear the sounds of sports-themed imaginative play in our house. It usually begins with the singing of the Star Spangled Banner (and the Canadian national anthem if they're playing hockey). The anthems are then followed by the introduction of the starting lineups and complete play-by-play calls of all the action. It's very cute.
Now, I wouldn't go and call their sports uniforms "dress-ups" in front of them. That might ruin the whole thing. But I do tell them how much I love their little imaginations.
Brian Kantz always played the part of star-eyed guitarist Ace Frehley. Visit Brian online at www.briankantz.com or drop him a note at thenewbiedad@yahoo.com.