PARENTS TO KNOW: Sarah and Gaurav Bharti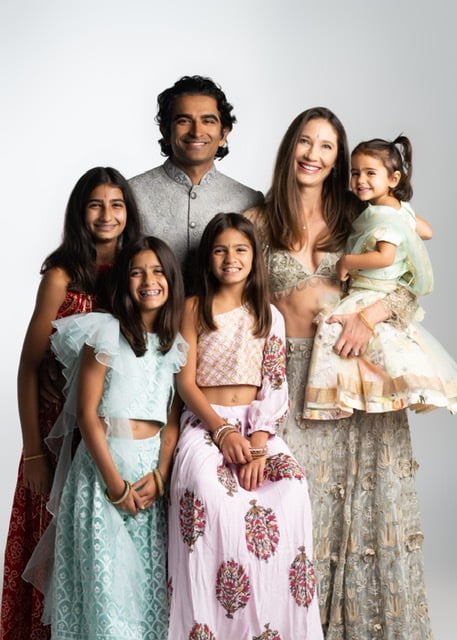 Since relocating from Tennessee in 2016, Drs. Sarah and Gaurav Bharti are relative newcomers to Charlotte, but you might already recognize them from around town. Gaurav, a board certified plastic surgeon, is the 'B' in H/K/B Cosmetic Surgery and has achieved hero-worship status among moms who want their pre-baby bodies back. Sarah performed her medical heroism behind the shield of PPE as an ER doctor during the early onset of COVID. In addition to their work and managing a large family, you can also spot the couple at various charitable efforts and events in and around Charlotte.
Here, they talk about tough decisions, sacrifice, and living in a 5:1 female to male household.
Tell us about your family. We are a family of six in total. Both of us are doctors and we actually met our first year of medical school back in Tennessee. We come from very different backgrounds and cultures, but our differences have made us very strong as a couple and family.
How many children do you have and what are their ages? Maya, 12, Malina, 11, Ariana, 9, and Layla, 3
How did you choose Charlotte to raise your family? We had been searching for a southern metropolitan city close to our families with diversity, an international airport, professional sports, good restaurants, cultural events, arts, and growth opportunities for us professionally as well as for our children educationally. Charlotte checked off all those boxes.
Given your different medical specialties, COVID must have shifted your family roles quite a bit. What was that like for you both?
Sarah: COVID was extremely hard on our family. Prior to COVID, I was working as an ER physician. When COVID arrived, there was so much uncertainty and change in our daily life. My four kids where all of a sudden home and needing someone to be there and help with school. It became apparent that I was needed to be there for them more than anything.
Then every time I would have a shift in the ER, my kids would cry and think I was going to die of a deadly virus. The night before I went to work, in the beginning, my kids would be scared and have trouble sleeping. It was emotionally exhausting. As the pandemic went on, their fears subsided, but I was constantly pivoting and making last minute changes to our schedule due to an illness or exposure. Gaurav and I realized my job as an ER doctor during COVID was not helping our family. So it lead to an early retirement for me this year. Currently I am staying home with my four kids.
Gaurav: COVID stressed our family in that there was fear of the unknown and fear of Sarah continuing to work, especially with our kids. It made us make some big decisions that I know were difficult, especially for my wife to retire from ER. She is a strong, independent, high-functioning woman and her stepping back from being professionally productive was one of the hardest things for her to do.
Gaurav: What is it like to be the lone male in your house?
All I can say is that it's very, very interesting. Not a dull moment. Sometimes the ladies really push me to my brink! I'm just kidding, it's great. My family is amazing and they are all so different. We are a great team and at the end of day, we always are on the same page, after some negotiation! Maybe I will get a male dog one day!
Biggest parenting fail to date?
Sarah: I sign my kids up for too many activities. They want to play and do it all. My four girls this year will be involved in soccer, field hockey, basketball, swim, tennis, gymnastics, dance, piano, guitar, and voice. It leads to us being overextended.
Gaurav: I have been laser focused on my career and patients that I literally have blinked and boom, 13 years have gone by since my oldest was born. I feel like I have missed so many important events in her and my other kids lives because I have been trying to excel professionally and build our practice.
Best parenting advice you ever received?
Sarah: Do not live your life through your children. Let them do what they love and what they want.
Gaurav: Don't overreact. (FYI, I am terrible at this!!)
Best marriage advice for new parents?
Sarah: I try to lead by the following:
Let your partner be themself. Do not try to control them. Never hold your partner back.
Don't be jealous.
Respect your partner even when you do not agree.
Always fight for your marriage.
Gaurav: Always be willing to compromise with and for each other.
Parenting support you can't live without? A solid nanny. We are so lucky to have had many good nannies in our past. I really cannot do it with four kids and their busy schedule without a good nanny.
Biggest parenting challenge so far? Traveling with four kids. Not for the faint of heart!
Favorite way to spend an unscheduled day with your kids in Charlotte? We love to be active. We frequently wake up and walk over to our neighborhood Caribou Coffee and Green Brothers for smoothies to start our day. In the summer, my kids love to go swimming and we go quite frequently. My girls love to go to Optimist Hall for lunch. This would be followed by a family walk through Foxcroft, Eastover, or Myers Park. In the evening we love to go to basketball, baseball, or soccer games. If there are no games, we love a movie night.
Guilty pleasure?
Sarah: A long run that takes 2 to 3 hours.
Gaurav: Lounging and watching a movie.
You two have a whole day to yourselves. What do you do? Jump on a flight and travel somewhere for the night.
Favorite Charlotte restaurant? Barrington's.
What local amenity/retailer/service could you not live without?
Sarah: Hilliard Studio Method. I love their workout. Reid's Fine Food. I am in Reid's at least three times a week. I get a salad for lunch multiple times a week, marinated chicken breast for dinner, and they have a decent wine selection. Also great sandwiches for the kids on the weekends.
Gaurav: For nice gear, Abbeydale, TRC, and Tabor. For a solid trainer, Prescriptive Fitness, Mike DellOrfano, and Preston Lewis.