PARENTS TO KNOW: Kim and Muggsy Bogues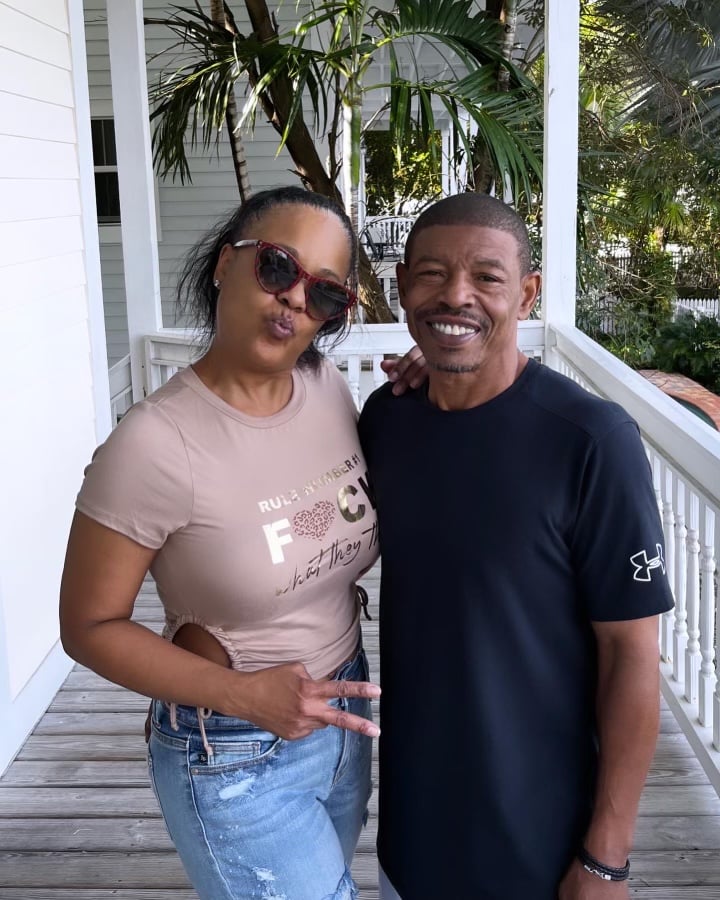 Known as the "Godfather of Small Ball," Muggsy Bogues is famous for being the shortest player ever to play in the NBA. At just five-foot-three, he dominated as the starting point guard during his 10 seasons with the Charlotte Hornets. But his role as father, grandfather, husband, co-parent, and then husband again is just as remarkable as his against-all-odds basketball career.
He chronicles it all in his new memoir, Muggsy, out next month. Here, he and longtime love, Kim, talk about divorce and remarrying, and all of the parenting lessons they learned along the way.
Tell us about your family. How many children and grandchildren do you have?
Muggsy: We have three grown children, Ty, Tyisha, and Brittney, and two grandchildren, ages 16 and 22.
You were married for seven years, divorced for 10, and remarried seven years ago. What did you learn?
Kim: While being divorced for over 10 years, I had to find myself and own my part in my faults ending our marriage. I learned healthy ways to cope with grief, pain, and fear. I learned to co-parent for my healing and for the kids. I had to learn to manage my money. I also learned how to build peace with my in-laws and family.
Muggsy: During the time apart we learned about ourselves. I was a boy the first time around, but I have worked on myself to become the man I am today.
What was your parenting approach during each of these changes?
Kim: My parenting approach during these changes was to get out of my feelings. Stay kid-focused, never use kids as messengers, listen, listen, listen, and find a balance between parenting styles.
Muggsy: When we were together, we tried our best to handle things as a team. Since I was on the road a lot, my wife was the constant day-to-day. We focused on instilling good values, respect, and work ethic with a grateful heart. When we were separated, the goal was to co-parent and not have the kids try and play us against each other. And now we are a united front and parent with love and understanding.
Your children know all of your successes. How much do you share with them about your failures and/or regrets?
Kim: What I've shared about my regrets with my divorce is that they were NOT the problem or at fault because of this. I waited for the kids to be in an age-appropriate stage to discuss my goals as we worked through it for the best outcome. Most importantly, I asked them to ask me questions they had about what happened.
Muggsy: I have no regrets. Everything happens for a reason that provides a learning experience. But the failures I have experienced are ones that I have shared with my children. I am an open book and try to let them see that failure is apart of life but it's what you do after it that counts.
What's one thing each of you wishes you knew back when your kids were young?
Kim: One thing I wished I knew back when my kids were young is how I could understand their needs better so they could express it to Muggsy and me.
Muggsy: I wish I would have known while the days are long, how fast the years go by.
Tell us about your work with the Muggsy Bogues Family Foundation and why it's important to your family.
Muggsy: I am overwhelmed by the growth of our family foundation. We work tirelessly to provide opportunities for trade bound students and at risk families by providing healthy resources and annual scholarships. Our mission is to get to a place where families do not have to choose between a healthy meal and keeping the lights on. As we grow we want to give out more scholarships and host more Labor of Love events that provide meals, hygiene products, and more to our neighbors in need.
What's your favorite thing to do as a family?
Kim: Travel together. We all get a chance to get away from work and spend quality time with one another playing games, golfing, and dancing.
Muggsy: Vacation together and enjoying each other's company because life is not promised.
What kind of grandparents are you?
Kim: I am the fun seeker. I am all about having fun and making sure the kids are having a good time.
Muggsy: I am a fun grandfather with only a few rules.
Kim, you are a personal chef. What is your favorite dish to make? And Muggsy, what is your favorite dish to eat?
Kim: My favorite dish to make is crab cakes and smashed potatoes with broccoli.
Muggsy: I love all her dishes so it is hard to just pick one, but I love how she makes honey glazed crusted salmon.
Favorite Charlotte restaurant?
Kim: Dressler's
Muggsy: Leah & Louise
Biggest parenting fail?
Kim: Overindulging my kids and giving them almost everything they asked for.
Muggsy: Not being able to be at all of my kids' important events
Best parenting advice you ever received?
Kim: Best parenting advice I have received was from my mother and she just said, "trust your instincts."
Muggsy: Be open, understanding and remember you were once in their shoes.
RAPID FIRE: Who takes the title?
Stricter parent: Kim
Messiest: Muggsy
Family Planner: Kim
Parent the kids call first: Kim, but it really depends on the topic
Most spontaneous: Kim
First to say sorry: Kim
Most likely to spoil the kids and grandkids: Both