PARENT TO KNOW: Neely Verano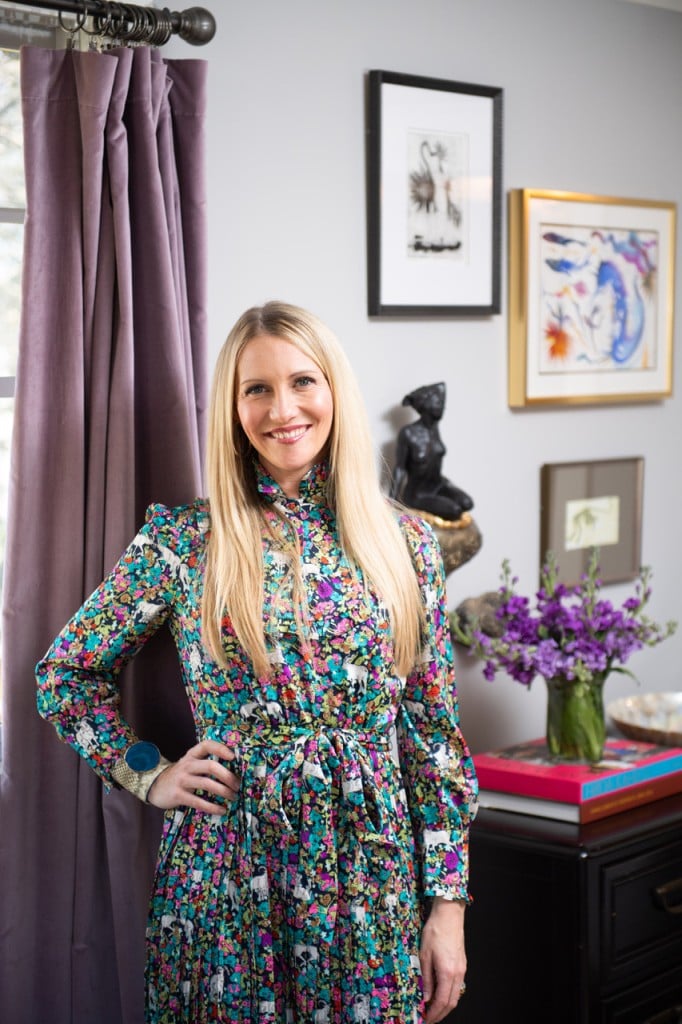 Neely Verano's lifelong passion for the arts led her to serve in various nonprofit leadership roles at the Mint Museum, McColl Center for Art + Innovation, and The Arts Empowerment Project. She's also a co-founder of LaCa Projects, Charlotte's contemporary art gallery specializing in Latin American art and artists.
Since becoming a mom of three, she's found some hard-won balance by starting her own business, Nelia Verano Art Advisory, where she provides advisory services for art collectors, home styling, and commercial spaces.
Here, she talks to us about the relatable struggle to maintain identity in motherhood, the tantrum phase, and a certain super queso she can't live without.
Tell us about your family. How many children do you have and what are their ages? I'm married with three children: Luca, 9; Leo, 7; and Rosy, 4.
Hardest part about being a mom? The exhaustion, the sacrifice, and the often thankless, usually all-consuming nature of motherhood. As someone who suffers from anxiety and a pretty steady fear of not living up to my own standards, it often feels like I will be swallowed whole by the big ol' beast that is motherhood. I would also say that it's really hard, when your children screw up, not to internalize that and blame yourself as a parent for your child's bad behaviors or poor choices.
Favorite part about being a mom? The laughter is right up there, along with those simple, pure moments of unadulterated joy. But perhaps my favorite part is how my heart swells a little more each day with the kind of unconditional love that only mothers understand—a kind of love that shapes you and changes you. Being a mom challenges me, often to my limits, to be a better person, and I'm grateful for that. On the days when things fall apart and I'm convinced all is lost, I try to acknowledge the contribution I'm making to the world by raising kind, hard-working people. I live by Jackie O's famous words: If you bungle raising your children, I don't think whatever else you do matters very much.
Biggest parenting fail to date? Several years ago, I thought I could successfully juggle being an entrepreneur with two very young children and a third on the way—with a bread-winning spouse who travels all week for work. I couldn't do it. Balance is an ever-elusive, nearly impossible goal, and I had to take a hard look at my priorities and how I was spending my precious time. My children needed me and I wasn't there for them in the way I wanted to be, and I didn't want to leave their childhood in the hands of nannies and afterschool care. After lots of soul-searching and some difficult conversations with people I trusted, I left my high-profile job to focus on being a mom. I lost some years with them, but I look back on that as a time of growth and learning about the kind of parent I want to be, and not regret.
Best parenting advice you ever received? Look above and look within before you look around for advice. A lot of people have a lot to say about parenting, and most of them are either wrong or are giving you guidance based only on their own experiences and with little to no context of your day-to-day life or who your children are. The second best is that raising children is not a democracy. Discipline, structure, boundaries, and rules are all as much acts of love as quality time, providing fun, gifts, and affection. Your kids don't call the shots nor do they know what is best—YOU do.
Marriage advice for new parents? Take care of each other, check in, and get on the same page. I often found myself so laser focused on our babies in those early years that days would go by and I wouldn't even ask my husband how he's doing. The exhaustion is real and being a new mother is incredibly overwhelming, but I discovered that even the smallest efforts to let him know that "I see him" would make a gigantic difference. We often joke and say to our kids, "we were here first." I feel strongly that most everything falls into place with parenting when you make one another a priority. Also, there's usually more than one way to do most everything, so just let him put the diaper on backwards or dress your kids in ridiculous clothing. That small stuff really just doesn't matter nor is it worth tension or an argument.
Parenting support you could not live without? My faith—coffee in the morning and my daily women's devotional app, Pray As You Go. Our church, Elevation, has been a source of huge support and guidance for me as a mother and wife. Also, Rosy's godmother comes every Wednesday and blitzes my house, does all of the laundry, and then spends the afternoon and evening with our kids so my husband and I can have a date night. We live for Wednesdays! And finally, I could not live without my real, authentic, amazing friends, most of whom are mothers and who provide such loving and consistent support to me.
Phase you feared your child would never grow out of? My daughter's tantrums. She would writhe on the floor and bang her head, scream like someone is blowing an NFL whistle in our house, and appear to be suffocating. I was told by our pediatrician to either ignore it or put her in a room by herself. They were unbelievable and they would make me angry. She doesn't do that much anymore, and she has moved on to whining—a phase I also loathe but that I'll take over the nuclear tantrums any day.
Favorite way to spend an unscheduled day with your kids in Charlotte? We sleep in and I make a big breakfast complete with pancakes. Chores are always done first, and then we'll ride bikes all over Charlotte, walk to the park, or hit one of the museums. We'll often eat lunch out, and then head home after lunch for R&R. My kids all love steak, so I love to make a big "meat and potatoes" dinner. After dinner, we'll all snuggle in and either play board games—Dominoes, Scrabble, or Sorry—and if we have enough time, watch a movie later in the evening, which means I'm required to make a giant bowl of my special homemade popcorn.
Guilty pleasure? Superica's queso dip, a dirty martini with blue cheese stuffed olives, and true crime podcasts.
You have a whole day to yourself. What do you do? I'll start the day early with prayer and meditation (for as long as I want, which I never usually get in the morning!), followed by an advanced Pilates class. I'll come home and shower, wash, and blow my hair out—and take my time doing it. I'll have lunch with friends (and a glass of rose), and then either get a massage or pop into a few art galleries. I'll catch up on my e-mails or news in late afternoon, and either have a date night with Michael or crawl in bed early with a big glass of red wine and my favorite shows or latest book.
Favorite Charlotte restaurant? Too many to name just one, but my top three are Superica, Good Food on Montford, and Rooster's.
Favorite place to shop in Charlotte? Truthfully, I do most of my shopping online, but if I do find myself with the time to shop, it's Nordstrom, Capitol, or SHOWROOM. We really need a Zara! For my home and work, (because I'm an art advisor and home stylist), it's of course, many of the local art galleries, Abode Home or Southend Exchange.
What local amenity/retailer/service could you not live without? I could not live without Iron Butterfly, Paper Skyscraper, Not Just Coffee, my hairstylist Kai Griffin, and Superica's queso dip.