PARENT TO KNOW: Katherine Hutchens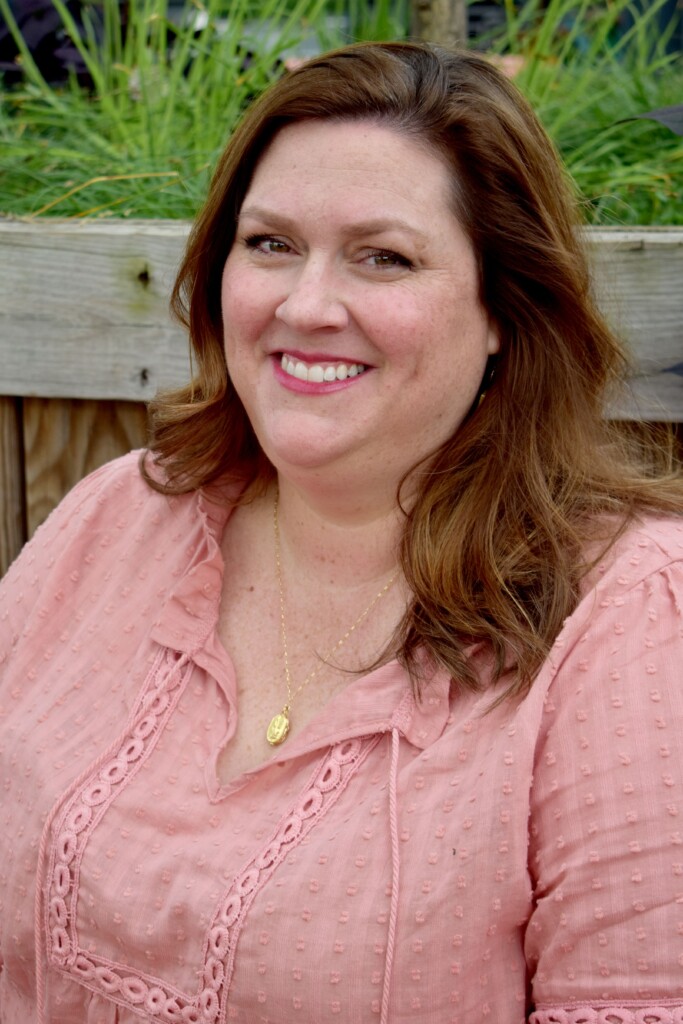 Katherine Hutchens is the mother of two, and the beloved art teacher at Endhaven Elementary in South Charlotte. In February of this year, she began to lose her vision when doctors diagnosed her with a benign pituitary adenoma. She had brain surgery in March, and continues undergo radiation to stop the growth of what remains of the tumor.
Here, she talks how this experience has impacted her perspective, the importance of laughter in marriage, and the one thing she tries to instill in every child who comes into her art room at school.
Tell us about your family. How many children do you have and what are their ages?
My husband Ben and I have two children. Beatrice is 15 and my son Bennett is 9 years old. I grew up here in Charlotte and moved to Massachusetts in the middle of 7th grade. I moved back to Charlotte after art college to teach elementary art and met my husband shortly after. We were married in 2005 in front of the Mint Museum Randolf. I am the art teacher at Endhaven Elementary and I have been there for 20 years. Ben is a graphic designer and artist. He is a director of learning development at TIAA. Beatrice is a rising 9th grader who loves to make art, play with special effects makeup, and plays the trumpet. Bennett is a rising 3rd grader and is known for his wit, soccer and karate moves.
You have had a challenging year. What is your biggest takeaway from your experience?
Undergoing brain surgery was one of the scariest times of my life as everything was so uncertain. Not being able to care for my children and being away from the classroom was extremely challenging for me. My need to focus on my health, and recovery from the side effects from the surgery and the tumor led to a lot of mom and teacher guilt. My biggest take away was to first and foremost allow myself the time to heal, physically and emotionally from the experience. But also, I realized how short life is and how I wanted to live in a much bigger way and do some things I had been hesitant or scared to do. It might have been 24 hours after my surgery when I announced to my family that I was getting a tattoo. We are also planning some much needed family vacations as well.
As an elementary school art teacher, you get to reach every student in the school. What is one thing you that see that you wished all parents could know?
I have one of the best jobs in the whole school (shhh don't tell the other teacher's). I get to view children in a different way. In my class there are no right or wrong ways to draw and paint. Some of them are afraid to get messy, get their hands dirty or to make a "mistake". It takes several weeks from the moment they walk into my door to recondition their thinking. I tell all my students the same quote from Pablo Picasso every year, "Every child is an artist. The problem is how to remain an artist once we grow up." I truly believe this to my core about all humans big and small. My hope is that some of that thinking spills into other areas of their lives, including at home and beyond.
Hardest part about being a mom?
The hardest part about being a mother is how I feel pulled in so many different directions each day. I have been taught that women can do it all, but juggling all of the jobs and responsibilities we have as working mothers can be challenging. I haven't found the answer for this yet, but I am working on making more time for myself so I can be a better mom, wife and teacher.
Favorite part about being a mom?
My kids teach me! My favorite part about being a mom is the unconditional love that I give and receive. It's not always rainbows and sunshine but my children have taught me a lot about what unconditional love is and how to get better at showing it every day.
Biggest parenting fail to date?
I've had so many parenting failures it's hard to choose just one, but I'd say I am guilty of letting my kids have too much device time. I am still navigating how to manage it and my own device time. It's such a time waster but it also is an integral part of our lives. I know balance is everything, it's just a challenging time to manage all of the technology.
Best parenting advice you ever received?
I'm not sure if it's parenting or life advice but recently my therapist told me to, "allow others to be the blessings in your life." It has always been hard for me to accept help because I thought I was failing at parenting and life. When I do allow others to help I feel more calm, and more loved.
Marriage advice for new parents?
Be a team and LAUGH! You are now a whole family unit and what decisions you make as a couple become your sacred boundaries. Whenever someone would ask us to come over, change plans etc., we would always say we will ask our partner and get back to them. When our babies were in the bottle and diapers stage we took turns. It's not always going to be 50/50 though. Sometimes you need to be 80/20 when one person needs more. Laughter helps you get through it all!
Parenting support you could not live without?
My family of course, but also my children's teachers. The school has so many resources that have helped me understand my children better. If my child was going through a rough patch I would reach out to my child's teacher and school counselor and they would help us through it.
Phase you feared your child would never grow out of?
Ha! I think it's any phase that can be unpleasant but currently," teenager" is all that needs to be said!
Favorite way to spend an unscheduled day with your kids in Charlotte?
During the school year, a day in our PJ's to watch our favorite movies or Bluey. But if we do have the energy to go out and about Charlotte, we love to explore Charlotte area museums like the Mint and the Bechtler.
Favorite Charlotte restaurant?
We love the modern food court at Optimist Hall. It's a great place for the whole family to go to with so many options. But if it's just Ben and I, we love Bombay Grille for some amazing Indian food.
Favorite place to shop in Charlotte?
I love to go to antique markets, and hands down the best in the city is The Sleepy Poet. So many amazing things to discover and relive your childhood memories!
What local amenity/retailer/service could you not live without?
If I'm being completely honest it would be Doordash! Life has been hectic and I don't know what I would do without it. Don't get me wrong, I love to cook when I have time but I don't always have the time and energy!