Parent To Know: Jen Dufresne
The personal trainer owns a fitness studio in SouthPark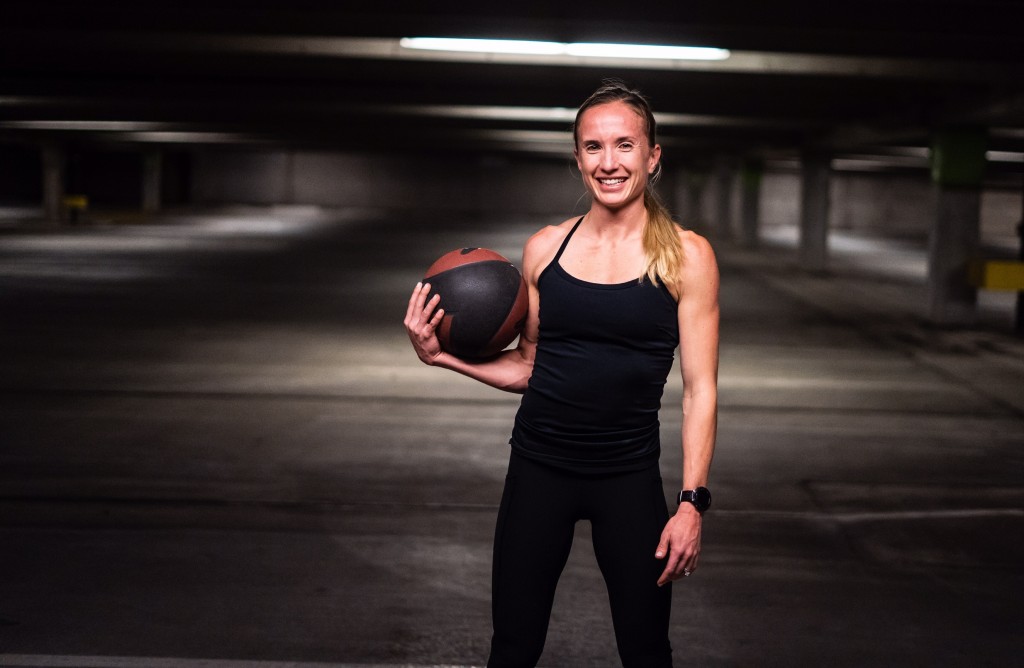 If you live or work in Myers Park, there's a good chance you've seen Jen Dufresne around the neighborhood. The AFAA Certified Personal Trainer leads a free run club from Green Brothers Juice on Park Road every Saturday, and you can often find her in coffee shops doing work and chatting with friends and neighbors. She's also competed in the Spartan Race World Championships and run several half marathons and marathons. This year, the mom of three girls, ages 3, 5, and 7, opened her first brick-and-mortar fitness studio in SouthPark where she offers personal and small group training. We caught up with Dufresne to see how she finds the stamina to do it all.—Taylor Bowler
Where does your love of fitness come from? I ran track in junior high, did pole vaults in high school, and I was a college athlete.
Describe the Cross Conditioning Training method for someone who's unfamiliar. Each small group session is no more than four, and classes have 10 people max. The goal is to meet COVID precautions, but also to spend as much time with people as we can, in a way that they feel seen. We'll talk to you, know who your kid is, what you're going through, or what may affect your workout, not just physical, but mental.
What's can we expect in the classes? Sessions are 55 minutes, and there are two types of workouts: Monday, Wednesday, and Friday is strength and mobility focused. Think low impact work with bands, kettle balls, and dumbbells. Tuesday, Thursday, and Saturday is strength conditioning with running, rowing, and jumping.
What's it been like to launch a fitness studio during a global pandemic? In a way it's easier because we don't have as much other stuff going on right now; we're not being pulled in a million directions with travel and kids' events. The hardest part has been maintaining a safe environment—or one clients perceive as safe.
When do you find time to work out? I don't put too much pressure on myself to do a certain amount of time on any specific day. Being a mom has prepared me to roll with things, so I'm always prepared to work out. If the kids want to watch a movie one afternoon, that's when I squeeze it in. Or I do it at 5 a.m., before everyone else starts their day.
How do you include your girls in your fitness routine? They love coming to the studio, and they were very involved in helping us build out space—my husband and I did a lot of it ourselves. But because I was a college athlete, I don't want to pressure my kids to do any athletics too early. I don't want them to feel like it's something they have to do a certain way—I want them to figure it out themselves.
What do you like to do outside of work? I love to travel, which we haven't been doing a lot of. We took the kids skiing with kids in December. We love the Whitewater Center. Really, just staying active. Sitting at home is not something we like to do when we have time off.
What's the most surprising thing about you? As much of an extrovert as I am, I like to be quiet by myself at night.
What's your favorite adult beverage? Craft beer.
What's your favorite restaurant in Charlotte? As a family, we love Portofino's. My husband and I go to Napa on Providence.
What's your favorite way to spend an unscheduled day with your kids in Charlotte? I like to get them outside on their bikes and we'll go to the park or the playground. Our best days are when we spend two hours outside then go get Chick fil A milkshakes together.
What's your favorite way to spend a kid-free night in Charlotte? Pre-COVID, we liked to go out and not make a plan. We'd go to South End, get a drink somewhere, then decide what to eat while we're out. Not being rushed is a really great way for us to relax.
What's the best parenting advice you ever got? When I was pregnant with my second child, I thought I'd be fine once my husband went back to work. My parents suggested hiring someone to help for those first few weeks and I thought, why? But deciding to do that during that short period was the best thing I'd ever done. As a mom, we think, I've got this, but then it all hits you. I learned it's always OK to ask for help.
THE TOUGH STUFF:
Chocolate or cheese? Chocolate.
Coffee or tea? Coffee.
Beer or wine? Beer.
Jillian Michaels or Tracy Anderson? Jillian Michaels.
Fabletics or Lululemon? Lululemon.
Reality or fiction? Reality.
Comedy or drama? Comedy.
More sleep or more free time? More sleep.
Daniel Tiger or Daniel Stowe Botanical Garden? Daniel Tiger.
Facebook or Instagram? Instagram.