PARENT TO KNOW: James Kopecky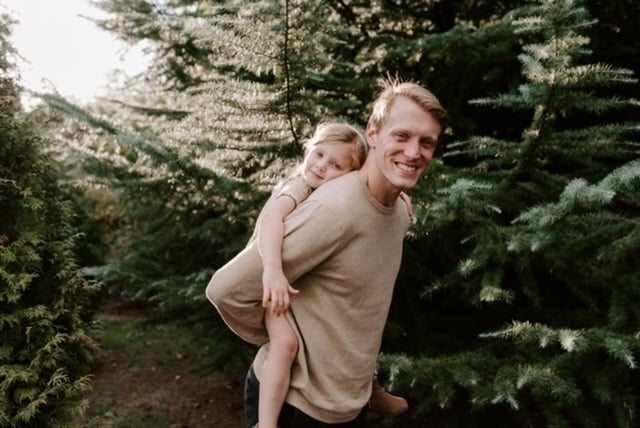 James Kopecky recently completed his seventh season with Charlotte Ballet. In honor of Father's Day this month, we caught up with the dancing dad to 3-year-old daughter, Hazel. James shares how he and wife Kate creatively avoid the word "no," his biggest parenting fail to date, and the value of pre-made lasagna.
How did you get involved in dance?
When I was a kid, I had allergy-induced asthma. I couldn't spend too much time outside, so my parents had me do several indoor activities. Being a very active kid, I shadowed my cousin's dance class and found it fun. My cousin quit after that year, and as you know, I haven't stopped.
Has your daughter taken an interest in dance?
She has! She's in Creative Movement at Charlotte Ballet Academy right now. On the weekends, we play YouTube videos of Swan Lake, Don Quixote, etc., and she mimics all the moves. She asks to do all the lifts, too.
How does Hazel react to seeing you perform?
Due to COVID, she hasn't seen many performances. She did come to see Sleeping Beauty last month and loved it. She also got to see a working rehearsal before the show and could put together what she saw in the studio to what she was seeing on stage.
Biggest parenting fail to date?
When Hazel was younger, I would juice lemon on things that she didn't like, and she would eat them. Now she has the largest sweet tooth ever!
Best parenting advice you ever received?
Something my wife and I try doing is diverting the word "no." Instead of "No, you can't watch more TV," why not say, "I have new game, want to play outside?" If you can present another creative or fun option, instead of just saying no, your kiddo will be happier and have more intrigue in other things.
Marriage advice for new parents?
Share your day with your spouse. I'm still not great at this, but when I tell my wife what I did that day it helps set the tone with all the other conversations we have (baby, house, work, future…). I tend to be less reactive in our conversations, and more conversive.
Parenting support you could not live without?
Family and friends are so important. When Hazel can be around the love from friends and family, either FaceTime or in-person, she flourishes and I want nothing less for my girl. Charlotte Ballet also has been very supportive of the needs of my family. I can't thank them enough.
Biggest parenting challenge so far?
Hazel loves to push boundaries while exploring the world. As a parent there is always a balance of providing guidance and boundaries, but also allowing freedom for her to explore her independence. That can be extremely challenging, but also a very rewarding experience to watch her develop and grow.
Favorite way to spend an unscheduled day with your daughter in Charlotte?
Ha! What a concept. Unscheduled? I guess…
Wake up and make pancakes for breakfast. Take her over to the playground for a couple of hours, where the only way to get her off the swings is the promise of ice cream after lunch. Then, we'd go home and play every boardgame in the house. I'd probably then have her help in the kitchen to make dinner. Maybe we'd make pizza and I'd have her roll the dough, spread the sauce, etc… (making pizza is the best!) We would then watch a Pixar movie with popcorn, of course. The best days are filled with activities.
Guilty pleasure? Ruffled potato chips and French onion dip.
Favorite kid-free activity? We'd probably go on a good hike and end it at a local brewery.
Favorite Charlotte restaurant? Good Food on Montford
What local amenity/retailer/service could you not live without? Pasta & Provisions. Their pre-made lasagnas are clutch when we don't want to cook or are having family visit.