PARENT TO KNOW: Heather Obleada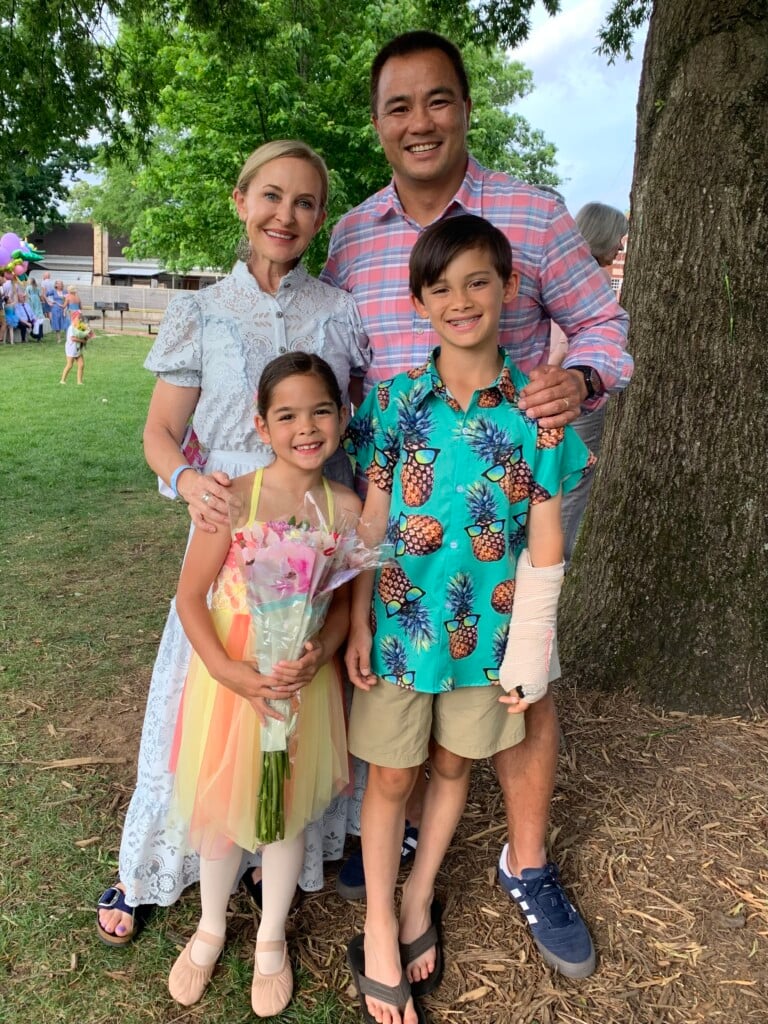 Heather Obleada is the owner of Iron Butterfly Pilates in Southend. She grew up performing with The Charleston Ballet, and after graduating from Radford University, went on to The Alvin Ailey Dance Theater and Martha Graham School in New York. She brought her talents to Charlotte, where she taught ballet, choreographed, and developed the modern dance program with Jami Masters. All of her dance training led her to pilates and yoga, and ultimately to open Iron Butterfly in 2005.
Here, the mom of two talks prioritizing small increments of time, letting go of perfectionism, and how she and her husband, Gus, divide and conquer.
How many children do you have and what are their ages?
Son, Cooper (10), and daughter, Chloe (6)
As the owner of a fitness studio, what would you tell moms who cannot find time to prioritize themselves?
I understand how easy it is to slip into this mindset as we tend to care for everyone around us before caring for ourselves. Prioritizing small increments of time is a great way to start. Getting up 10 minutes early to have coffee and quiet time while the house is still, taking a 20 minute walk during lunch, doing a 30 minute virtual fitness class, are all great ways to begin carving out time for yourself. It may be challenging at first, but finding these bits of time for yourself will help you have more to give to others throughout your day.
Hardest part about being a mom?
The constant worry for the health, happiness, and safety of my kids. Have I chosen the right path of schooling for them? Are they learning to their fullest potential? Should we really be focusing this much on sports? Are they respectful to others? Are they making good friends? For me, it's all a constant worry.
Favorite part about being a mom?
Watching my kids having fun and hearing their genuine laughter. This can be anywhere – watching them on the playground, playing soccer, on a trampoline, or watching a Broadway show. I love watching them absorb the world around them. Also – unsolicited hugs and hand holding.
Biggest parenting fail to date?
The first two years of my son's life I continued striving for perfectionism. I wanted to be "Super Mom", continuing to work full time, be a wife, friend, mother, and do it all with ease. I felt like this was what was expected of me. After two years, and lots of tears, I realized I was the one putting these unrealistic expectations on myself.
Best parenting advice you ever received?
On my wedding day my mother told me "Don't have children because everyone around you is, have children when you WANT them."
What did you wish you knew about being a parent before you became one?
How real the unconditional love you have for your children is.
Marriage advice for new parents?
When you are a new parent, the little things are the big things, everything is brand new, and you are afraid to "mess up." You will soon realize all parents are doing the best they can every day just to keep it together. My advice is to laugh and communicate with each other. You will get through this!
Parenting support you could not live without?
My husband and close friends. Gus and I don't have immediate family nearby, so we have learned how to share child responsibilities. I work early mornings and Gus is in charge of getting the kids out the door and to school. He will also volunteer for things at school that are during morning hours. I take over early afternoons, picking the kids up from school, taking them to appointments, activities, and doing homework. Having close friends, who have become our extended family, is also a gift. It's fun to be able to include them in our everyday life, from playdates, to birthday celebrations, to game nights.
Phase you feared your child would never grow out of?
Our family goal is to raise these little humans to become confident and sincere adults who others want to be around. Every stage of our kids' lives we've been working on massaging that message into them. Every stage we've asked ourselves "Are we doing enough?" With this in mind, we haven't wanted them to grow out of any stage too quickly.
Favorite way to spend an unscheduled day with your kids in Charlotte?
My kids would say "having a pajama morning." Staying in our pj's all morning, making breakfast together, and watching a movie. Going on a bike ride on the Greenway, ice cream at Elizabeth Creamery, and then dressing up and going out for dinner.
Favorite Charlotte restaurant?
Our family favorites are all walkable from our house – The Crunkleton, Hawthorne's Pizza, The Fig Tree, Menya, Calle Sol, Pizza Peel, and Milkbread.
Favorite place to shop in Charlotte?
I love supporting small and locally owned businesses. Uniquites (clothes), Braveworks and Moxie Mercantile (gifts), Park Road Books.
What local amenity/retailer/service could you not live without?
Ultimate Crossfit has kept me inspired and motivated for workouts for over a decade. Fern House Salon (Christina Garbrick) for hair, and Petals Nails (Dilworth) for pedicures.