PARENT TO KNOW: Esezele Payne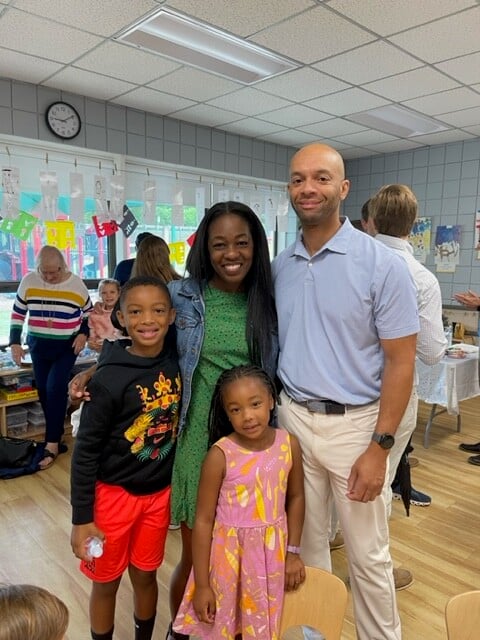 Esezele Payne has a refreshingly direct style, which might be out of necessity. Like most moms, she is very busy. Esezele is the Vice President of Operational and Environmental Services at Atrium Health and is active in several charitable organizations including Wayfinders and Women's Impact Fund. Here, she talks to us about Covid homeschool fails, finding balance between motivation and pressure, and her gratitude for DoorDash.
Tell us about your family. How many children do you have and what are their ages?
I have two children Tripp (10) and Sloan (6). My husband Richard and I have been married for 15 years. Tripp is a sports-loving, kind, and wise child. Sloan is the boss of our house with all the personality.
Hardest part about being a mom?
I think the hardest part is understanding how to keep my kids motivated without putting too much unnecessary pressure. With all the issues on mental health I am very conscious about how we reward and discipline our children.
Favorite part about being a mom?
Seeing the world through their eyes. We made these little people with big personalities and watching them grow and explore just feels so good.
Biggest parenting fail to date?
Without a doubt I was a horrible Covid school teacher. The level of anxiety that was going on in my household was next level. I work in healthcare and during that period I was pretty much working 20-hour days, and homeschooling my children was not ideal. My son was in the first grade and when I was trying to teach him, and many days ended with tears from one or both of us. Fortunately, I quickly realized it wasn't sustainable so I found a college girl who could step in.
Best parenting advice you ever received?
Every nanny is not for every age. We have had to switch nannies a couple of times and initially it stressed me out with all the change. But I have come to realize how important it is to have the right person in your home when your kids have different needs.
Marriage advice for new parents?
Those first days, weeks, and months are tough for everyone. Give everyone grace.
Parenting support you could not live without?
iPad …we all need a break sometimes.
Phase you feared your child would never grow out of?
My daughter took a bit longer to sleep through the night and I was very much on edge if it would ever happen.
Favorite way to spend an unscheduled day with your kids in Charlotte?
My kids like to shop. If we don't have anything to do, going to the mall and having a nice lunch afterwards is their jam. If it's nice out we like to golf but it can't be too hot or too cold otherwise the girls are out.
You have a whole day to yourself. What do you do?
I veg and binge watch something on TV and then go out and have drinks with girlfriends.
Favorite Charlotte restaurant?
131 Main.
What local amenity/retailer/service could you not live without?
DoorDash. There are many days I just can't get it together in the kitchen.