PARENT TO KNOW: Dr. Sandy Charles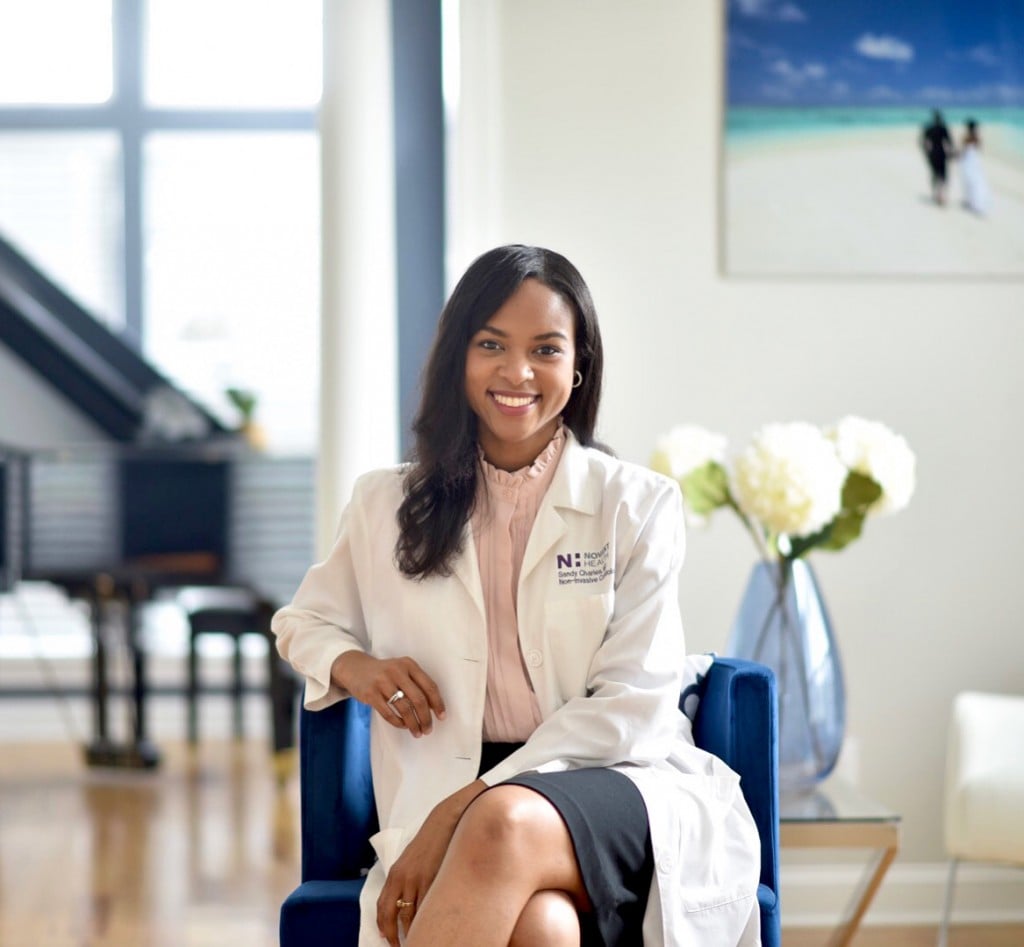 February is American Heart Month, and we're thrilled to introduce you to Dr. Sandy Charles, a board-certified cardiologist and medical director of Novant Health Women's Heart & Vascular Center. The New York native is the daughter of Haitian immigrants and the first female cardiologist at Novant Health Heart and Vascular Institute at Presbyterian Hospital. She's also mom to 5-year-old Nicole and 3-year-old Nathan. We caught up with Dr. Charles to talk about heart health, mom guilt, and the Superwoman phenomenon.
When did you first know you wanted to be a doctor? My mom was a nurse and always told me stories about connecting with her patients. It inspired me, seeing her in her white uniform with her stethoscope. I thought, 'I want to be that.'
Why was heart health your calling? My grandmother was the best cook in the world. But along with her delicious, sometimes unhealthy meals, she developed high cholesterol, high blood pressure, and diabetes. I watched her decline, have strokes, kidney failure…and I realized 80 percent of cardiovascular disease is preventable. If someone had connected with her and helped her make slight changes, her outcome could have been very different. That motivated me. So many women who look outwardly healthy often get brushed under the rug. I wanted to be a microphone.
What's a typical day like for you? My day starts at 5 a.m. I work out for 30 minutes, meditate, and make the kids' lunches. My husband and I get the kids ready. I head out with kid 1, and he takes kid 2. I get to the office at 7 a.m. I start charting, answering patient questions, and see patients from 8 a.m. 'til 5 or 5:30 p.m. Sometimes I stay for more paperwork or pick up my daughter and get home around 6:30. Once a month I work the whole weekend.
How do you prioritize your own health and wellness with such a hectic schedule? There was no protocol at first, just survival (laughs). But after my second child in 2018, I realized you can't go go go all the time. You'll have nothing more to give. I had to practice what I preached. I hit the pause button and made time for exercise and meditation, and I asked for help when I needed it.
What's the most surprising thing about you? I'm fluent in Spanish. My husband and I love to salsa dance.
What's your guiltiest pleasure? I love to sleep if I ever can. I can go on four or five hours, but if there's a morning off when the kids are at Grandma's, I can go 10 or 11 hours.
What do you like to do outside of work? My husband and I have gotten into tennis during Covid.
What's your favorite restaurant in Charlotte? Viva Chicken.
What's your favorite adult beverage? I am such a lightweight. Just wine, nothing too exciting.
What's your favorite way to spend an unscheduled day with your kids in Charlotte? Going to the park, riding bikes, or going to the Whitewater Center.
What's your favorite way to spend a night without your kids? We really love the arts, so we love going uptown to see musicals or concerts. We always had something on our calendar before the pandemic.
What's your biggest parenting fail to date? The cardiologist in me knows heart disease can start early, even in kids 10 or 12 years old, but my kids are very picky eaters. I give in to their Chick-fil-A requests, and I feel guilty about that.
What's the best parenting advice you ever got? There's no wrong way to do it as long as you're well-intentioned. In this day of nonstop social media, expectations can be a lot. As long as there's love, attention, and involvement, you can't go wrong. When I have a late night at the hospital, I'll Facetime my kids. They ask, 'Whose life did you save today?' That helps with the mom guilt.
What do you want your kids to learn from watching you in your career? Time management and communication. My mom always worked, but I never felt like she skipped a beat. I can't always do pick-up, but they know I'm always available.
What's the single best piece of advice you can give as it relates to heart health? It's the number one cause of death in women—more than all cancers combined. The numbers are staggering. Always listen to your body. I met a 37-year-old mom who thought she was having indigestion and she was having a heart attack. It's part of the Superwoman phenomenon. Never delay getting evaluated for something that's concerning. You can look healthy, but a lot of these things can be a silent killer.
THIS OR THAT?
Chocolate or cheese? Chocolate
Coffee or tea? Tea
Beer or wine? Wine
Grey's Anatomy or Nurse Jackie? Grey's Anatomy
Yoga pants or scrubs? Scrubs
Chocolate or roses? Roses
Reality or fiction? Reality
Comedy or drama? Drama
More sleep or more free time? More sleep
Facebook or Instagram? Instagram