Parent to Know: Colleen Odegaard of Charlotte Today
She talks work life, her podcast, juggling jobs and family, and more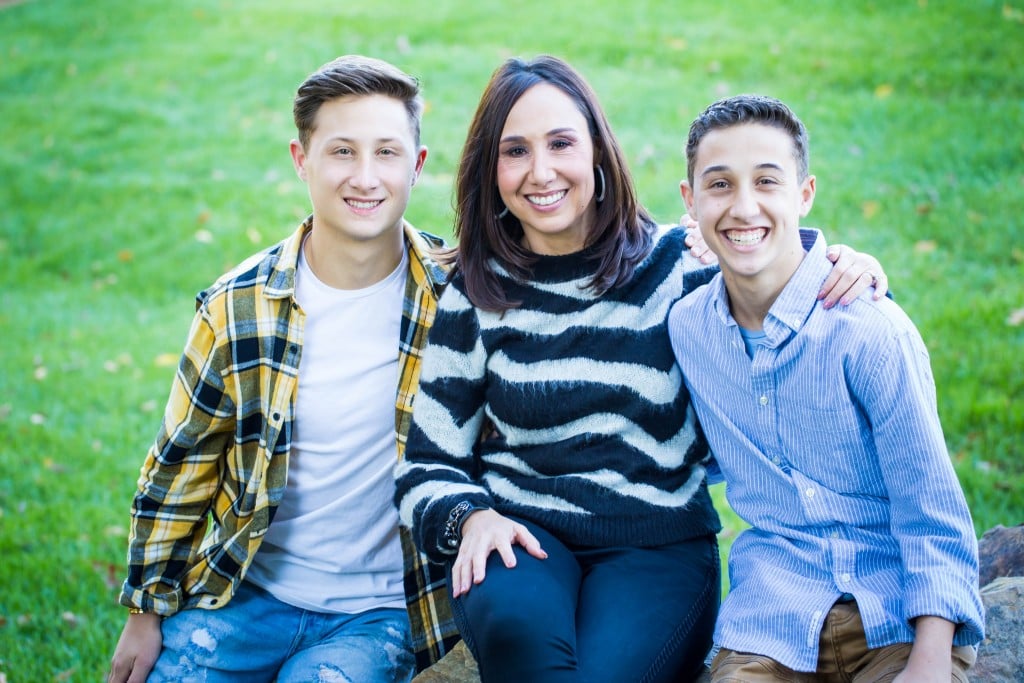 For the last 11 years, Colleen Odegaard has entertained us each morning as co-host of WCNC's Charlotte Today. But she's just getting started. The 50-year-old mom of Anthony, 18, and Alden, 16, is also a life coach and host of the Wake Up To Your Life podcast. We caught up with Odegaard to find out how she juggles it all, and how she's raising her boys to be respectful, independent men.
With a successful career in television, what made you want to add "life coach" to your resume? I've always been coaching in some capacity, and I've been a professional listener for 30 years. So many people are struggling with a lot of negative self-talk and only scratch the surface of their potential. I was one of them. I feel like I was called to coach—I love having breakthroughs with clients. 
What inspired you to launch a podcast in the middle of a pandemic? It's an idea that's been brewing for three years; I always planned to launch it this year. It seemed like as good a time as any. It's designed to uplift people and teach them mind hacks they can use in their own lives. And I can record the episodes in my closet (laughs).
How do you juggle a podcast, a full-time job, coaching, and a family? There are nights we get takeout, the house is messy, and I have to be ok with letting things slide. It also helps with the ages of my kids—I couldn't have done all of this when they were little.
What's been the hardest part about parenting during a pandemic? The biggest struggle isn't so much teaching them; I'm more concerned about their mental health and not socializing with their friends at school. It's their junior and senior year, and it should be a really exciting time. I'm learning to remember we're all going through this. I come back to the basics…are they sleeping, growing, eating? If it's a yes, then we're doing ok.
How do you switch from coach mode to mom mode? I ask open-ended questions and try not to impose my thoughts on them. When I act more like a coach than a mom and listen without agenda, they open up more.
What's the best part about being a parent? The unconditional love that you can feel for another human being. I love seeing who they are becoming. I love them, of course, but I just really like them. They're really really funny.
What's been the hardest part about parenting teenagers? Feeling like if they were to make certain mistakes now, the consequences could be so big. Of course they'll make mistakes, but how do you keep them on a good path? I'm having to let go of the reigns, and hope they remember who they are and make good choices.
And the best part? The sound of their laughter. If we're playing a game, I try to stop and take in all the details. I like that it's loud and lively in my house. I still can't have nice things (laughs). But I love it, too, because I know it will be quiet here soon.
What do your boys think if you get recognized in public? One thinks it's cool, one rolls his eyes.
What's your favorite restaurant in Charlotte? Rooster's in SouthPark. I daydream about that corn.
What's your favorite adult beverage? I love a good, bold cabernet. Or a Juicy Jay from Legion.
What's your guiltiest pleasure? Nachos. I could eat them every single day of my life.
What's your biggest parenting fail? When my kids were younger I wanted to fix everything for them. If Anthony forgot a notebook, I would drive it to him at school. I did way too much rescuing and intervening when they were younger. Our job as parents isn't to protect them from pain, but walk alongside them in it.
What's the best parenting advice you ever got? Bea Moise says to make sure you're parenting the child you have in front of you, not the child you WANT to have in front of you. Not every kid goes to Duke on a scholarship, and that's ok.
What is one thing you hope your children learn from you and your career in media? Perseverance. There are difficult seasons. Don't use that as an excuse to bow out. Dig in your heals and keep going. And treat people with respect. I've always tried to treat people and their stories with respect. When people come on the air with me, I know it can be a nerve-racking thing. I let them know I care about what they're sharing. I hope my children learn that. Be respectful; you're no better or worse than anyone else.
The Tough Stuff:
Chocolate or cheese? Cheese.
Coffee or tea? Coffee.
Beer or wine? Wine.
Ice cream or hot chocolate? Ice cream.
Hot dog or taco? Tacos all the way baby.
Comedy or drama? Comedy.
More sleep or more free time? More free time.
Tik Tok or Snapchat? Neither.
Legos or Minecraft? Legos.
Oprah or Ellen? Oprah, but that's a tough one.
Facebook or Instagram? Instagram.