PARENT TO KNOW: Clary Hilliard Gray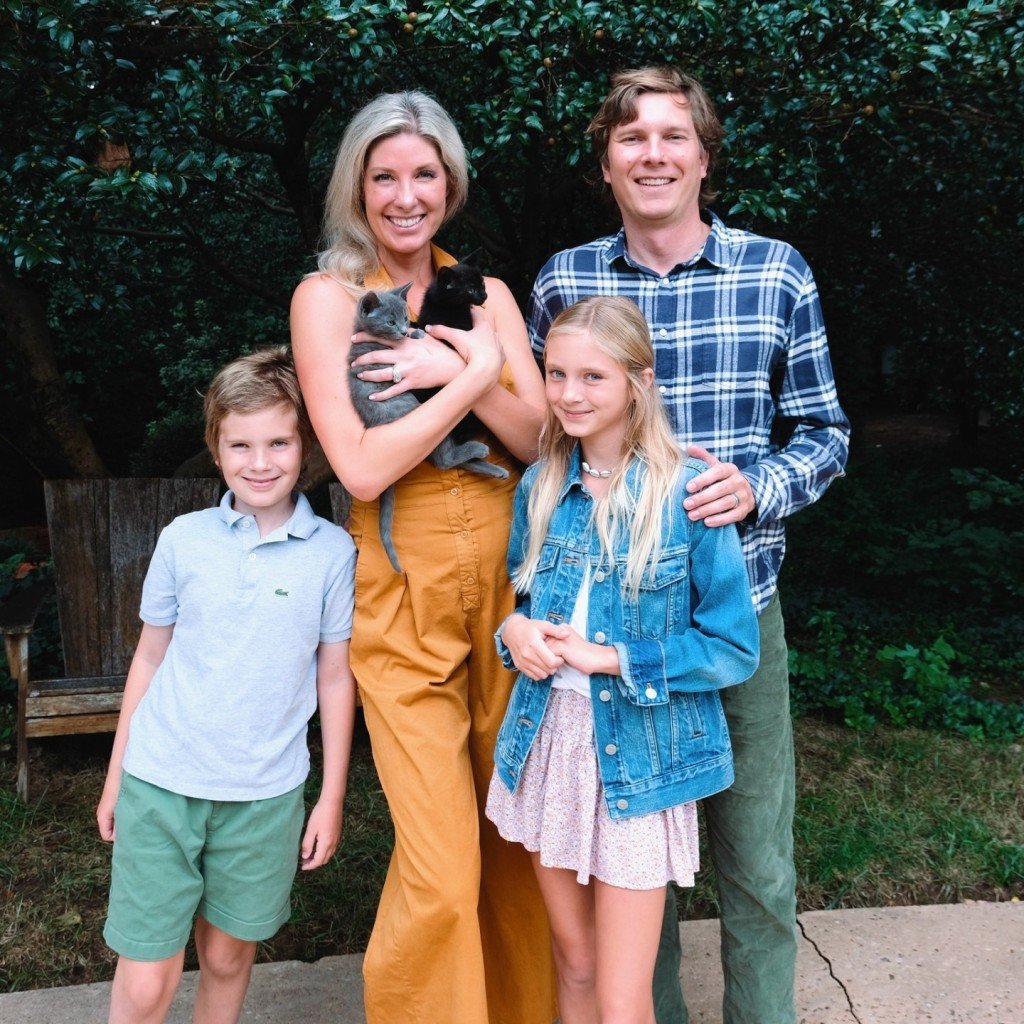 In honor of National Childhood Cancer Awareness month, we're passing the pen to local mom, Clary Hilliard Gray. You might recognize her from Hilliard Studio Method, the popular fitness studio she co-founded with her mom, Liz Hilliard, in 2008.
In 2020, Clary sold her stake in HSM to focus on her family and embark on a months-long journey out west with her husband and two children. It turns out that choice might have been more of a calling, preparing her for that which no parent can prepare.
Here, in her own words, she shares her family's journey through childhood cancer, and how we can all help when someone we know faces the unimaginable.
In spring 2021, our family received the news no family ever wants to hear: your child has cancer. Our son Cameron, who was 7 at the time, was diagnosed with a type of brain cancer called medulloblastoma. Otherwise healthy his whole life, this news came as a devastating shock.
We learned this grim news after Cameron had endured two brain surgeries to relieve intracranial pressure as his tumor had gone undetected on his initial MRI. After these two surgeries and two weeks in the hospital, Cameron still wasn't feeling well. His care team ordered a second MRI, this time sedated, when his radiologists and neurosurgeon discovered the tumor near his cerebellum.
Neurosurgeon Dr. Erin Kiehna was able remove the entire tumor completely, but quickly determined it to be malignant; it had spread to other parts of his brain. Cameron would need immediate and aggressive treatment. Luckily, a study at St. Jude's Children's Research Hospital in Memphis was addressing this exact type of cancer, and Cameron was eligible. We only needed to move to Memphis, and soon.
It's one thing to learn this as a parent, and then another to explain to your son and his 9-year-old sister. So we did the best we could. The conversation went something like this:
—You know that your body is made up of billions of cells?
—Yes.
—And they do all kinds of good things for you: help you grow, let you feel, think, and move.
—Yes.
—Sometimes the cells mess up and create bad cells. These bad cells don't know how to do anything. They are really dumb. Stupid, even. [insert child shock of parents saying stupid, a bad word in our house.]
—These stupid cells can't do anything good at all. They are so stupid all they know how to do is reproduce themselves and cause trouble in your body. That's what's going on with Cameron. He has stupid cells in his brain that are making him feel bad. So you know what we're going to do? We're going to get rid of them, all of them.
—How?
—There are the very best doctors in the world at getting rid of these kinds of stupid cells, so we are going where they are in Memphis.
—When?
—So what we're going to do is next week we'll take a trip to Pawleys Island for some fun in the sun, and from there Cameron, Dad, and I will go to Memphis and Aubrey will stay at the beach with Didi for a bit longer. Cameron and I will have to stay in Memphis for a couple months to start and then we'll come home for a while, and then go back again. The whole family is going to help.
—Wait, do I have cancer?
—Yes. Cancer is stupid, stupid cells.
There were tears from all of us. We embraced. Robert and I didn't know what more to do. And then something miraculous happened. The children bravely came up with a chant. Cameron and Aubrey, knowing the unofficial final line of the UNC fight song, asked if they could say the "h-word." We said absolutely.
They jumped up off the couch where we were all snuggled together and started chanting and dancing around the room, "Stupid cells go to H-E-double-hockey-sticks," which of course (feel free to judge my parenting) quickly became "Stupid cells, go to Hell! Stupid cells, go to Hell! Stupid cells, go to Hell!" Good friends put this chant on several clothing items and mailed them to Memphis for Cameron to wear.
If we had learned anything from our Into The Gray Wide Open 3-month western adventure during Covid, it was how to pick up and move, and quickly acclimate to our new surroundings. Only this time the stakes were quite higher. Had we trained for his?
We had about 10 days' notice to report to Memphis where we would stay for about two months for Cameron's first part of treatment: pencil beam proton radiation, followed by another eight or so months for intravenous chemotherapy through a port in his chest. We say that we would have traveled anywhere in the world for the best care and we were just lucky it was only a time zone away.
In the spring of 2021, after six weeks of daily brain and spine radiation, Cameron was depleted. He had lost almost 20 pounds. His kind and hilarious personality was missing and he slept much of the day. This was the darkest time for our family. As part of protocol, he had a six-week break to try to recover before he would begin several months of tough chemotherapy. We had the option to stay in Charlotte for the chemotherapy, but again opted to go where the absolute best team for medulloblastoma patients would be. After what felt like the longest six weeks ever, we were living in a condo in downtown Memphis beginning the next phase of cancer treatment with our son who would be 8-years-old in a couple months.
Our daughter was a rising 4th grader when her family moved away from her a second time for cancer treatment for her little brother. My husband and I will forever be so very proud of the way she, a 9-year-old at the time, handled herself starting a new school, making friends, and earning great grades. I think back now that it must have been so much pressure on her trying to be good and not rock the boat, worrying that the family couldn't handle any more. She became very close with my mom during this time. I'm hopeful it will be a bond for life.
We'd imagined that Robert and I would take turns with each child, going back and forth between Memphis and Charlotte. That plan was foiled within the first couple of days when we realized, at least to start, pediatric cancer treatment is a two-parent job. Even though Covid restrictions allowed for only one parent in the hospital at a time, the learning, advocating, and care giving around the clock, along with daily outpatient hospital visits, and many inpatient days each month, made it necessary for both of us to be in Memphis most of the time. It wasn't until about five months into treatment that Robert and I found a groove where he could be in Charlotte, or at least ping-pong back and forth. I stayed in Memphis and our daughter would visit us, with the help of the family.
Our extended family united as a team to support our daughter in Charlotte, our son at St. Jude, my husband, and me. They all banded together and decided how best to help in a thousand large and small ways—my mom Liz Hilliard and her partner Lee Kennelly, my dad Aubrey Hilliard, and Robert's parents, Kay Cameron and Dennis Gray.
Lee and her daughter Anna started a team for the St. Jude walk last fall, with an initial fundraising goal of $3,000. They ultimately raised $111,000!
My advice to anyone who wants to help a family going through something similar: Step in to help with basic tasks, services, and acts of kindness. Friends and family sent us weekly grocery deliveries in Memphis and set up our first condo with cleaning products, food staples, and toilet paper. They called their friends who had a friend who knew someone in Memphis to be our friend. One pediatric cancer survivor who is now a healthy mother of three called me and said she had heard our daughter was on the waitlist for summer camp and would like to take that off my plate—she would find her a spot, and she did. Another dear friend flew into town for one night just so I didn't have to eat dinner alone again, and a neighbor who knows us well set up a tab at our Memphis neighborhood bar.
Friends randomly sent cards, drawings, books, and gifts to not just Cameron, but to Aubrey, Robert, and me as well. And possibly the best of all for my morale was the close friend who would voice memo me about silly things: who wore what, newest binge-worthy shows, and funny anecdotes.
Even if you think you don't know the right words to say, make a phone call and let your friend know that you care. If they're too busy or frazzled to take the call, they can send it to voicemail. All of these gestures lifted us up and I'm not sure how I'll ever say thank you properly.
Fast forward through all the port accesses, blood transfusions, MRIs, lumbar punctures, chemo stays, meetings with doctors, and time in waiting rooms…just after Valentine's Day 2022, Cameron was declared done with treatment! His hair was already starting to grow back. Surgeons removed his chest port, we shipped our belongings to Charlotte, and he and I returned as triumphantly as we could HOME! "No mo chemo! No mo chemo! No mo chemo!" we chanted this time!
We feel blessed to have caught the tumor so early. Blessed with a world-class neurosurgeon (Dr. Erin Kiehna) who removed it without causing collateral damage. Blessed that Cameron was in such robust health before this. Blessed to be at St. Jude with the best doctors in the world for medulloblastoma. Blessed to have four healthy grandparents who could care for our daughter Aubrey while we are away. Blessed to have a community who we knew was praying for us.
The perspective gained is the gift. I believe this gift will continue to unfold for all of us who were affected in different ways, every year. And it already has. This fall, Cameron was about to start third grade at a new school. He told me, "Everyone keeps asking me if I'm nervous about school. I say, why would I be nervous about school? Last year I was in the hospital getting pokes all the time. That makes me nervous. School is fun!"
The 2022 Charlotte St. Jude Walk will be held Saturday, October 1. Hilliard Studio Method will host a walk party for Team Cameron Gray starting at 11 a.m. at 516 Fenton Place. Sign up for the event or donate here.
Another way to support the cause is by donating blood or platelets. Cameron received approximately 20 transfusions during the course of his treatment and they were instrumental in his rapid recoveries from the caustic chemotherapy medicines.
CLARY HILLIARD GRAY is a mother, wife, writer, entrepreneur, and advocate for St. Jude.