PARENT TO KNOW: Christina Murphy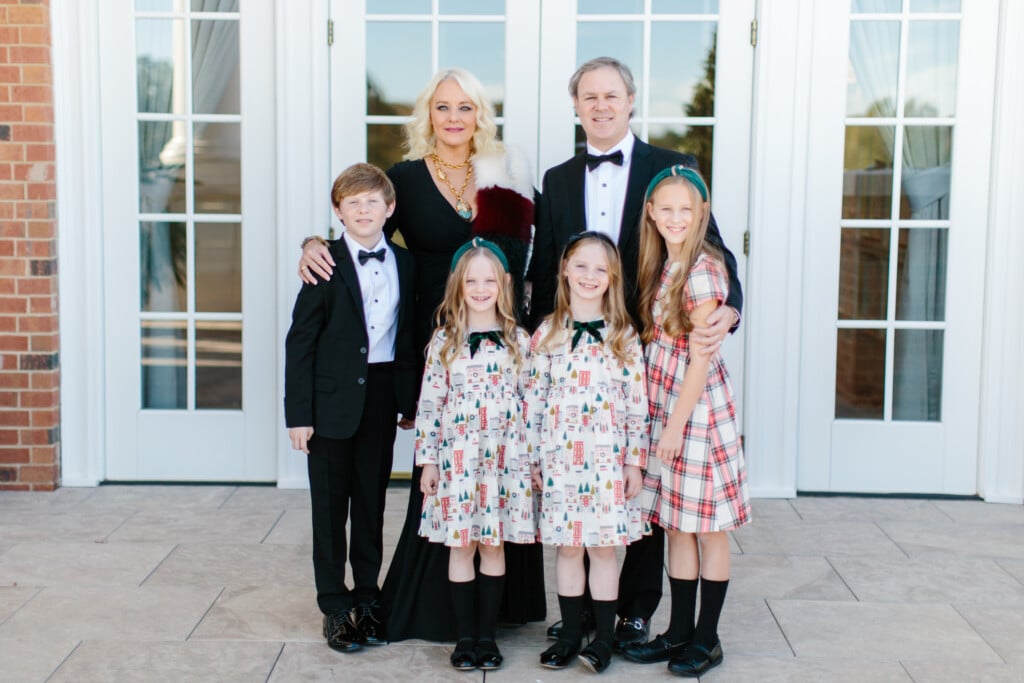 Yes, you're seeing double, double. Christina Murphy is mom to two sets of twins! And now Christina is preparing to double her workload. She's taking her COVID side hustle, The Pearl Pagoda, from pop-up to permanent. Next month, The Pearl Pagoda will open a brick-and-mortar shop offering women's wear and tabletop décor.
Here, Christina talks 90s rap, her family's excessive use of Band-Aids, and why it's never too late for a second act.
Tell us about your family. How many children do you have and what are their ages?
My husband, Jeff and I moved from Los Angeles to Charlotte in 2018 and we have loved every minute of being here.
I have two sets of twins! 12-year-old boy/girl twins, (Aiden and Tinsley) and 9-year-old girl/girl (Tatum and Sutton.)  We had a difficult time getting pregnant and are so grateful for our amazing fertility doctors in Los Angeles who never let us give up in all the years we tried and failed to have a baby.
You started The Pearl Pagoda as a COVID side-gig and just recently announced the launch of a brick and mortar on Park Rd in Montford. Tell us about this evolution and how it came to be.
It was such a whim to start Pearl Pagoda and I never could have predicted what it has grown into. I have always had a creative side and dabbled in a variety of projects since I stopped working as a full-time event planner. I have always loved fashion so when the business just grew and grew, and genuinely went "viral" I thought it was high time to take it to the next level. Designing and producing my own line of apparel and now tabletop products has been a steep learning curve, but it is so fulfilling! And searching markets for unique brands and products to carry in the store is an endless adventure. I have met so many amazing people as the business has grown. It's absolutely true that you are never too old for a second act! For all the awfulness of COVID, I am grateful for the downtime it provided for Pearl Pagoda to be born.
What will we find in your shop?
A variety of beautiful, vibrant and easy to wear apparel plus unique tabletop and entertaining essentials. Many items are my original design.
Hardest part about being a mom?
Not having enough time and energy to do all the things I want to do.
Favorite part about being a mom?
Watching my children develop their own unique personalities. I am amazed by their kindness, empathy and creativity.
Biggest parenting fail to date?
Probably my love of 90s rap and now, my kids love of 90s rap.
Best parenting advice you ever received?
Save your "no's" for the most important and safety-based scenarios. Otherwise, you saying "no" just becomes background noise. Also, when you think you have it all figured out, don't get too excited. It's all going to be different tomorrow. But, when you think it's so hard you can't possibly make it another day – don't worry, it will all be different tomorrow!
Marriage advice for new parents?
Talk it ALL out. And get as much help as you can!
Parenting support you could not live without?
My parents, my darling husband, and my friends.
Phase you feared your child would never grow out of?
(Phase still in progress) Screaming bloody murder at every little, teeny tiny scratch. And an excessive use of band aids.
Favorite way to spend an unscheduled day with your kids in Charlotte? 
Swimming, playing tennis or crafting some bizarre project we found on the internet.
You have a whole day to yourself. What do you do?
Probably sleep in, play a lot of tennis, and rearrange something in my house.
Favorite Charlotte restaurant?
I have Celiac disease so I love Burtons.
Favorite place to shop in Charlotte?
Besides Pearl Pagoda, I love Poole Shop.
What local amenity/retailer/service could you not live without?
My amazing hair stylist Charlton Tapp, my amazing skincare team at Carolina Facial Plasticsand Green Brothers for their delicious gluten free energy bites!