PARENT CAMP: Why should kids have all the fun this summer?
5 ideas for a kid-free week in Brevard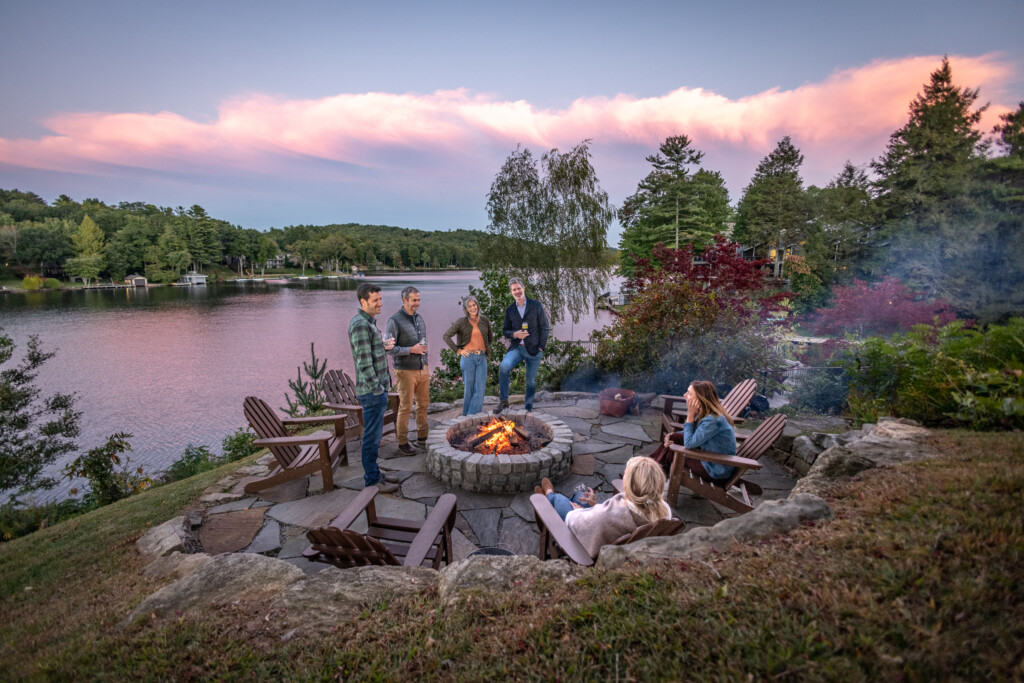 You might feel sad—and maybe a bit nostalgic—after you leave your kids at a sleepaway camp. Afterall, the memories we make—the friendships, camp songs, and late nights roasting s'mores—stay with us into adulthood.
So why can't parents relive some of those camp memories? Transylvania County's Brevard, a small town in Western North Carolina, is an ideal playground for an adult-style camp experience. Gather your friends for a few days—or a full week—of parent camp.
Stay in luxury digs. You've moved on from bunk beds and midnight raids.
The Greystone Inn, built in 1915, has cottages, lakeside suites, and queen and king rooms. Enjoy a sunset cruise on the Miss Lucy on Lake Toxaway, or head to the spa for massages, mud therapy, and organic facials. Play board or lawn games, read by the fire, or take advantage of neighboring Lake Toxaway Country Club's 18-hole championship golf course.
The Restaurant at Greystone serves breakfast, lunch, dinner, and Sunday brunch, all with gluten-free and vegetarian options. The dinner menu includes Carolina Mountain Trout, Chargrilled Beef Tenderloin, and Yellowfin Tuna Crudo. The Mansion Bar's craft cocktail menu features seasonal drinks like Toxaway Spring Punch with Tito's vodka, crème de cassis, prosecco and lemon juice, and the River Rush with Four Roses bourbon, absinthe, lime, Peychaud's bitters, soda, and mint.
Guests can also book private cocktail classes, photo shoots, a picnic on the lawn, or a private cruise on the Miss Lucy or Lucy II through the hotel's guest services.
Make a splash. No dunking allowed.
Tube down the French Broad River for an hour or two. Headwaters Outfitters provides the tube, life jacket, and a ride back to your car. Guided canoe and kayak tours on the river are also available.
If you're up for a new challenge, book a guided snorkeling tour with Oxbow River Snorkeling and see aquatic snails, crayfish, fish, mussels, and salamanders up close.
Hike in the woods. Name tags optional.
Follow the trail to more than 250 waterfalls in Transylvania County, or pick just a few. From Bird Rock Falls to Rainbow Falls, hikers can find a trail that fits the group's interests and ability level. Guided hikes to lesser-known waterfalls through Miller's Land of Waterfall Tours are also an option.
Southern Highlands Reserve, a 120-acre arboretum with natural ecosystems, offers private tours through its various gardens. Meander through the paths leading to the Woodland Glade, Wildflower Labyrinth, Azalea Walk, and Vaseyi Pond.
For a day in the woods, hop on the Farlow Trail in Pisgah National Forest. A strenuous 6.2-mile roundtrip trail through forests and across creeks takes hikers to scenic overlooks.
Dine in town. Corndogs won't be on the menu.
Brevard's downtown is filled with places to grab a quick bite or have an elegant meal. Enjoy a glass of wine and live music at Wine Down on Main.
The Falls Landing focuses on seafood and steak and serves wines from California, France, Italy, and New Zealand. The lunch menu typically features a trout special, and bourbon pecan pie and the key lime pie (recipe from the Virgin Islands) are made in house.
For authentic Mexican cuisine, head to Quixote Fine Cuisine and feast on Camarones a la Naranja, Pollo con Manzana y Nuez, and Baja California-style tacos with red snapper or shrimp.
Spark your creative side. Popsicles and glue not included.
Work alongside an experienced potter at Brevard Clay and make a mug or bowl on the pottery wheel, or learn painting techniques on a premade piece of pottery. Brevard Clay glazes and fires your pieces and ships them home to you. Private groups of eight or more need a reservation.
Wander through Blue Moon Gallery and Red Wolf Gallery for local and regional art. Number 7 Arts, a cooperative gallery with 32 member artists, is open to the public. Fiber art, jewelry, paintings, photography, pottery, wood, and more are on display.