Neat Eats: Grilled Pizza Sandwich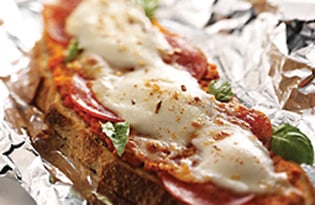 Here's a hearty open-faced sandwich that has lots of protein and vegetables and is sure to please. Use nutritious whole grain bread, and serve it with a bowl of soup for energy before an afternoon basketball game or a quick dinner in the middle of the week. For Dad dad and extra-hungry growing boys, make a full sandwich with two slices of bread and additional fillings.
Grilled Pizza Sandwich
Servings: 4
Yield: 1 1/4 cups sauce
Ingredients:
1 clove garlic, minced
2 cups ripe tomatoes, chopped
1/4 cup onion, chopped
1 tablespoon fresh basil, chopped
1/2 tablespoon fresh oregano, chopped
1 teaspoon black pepper
2 tablespoons heavy cream
2 tablespoons Wisconsin Parmesan cheese, grated
4 slices hearty country bread
Toppings: Pepperoni, bacon, mushrooms, onion, bell pepper, tomatoes, fresh basil or other desired local ingredients (optional)
4 ounces Wisconsin fresh Mozzarella cheese, sliced
1 cup (4 ounces) Wisconsin Mozzarella cheese, shredded
Cooking directions:
1. Drop garlic clove into food processor or blender while running. Turn off and add tomatoes, onion, basil, oregano and pepper; purée. Pour sauce into medium saucepan and heat to boiling over medium-high heat. Reduce heat and simmer 8-10 minutes, uncovered; stir in cream and Parmesan; simmer for 2 minutes until thick.
2.Spread sauce on 1 side of each slice of bread, and top with desired ingredients, sliced fresh Mozzarella and 1/4 cup Mozzarella. Grill face up on outdoor grill or under broiler, until cheese is melted. For a closed sandwich, use two slices of bread, spread sauce on each slice, make as above, and grill on outdoor grill, or in panini grill; serve immediately.
?