Mural Magic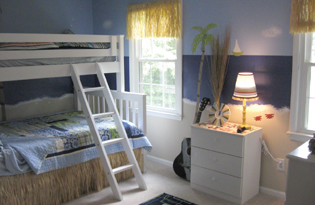 When we moved in our new home, we decided to grant our sons their wish to share a bedroom. Choosing a theme for their room, however, was a tougher decision because of their age gap. I knew I wanted to paint a mural in their room, but I needed ideas. Our 3-year-old wanted a racecar room, while our 6-year-old wished for a construction-themed room.
We needed a bedroom that would transition well and something they would both enjoy. We all agreed to create a surfing safari. I scoured the Internet for ideas of how to paint the room. I looked at beach murals that others had painted and searched for beach bedrooms for children. I showed the boys my favorite sites and they were excited, adding their own ideas and suggestions.
Getting Stoked, Getting Started
Buying new bedding and accessories can be expensive, but as luck would have it, Target happened to have a surf-themed bedding line I loved. Web sites like olivekids.com and potterybarnkids.com have great bedding that doesn't look too cartoonish. You can find inspiration on these sites and mix and match pieces that you find in local stores.
I had a completely empty canvas in their room because the walls were neutral. Armed with the bedding I had found, I picked colors for the room; rich blues, orange and lime green were going to be a great contrast against their white furniture.
Since the beige on the walls was the color of sand, I needed to find paint for the sky and the water. On the remnants shelf at Lowe's, I found a quart of dark royal blue for $3 and a gallon of sky blue for $5. I bought inexpensive acrylics as well, knowing that I wanted to paint palm trees and surfboards on the wall.
Hanging Ten
I began rolling out the sky from the ceiling to halfway down the wall. Once that was dry, I used painters tape to tape off a 2-foot section in the middle of the wall for the ocean, and painted that the darker blue. When the paint was dry, I removed the tape and used my brush to create "waves" at the bottom by dragging the brush up and down across the wall.
Using the plastic bags I had on hand, I crumpled them up into a ball and dipped them in the white acrylic paint. I went along the shoreline so it mimicked the appearance of the surf hitting the beach. I used the same technique to make clouds.
With a medium-size brush, I painted long brown tree trunks. I used two colors of green paint to make the palm fronds. I added boats on the water and little crabs on the beach. On one wall, I painted large surfboards resting against a fence.
Not Ready to Jump Up on the Board?
Painting a mural can seem like a daunting task, but with vinyl lettering and decals, you can simply paint the background on the wall and apply the detail. Vinyl allows you to easily apply and remove art from your child's walls and it is very affordable. Vinyl decals are all the rage right now and can be found in almost any store.
While this room took around five hours to paint, a lot of work went into the details. I spent many hours picking up vintage surf signs, accessories and finding the right dark rug to center the room. The biggest mistake many people make when designing a room is using too many items from the same line. Mixing different accessories or using bedding that coordinates instead of matches can make a bigger visual impact.
The paint and supplies cost less than $20 and I did all of the work myself. Add another $200 for bedding and accessories and I transformed their room from average to awesome for less than $250. One of the ideas I liked best was using plastic luau grass as a bed skirt and window treatment. The grass was $10 and it went a long way.
The boys love their bedroom. One of their favorite features is the surfboards. When we go on vacation, they pick up board stickers from each destination and decorate the surfboards on their wall – a great reminder of our fun family beach trips and there is plenty of space for more memories to come.
Kelly Yale is a Charlotte writer, blogger and mother of two boys.