Mother's Day Made Simple for Dads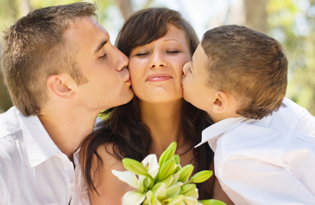 Ask any man what holiday brings out the most gift anxiety and chances are his answer will be Mother's Day. While stores are full of gift ideas and rows of cards to express how much mothers mean to all of us, it can be daunting to rise to the challenge of finding that perfect gift.
The funny thing is, if you ask any mom what gift has meant the most to her, the gift that came from the heart probably is still closest to hers.
Best of all Dad, here's a secret tip: Let your kids take the lead! Become a team in planning the perfect Mother's Day. This is a great opportunity to teach your children how much you respect and love your wife for the amazing job she does each and every day to make your family life run smoothly. Daughters will see their dad treasuring his wife, and sons will learn by example how to treat the wife eventually he'll have some day. Of all the teachable moments in life, taking the time to show Mom how much she means is one of the most important.
Even if your children are very young, there are many things you can do together to show your love. You can take them to a paint-your-own pottery shop, where they can assist you with painting their hands on a plate. Or, perhaps you could plant a flower garden outside together as a surprise.
The best way your team make this Mother's Day perfect for your wife is to plan, plan, PLAN!
1. Start thinking about her gift now. When you tuck the kids into bed, talk about the ideas they may have for the perfect Mother's Day gift.
2. Give your wife a morning to herself. Your wife will love having alone time on the Saturday before Mother's Day, and it will give you time to prepare. Take the kids to her favorite store and allow them to pick out a gift for her. Pick up art supplies (make sure you have gift wrap, too!), head to the grocery store for breakfast ingredients, and let the children pick out their favorite flowers for a bouquet for mom.
3. Spend time with your children making cards. Lose yourself in stickers, cards and laughter with your little ones. Let them help wrap the gifts you've chosen together. Make sure to stash your vase of flowers and surprises where mom won't find them.
4. Wake up early on Mother's Day. Sneak downstairs with the kids and make something wonderful. Even if you just pour Special K in a bowl, you're doing well. But, even lumpy, misshapen pancakes are delicious when made with little hands and love. Remember, let the kids take the lead.
5. Parade with the children upstairs, allowing them to carry the gifts and flowers, as you follow with the breakfast tray. Everyone can pile into Mom's bed for a delicious breakfast, and maybe a few tears, as your wife sees the thought that has gone into making her day the best day it can be.
If your wife is pregnant and this is her first Mother's Day, why not put together a photo album kit, including pictures of the two of you becoming a family? Be sure to tuck in ultrasound pictures and shots of her ever-expanding belly, and write a note about your excitement over the many pictures to come. Even a gesture as small as writing Mom-to-Be a letter, telling her how much it means to you that she's having your baby and what a terrific mother she will make, surely will melt her heart.
And when in doubt, you always can go for the three "magic Ms" of Mother's Day:
Make her a massage appointment (maybe throw in a manicure, as well); arrange for a maid service to clean the house; and make reservations for dinner at her favorite restaurant, but be sure to line up the babysitter, too.
No matter what gift you chose, what will matter most to your wife is how much you love her and love your family. There is no greater gift than a husband who truly appreciates the woman he married. And just think, you are setting yourself up for a great Father's Day in return!
Kelly Yale is a Charlotte freelance writer, blogger and mother of two.