More Than Rafting: Inside U.S. National Whitewater Center's Summer Camp Offerings
Programs allow kids to embrace outdoor adventure at their own pace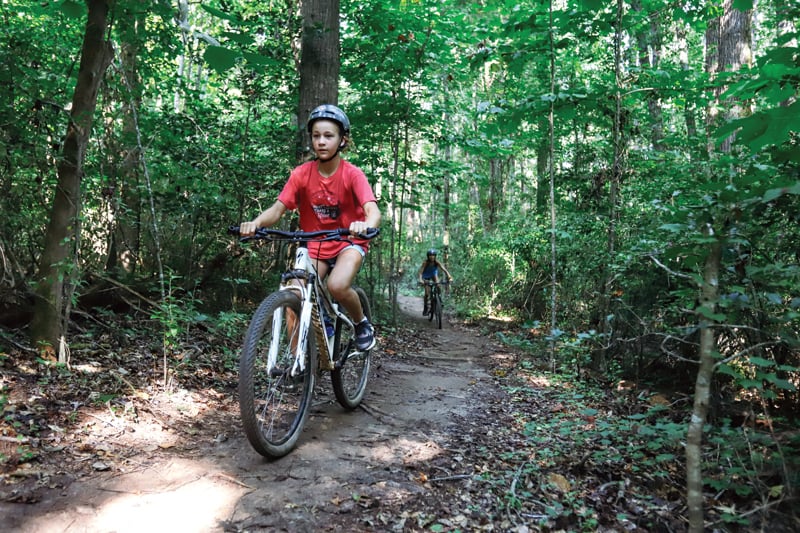 Imagine spending an entire week playing in the trees, biking in the woods, and flying through the air on a zipline. How about scaling rock walls with a rope, or on the side of a swimming pool? And let's not forget whitewater rafting. Sound exciting? Or a little too wild for your camper?
What if the choice were up to your child? At the U.S. National Whitewater Center (USNWC), the Challenge by Choice program allows campers to take on a challenge without pressure from a counselor or peers; they get to choose how and when to participate in any activity.
"We're going to challenge campers to do everything, but never force them to do anything," says Aaron Peeler, director of outdoor education and summer programs. "Everyone who works here likes to play in the woods. Whether that is kayaking, mountain biking, or rock climbing, we are all passionate about staying active and being outdoors."
Camp staff goes through intensive training where they learn to teach mountain biking and kayaking techniques, as well as interpersonal skills that teach them how to connect and engage with kids in an empathetic way. Through instruction, guided assistance, and encouragement, campers get the motivation they need to climb higher and push further.
At 1,300 acres, the U.S. National Whitewater Center offers programs designed to accelerate a camper's learning curve. In whitewater kayaking camps, the controlled and repetitive rapids and turns on the course allow campers to master class III rapids in one to two weeks. "This is less likely on a natural river," Peeler says. With more than 45 miles of singletrack mountain biking trails on the property, campers develop more advanced skills on a variety of terrain.
With the Challenge by Choice approach, campers learn to trust their instincts, use their voice, and set their own boundaries. In doing so, they learn to trust others and develop their leadership styles. When a camper scales a rock wall or paddles a raft, for example, they get immediate feedback from others and learn to make adjustments. The ropes course helps them identify real versus perceived fear, or the difference between falling (safely) and a fear of failing. Team building activities on a low ropes course involve a series of real and imaginary obstacles that challenge kids to work together to accomplish a task.
Campers participate in activities rain or shine, with the exception of lightning and thunderstorms. They take scheduled water breaks throughout the day, and on days that are 95 degrees and above, they take additional breaks between every activity. All counselors are trained to recognize symptoms of heat-related illness, too.
USNWS summer camps are 8:30 a.m. to 5:30 p.m., with optional early drop off at 7:30 a.m. for an additional $50 per week. Parents can purchase a Sunset Pass on Fridays ($49) to participate in activities with their child until the center closes. Salads, wraps, and sandwiches are also available for advance purchase at $8 per meal. Be aware that USNWC doesn't offer a bus service to and from camp, so invite your child's friends to sign up and organize a carpool. Then watch them chart their own outdoor adventure.
TONYA MILLER is a Charlotte-based freelance writer, mother, and adventure seeker. Reach her at tonyamiller00@gmail.com.