Moms Find Clothes Sew Easy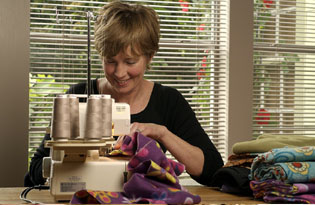 Finding the perfect outfit for your child can be a daunting task, but have you considered making your child's clothing? An increasing number of women are turning away from the mall and heading for their sewing machines Sewing is becoming very en vogue with young mothers who are looking for a custom look without the large price tag.
Kelli Masilun of Charlotte came from a family where sewing had been lovingly passed down through the generations. That inspired Kelli to get her degree in fashion design from the University of Kentucky. After college, she worked as a designer for Guess Juniors, but it took having children to turn her attentions to sewing her own designs.
"My daughter went through a stage of only wanting to wear dresses," Kelli said. "I wanted dresses that were casual and cute, but wearable." She began designing A-line jumpers in fun fabrics that were reversible so they could be practical. Her hobby became a business when friends began ordering dresses. She started www.prissyfit.com last year and it has been her passion since.
Shannon Hawk, mother of two young girls in Waxhaw, found herself searching for clothing that was unique and stylish that wouldn't break the bank. She began using fabric and ribbon to embellish her girls' jeans and before long she was making complete outfits for her daughters. "I loved the boutique style, but not the prices. Making my own clothing lets me pick the perfect fabric for their clothes and create something wonderful."
Shannon suggests starting off easy. "One of the cutest and simplest sewing designs is the pillowcase dress. You only need a pillowcase, ribbon and your sewing machine." Detailed directions for the dress can be found at this link.
Hancock Fabrics offers beginning sewing classes that teach novices everything from patterns to cutting to working your sewing machine. Check their Web site for a location near you and to see when classes are offered in your area.
Many websites have very helpful hints and even free patterns. Try www.sewing.com or www.sewing.org for useful help from the pros.
Kelly Yale is a Charlotte Parent blogger, freelance writer and mother of two boys.