Make Room for Baby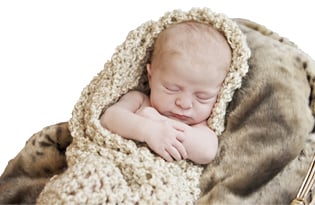 Whether you're just beginning to think about having a baby or are counting down the final weeks of your pregnancy, it means an extra person may be sharing your home soon, and that little person can come with a lot of belongings! If you're trying to figure out where everything is going to go in your already-too-small home, you're not alone. Here are some tips for making room for a baby and organizing the space you have.
Choosing and Designing the Nursery
A nursery may be the most important place in the house for new parents, but not all families have an extra room they can spare for the baby. A guest room or home office can easily be transformed into a nursery if space permits, but if not, your little one can share a room with a sibling, parents or even a guest bed. That giant stuffed elephant is cute, but a new baby only needs a safe, quiet place to sleep, a space for diaper changes, and a spot for feeding time and cuddling with caregivers.
After choosing a space, remove everything that isn't necessary. Clean out closets and sell, donate or move extra furniture. Paint a small space with light colors such as blue, green or lavender, and add mirrors to make the area feel more spacious. If the baby is sharing a room with other family members, consider placing the crib in a corner and setting a decorative privacy screen around it to make the area feel more separate.
The American Academy of Pediatrics recommends that bumper pads not be used, so a tight-fitting crib sheet is all you'll need inside the crib. Traditional changing tables take up a lot of space and aren't very practical once the child is potty trained.
"A baby may also try to climb the shelves on it, which is dangerous," says organization expert Carly Baker of MilyMap Family Organizers. "You can simply put a changing pad on the top of a dresser." If there is a bed in your baby's room, you can even place a changing pad there. A comfortable chair is ideal for story time, rocking, cuddling and feedings. Choose a neutral color that will match other areas of the house when it's no longer needed in the baby's room. Baker adds, "New moms spend more time in a rocking chair than they do in bed!" You'll want a footrest, so consider an ottoman with storage space for blankets or books.
Organizing the Nursery
Here is a list of parent-tested organization tips:
Buy different colored clothes hangers for different sized clothing, and divide drawers and racks by size as you would see in a store. Infants grow quickly and you won't always remember which items are the current size until it's too late.
Using a small plastic tub or basket, put together a diaper changing kit with diapers, wipes, baby powder and hand sanitizer. Then make several more! "Have one in each of the main living areas to avoid all the back and forth," says Baker. If a dresser will be used as a changing table, fill the top drawer with changing necessities.
Place plastic shoe boxes side by side in dresser drawers to organize bibs, socks, toiletries and pajamas. Infants' clothing is so tiny it's hard to keep it separated and neat in huge drawers.
Hang a shoe organizer with individual pockets on the inside of a closet door to store an array of baby items.
Label all bins and baskets so grandparents and baby sitters can quickly find things.
Use the space under the crib. You can purchase flat storage containers or use large sealed bags to store next season's clothes or extra blankets.
Make use of vertical space since baby contraptions can eat up floor space. Mount high shelves around the perimeter of the room to display books and stuffed animals.
Keep a box on the closet shelf. As soon as you notice something's too small, put it straight into the box. When the box is full, take it directly to your attic or to donate or consign and place a new box back on the shelf.
Dollar stores are great places to find organization supplies, or you can use shoe boxes, gift bags or empty kitchen containers. You don't have to spend a fortune or build an addition onto your house to bring your new baby home. With a little creativity and a short amount of time, you'll have a unique, meaningful and functional space that's perfect for your family.
Lisa Hassell lives in Indian Trail and is a stay-at-home mom to her 2-year-old son. You can find her blogs at www.tottalks.wordpress.com and www.staynplaykids.wordpress.com.