Low Country Luxury at The Inn at Palmetto Bluff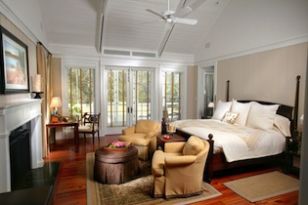 As the end of summer draws near, so does the end of vacations, making the long stretch of school days ahead seem rather bleak. But you don't have to wait until winter break for a family getaway. Many schools have teacher workdays scheduled for mid to late October, making for a nice long weekend. So before the first school bell rings, get the calendar and plan a trip — and give you and your spouse, or even the whole family something to look forward to.
The Inn at Palmetto Bluff is part of the Auberge Collection, known for understated elegance, exquisite attention to detail and gracious, almost intuitive service. A four-hour drive from Charlotte, it is an ideal escape — perfect for a romantic getaway or a family looking to reconnect with nature in Low Country luxury.
At the entrance gate, pick up a CD audio tour for the five-mile drive down the winding road to the village at Palmetto Bluff. From the moment you enter the 20,000-acre development, the landscape will envelope you. Stretching from the May to the Cooper River and finally to the freshwater marshes of the New river, this nature sanctuary in South Carolina's Low Country has long been regarded as one of the most picturesque areas in the world. The property surrounded by majestic live oaks dripping with Spanish moss was formerly home to Palmetto Lodge, a 72-room Southern mansion destroyed by fire in 1926, and later a sports lodge hosting dignitaries and executives, before becoming a resort and residential community.
My husband and I embarked on a long overdue romantic escape. When we arrived at the Inn, a porter greeted us by name with words of welcome and inquiries about our travels. That is one of the many charms of this Southern jewel in the tides; the staff caters to your every whim and makes you feel right at home, never failing to call you by name. At check-in, a tray of freshly baked cookies and hot cider set the tone of Southern hospitality as if we were guests in the elegant home of a good friend.
Nearby, the crumbling ruins of the original mansion stood nobly on the lawn — remains of a grand entry stairway and its pillars echoing the history of a bygone era.
Outside the lobby, a golf cart transported us past Adirondack chairs situated under shady willows near bronze sculptures of playful children on the manicured grass. Outside our cottage porch, bicycles were parked casually as if waiting patiently for us to arrive. The front door opened into an elegantly appointed room replete with pine floors, vaulted ceilings and richly furnished interiors. The floor plan continued onto a screened-in porch overlooking the marsh beyond. The fireplace flickered at the foot of a four-poster bed, and the expansive marble bathroom equipped with a giant claw-foot tub, scented bath salts and a personal steam shower offered a retreat every weary mom dreams of. With a plasma television and surround sound playing softly, I settled in and thought we might never leave our room.
Bicycles are the preferred method of transportation around the resort. With families in mind, the Inn provides toddler trailers, baby seats and bikes with training wheels for guided tours around the property or just for fun. A friendly staffer, who knew us by name, pedaled with us on a hunt for gators, turtles and birds, pointing out an Osprey's nest high in a lonely tree.
Afterward, we enjoyed a casual lunch of poached lobster salad with citrus vinaigrette and a turkey club with applewood smoked bacon at the May River Grill, overlooking the 18-hole Jack Nicklaus golf course. Dining options on the property also include the elegant River House restaurant and Buffalo's for brick-oven pizzas and freshly baked pastries.
Kids Camp for ages 5-17 is a morning filled with fishing, kayaking, crabbing, inner tubing and scavenger hunts and includes evening adventures, too. While the children are away, Mom might want to try the spa while Dad plays golf.
We opted for a couples' spa experience. While waiting, we were provided heated neck rolls filled with tiny beads, bathed in a soothing lavender scent, before being escorted to our private room for a 90-minute signature Auberge Head to Toe treatment, a combination foot and body massage. It was heavenly.
For the remainder of the weekend we took leisurely explorations and discovered a three-story tree house with a hammock, perfect for an afternoon snooze, and a lawn and racquet club with croquet, bocce ball and tennis. At sundown, we witnessed the return of the egrets to Bird Island. Like clockwork, hundreds of snowy-white birds glide in for a landing on a tiny portion of a shared tree limb, dotting the lagoon with their feathery white plumes and tucking their heads in for the night.
Palmetto Bluff invites a slower pace. Most guests choose an extended weekend stay at the resort — a retreat Mom and Dad can enjoy with the whole family or quietly, alone. And like the egret, your family may be tempted to return again and again to share a little piece of this low country relaxation.
The Inn at Palmetto Bluff
An Auberge Resort
476 Mount Pelia Road
Bluffton, SC 29910
(843) 706-6500
www.palmettoblufferesort.com
reservations@palmettobluffresort.com
Voted #2 U.S. Resort by Conde Nast Traveler Readers' Choice Awards (2007)
Rates for cottages and cottage suites start at $450/night.
Larger residences on property are available for weekly rental.