Local Teens Spread Lessons of Fishing Through Creation of My First Cast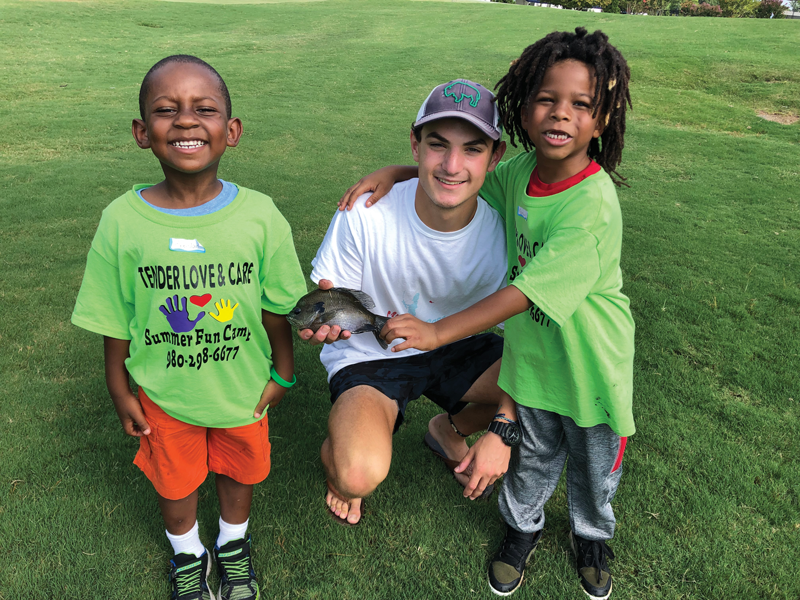 Casting a line and catching a fish is a rite of passage for many children, including brothers Ryan and Evan Hirsch. The two teens created the program My First Cast to share lessons learned through fishing with other children that may not have the same opportunities to experience the activity. My First Cast provides an opportunity for kids from Tender Love and Care Childcare Development and Alexander Youth Network to learn how to bait a hook, cast a line and reel in a fish, and is looking to connect with other children's organizations.
"This organization is an outlet for my brother and I as we both have been fishing our whole lives, and now get the opportunity to share our love of this activity to those who do not have the chance," says Evan Hirsch, a sophomore at Charlotte Latin School. The program also serves as an activity to build character and encourages lessons in conservation.
The Hirsch brothers and My First Cast participants fish at Providence Country Club on Mondays when the golf course is closed. One volunteer is partnered with three children, and each group fishes for about an hour each trip.
"Fishing has not only been a lifelong hobby of mine, but it has been a fun, healthy activity that my friends and I can do anytime," says Ryan Hirsch, a junior at Charlotte Latin School. "It is amazing seeing the smiles on these kids faces when they catch their first fish and it's even better that I am having just as much fun myself." Learn more about the program at myfirstcast.com.