LILY BAKES: Snicker Cake Mix Cookies
The latest from our resident kid baker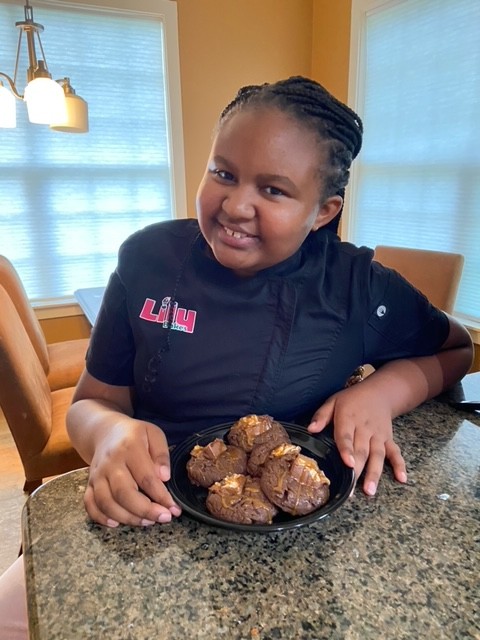 Lily Barnes is our 11-year-old resident kid baker. Each month she shares an original recipe that kids can make at home with their parents, plus a few behind-the-scenes tips and tricks to make your treat extra special. Here is Lily's recipe for Snicker Cake Mix Cookies:
QUICK & EASY SNICKER CAKE MIX COOKIES
I chose to make this dessert because I love chocolate and I thought it would be fun to add my favorite candy bar on top of the cookies. I think others would have fun making this because they can pick their favorite chocolate candy bar as the topping on each cookie.—Lily
*Makes 12-13 cookies
INGREDIENTS
1 box chocolate cake mix

2 large eggs

½ cup oil

⅓ cup chocolate chips

2 Snickers Bars
DIRECTIONS
Heat oven to 350°F and line a baking sheet with wax paper or Silpat.

In a bowl, combine cake mix, eggs, and oil. Mix until combined.

Fold in chocolate chips.

Ask an adult to help you chop the Snickers Bars for topping the cookies.

Using a medium ice cream scoop, scoop and place cookies on the sheet pan equally spaced out.

Bake cookies for 11 to 13 minutes.

Remove cookies from the pan and place on a cool surface or rack.

Optional: finish them off with caramel drizzle.