LILY BAKES: Raspberry & White Chocolate Muffins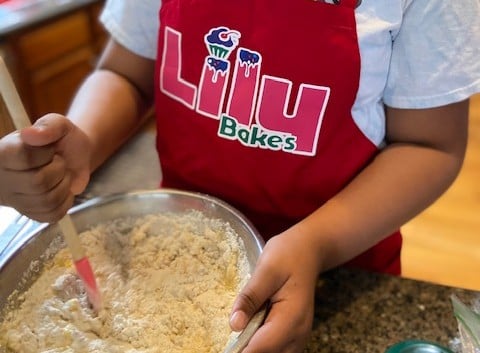 Lily Barnes is our 10-year-old resident kid baker. Each month she shares an original recipe that kids can make at home with their parents, plus a few behind-the-scenes tips and tricks to make your treat extra special. Here is Lily's recipe for Raspberry & White Chocolate Muffins:
RASPBERRY & WHITE CHOCOLATE MUFFINS
I think kids would like to make this with their family because you can pick be creative and add any similar fruit and especially adding the chocolate for a special ingredient.—Lily
INGREDIENTS:
2 cups all-purpose flour
¾ cup granulated sugar
2 teaspoons baking powder
½ teaspoon salt
¾ cup milk, room temperature
½ cup unsalted butter, melted and cooled
2 teaspoons vanilla extract
2 large eggs
½ cups fresh then frozen raspberries
4 oz white chocolate
TOPPINGS:
4 tablespoons butter
1½ cups crushed Golden Oreos
2 tablespoons Raspberry Instant Jell-o
DIRECTIONS
Preheat the oven to 350°F.
Grease a muffin tin generously.
In a small bowl, whisk flour, sugar, baking powder, and salt together.
In another bowl, whisk the milk, butter, and eggs together until well combined.
Add the flour mixture and stir with a spatula just until fully mixed.
Crumble and add in frozen raspberry pieces—and ask an adult to help you cut up the white chocolate into small chunks.
Pour the batter evenly into muffin tins.
In a separate bowl, mix all ingredients for topping until crumbly.
Put topping over each muffin.
Recipe should make 14 regular sized muffins.
Bake for 20-25 minutes, or until a toothpick inserted into the center comes out with only a few moist crumbs attached.
Remove muffins after a few minutes of cooling and transfer to a tray. Enjoy!