LILY BAKES: Pumpkin Spice Cookies with Cream Cheese Frosting
The latest from our resident kid baker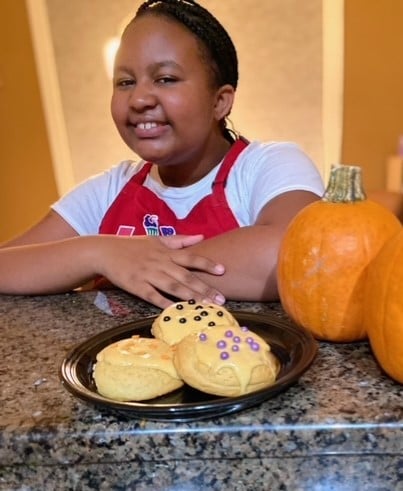 Lily Barnes is our 11-year-old resident kid baker. Each month she shares an original recipe that kids can make at home with their parents, plus a few behind-the-scenes tips and tricks to make your treat extra special. Here is Lily's recipe for Lily's Pumpkin Spice Cookies:
PUMPKIN SPICE COOKIES WITH PUMPKIN CREAM CHEESE FROSTING
I wanted to make cookies that remind me of Halloween and the Fall season. I made pumpkin spice cookies and it really feels festive. I think this was a simple recipe and is very cool to decorate with any frosting and sprinkles that you would like to use.—Lily
COOKIE INGREDIENTS
1 cup unsalted butter softened

1 cup brown sugar

¾ cup granulated sugar

½ cup pumpkin purée

1 tablespoon Maple Extract

2 large eggs

3 cups all-purpose flour

2 tablespoons cornstarch

1 teaspoon baking powder

½ teaspoon baking soda

1 teaspoon pumpkin pie spice

1 teaspoon salt
ICING INGREDIENTS
8 oz cream cheese

1 cup of pumpkin purée

4 cups powdered sugar

½ teaspoon pumpkin pie spice

1 to 2 teaspoons vanilla extract
COOKIE DIRECTIONS
Line your cookie sheets with parchment or silpat and preheat the oven to 350°F.

In a large bowl, cream together the butter and both sugars for at least 5 minutes, then add vanilla extract, eggs, and pumpkin purée. Mix until fluffy.

In a separate bowl, mix the dry ingredients: flour, cornstarch, baking powder, spice, salt, and baking soda.


Combine the flour mixture into the wet ingredients in 3 steps.

Allow cookie batter to set in the fridge for an hour before scooping.

Scoop out cookies leaving space for spreading and bake for 15 minutes.

Once cookies have cooled, ice with cream cheese frosting and garnishes of your choice.
FROSTING DIRECTIONS
In a mixer, place softened cream cheese in a bowl. Add purée and extracts. Mix until smooth. Add powdered sugar and mix on low until combined. Turn to high speed and mix until fluffy. Frosting will be loose, so refrigerate for about 30 minutes.