LILY BAKES: Lily's Banana Pudding
The latest from our resident kid baker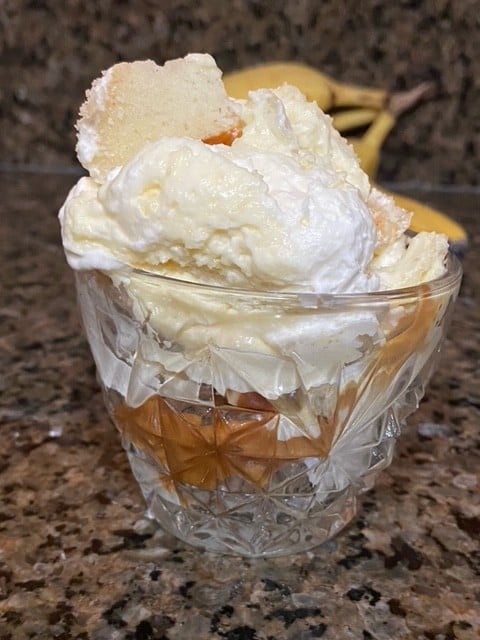 Lily Barnes is our 11-year-old resident kid baker. Each month she shares an original recipe that kids can make at home with their parents, plus a few behind-the-scenes tips and tricks to make your treat extra special. Here is Lily's recipe for Lily's Banana Pudding:
LILY'S BANANA PUDDING
I made banana pudding because my Grandma likes it and asks me to make it for her because it is her favorite dessert. This time I made the vanilla wafers.I think this dish will be fun to make because you get to make the wafers on your own. They will be fresh and yummy.—Lily
Sugar Wafer Cookies:
INGREDIENTS
1 stick salted butter, soft

1 cup powdered sugar

1/2 cup sugar

2 large egg whites, room temperature

1 large egg, room temperature

1

⅓

cups all-purpose flour

2

½

teaspoons clear vanilla extract
DIRECTIONS
In a large bowl, cream together the butter and both sugars until light and fluffy and not lumpy. 


Add in the egg whites and mix until it's smooth. Add the whole egg and mix well. 


Once combined, add the flour and vanilla until mixed. 


The batter will be loose so place it in a piping bag . I don't use a tip. Pipe out nickel-sized dollops onto a parchment or silpat lined baking sheet 


Bake for 10 to 13 minutes and cool. Once baked, the cookies will be crisp and ready for banana pudding layering. Save a few of the cookies from the edge of the pan that may have crisped up a bit more than the others. Crumble them and use for garnish at the end. 

Pudding Cream:
INGREDIENTS

8 oz cream cheese, room temperature

14 oz sweetened condensed milk

5 oz package Instant vanilla or cheesecake flavored pudding mix


3

⅓

cups of cold milk


1 tablespoon vanilla extract



4 bananas peeled and sliced

Whipped cream (add 1 quart heavy cream and 1 cup powdered sugar to a mixer and blend until fluffy)
DIRECTIONS
Use some of the milk to blend the cream cheese in a mixer: combine cream cheese mixture, milk, vanilla and condensed milk in a container.

Add pudding mix and stir well, then fold in half of your whipped cream.

Using a small casserole dish or aluminum disposable cake pan, layer in pudding, bananas, and wafer cookies from earlier recipe and repeat.

Layer the top of the pan with remaining whipped cream and a few crushed cookies for garnish.