LILY BAKES: Cinnamon Biscuit Clusters
The latest from our resident kid baker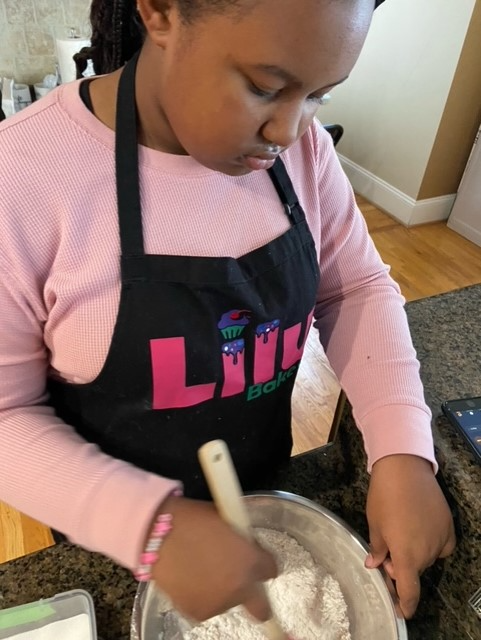 Lily Barnes is our 11-year-old resident kid baker. Each month she shares an original recipe that kids can make at home with their parents, plus a few behind-the-scenes tips and tricks to make your treat extra special. Here is Lily's recipe for Lily's Cinnamon Biscuit Clusters:
CINNAMON BISCUIT CLUSTERS
I chose to make Cinnamon Biscuit Clusters because they remind me of cinnamon rolls flavor but it is in a larger, biscuit form that can be shared with my family. I think it is fun to make at home because it can be used to go along with breakfast or as a dessert with a scoop of ice cream.—Lily
INGREDIENTS
Biscuit Dough:
3 cups all-purpose flour

1½ tablespoons baking powder (aluminum free)

1 teaspoon granulated sugar

1 tablespoon ground cinnamon

1 teaspoon salt

½ cup unsalted butter

1 cup half and half
Cinnamon Sugar Coating:
1 cup granulated sugar

2 tablespoons ground cinnamon

*Mix in a bowl and place to the side
Caramel Sauce:
1½ cups melted butter

2 cups brown sugar

1 teaspoon maple extract
DIRECTIONS
Dice cold butter into small pieces

In a large mixing bowl, combine flour, baking powder, sugar, cinnamon, and salt.

Add diced cold butter and combine into the flour mix.

Slowly add in half and half until a tight dough ball forms.

Flatten out and cut small pieces that will be placed in the bowl with cinnamon sugar and coated.

Place pieces in a greased dish with brown sugar sprinkled on the bottom of the pan.

Once pieces are all in pan, cover with caramel sauce.

Bake in the oven at 350°F for 35 minutes or until the center is fully cooked.

Allow to cool before eating. Flip out of the pan and enjoy. Serve with vanilla ice cream as a dessert, or as a breakfast treat!