LILY BAKES: Chocolate Chip & Peanut Butter Cookie-Stuffed Brownies
The latest from our resident kid baker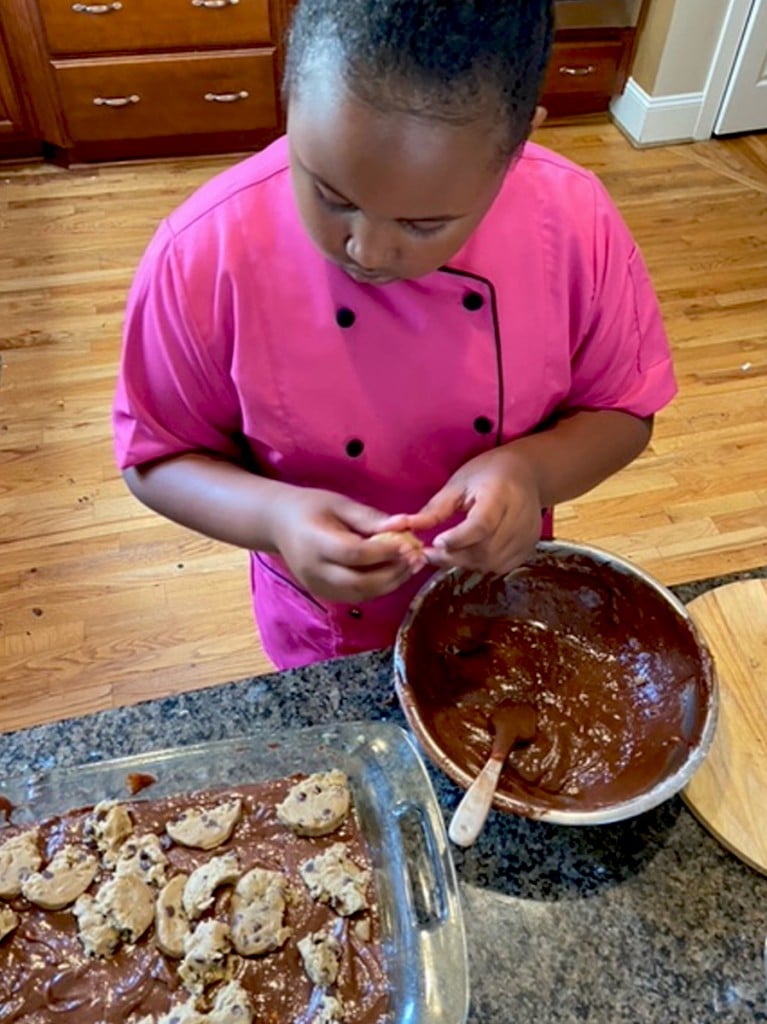 Lily Barnes is our 10-year-old resident kid baker. Each month she shares an original recipe that kids can make at home with their parents, plus a few behind-the-scenes tips and tricks to make your treat extra special. Here is Lily's recipe for Chocolate Chip & Peanut Butter Cookie-Stuffed Brownies:
CHOCOLATE CHIP & PEANUT BUTTER COOKIE-STUFFED BROWNIES
I think this will be fun for other kids to make at home because this brownie is two desserts in one. Cookies inside of brownies is exciting to make and tastes so good!—Lily
Makes 18 servings
INGREDIENTS
1 cup of softened butter
5 eggs
7 tablespoons cocoa powder
2 1/2 cups sugar
1/4 teaspoon salt
2 teaspoon Vanilla Extract
1 1/2 cups flour
1 cup chocolate chunks
2 cups peanut butter chips
1 roll of pre-made chocolate chip cookie dough
DIRECTIONS
Preheat oven to 350°F
Add softened butter, cocoa, eggs, and sugar
Mix together until creamy consistency
Add salt, vanilla extract, and flour
Mix and pour half the batter into a 9 x 13 inch baking dish
Cut the cookie dough into 1-inch pieces and lay along pan over the batter
Sprinkle 1 cup of peanut butter sprinkles over the cookie dough
Pour the remaining batter over the top of the cookie dough
Sprinkle 1 cup of peanut butter sprinkles on top of batter
Bake the brownies for 50-55 minutes, or until a toothpick comes out clean
Serve warm with vanilla ice cream or whipped cream and enjoy!