Levine Children's Hospital Offers More Than Medicine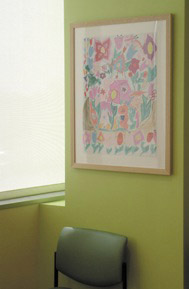 Remember staying home sick as a child? Not only did Mom give you medicine, but she also stayed by your side with hot soup and fluffed pillows. Maybe she even tried to take your mind off your troubles by breaking out the UNO cards.
Providing that kind of nurturing care is the hope of the new Levine Children's Hospital (LCH). Parents can breathe a little easier knowing there's a children's hospital in town —positioned to be one of the nation's best—with a wide range of pediatric specialists, state-of-the-art facilities and a child-centered approach to treating sick and injured kids.
LCH's administrator, Martha Whitecotton, is a former neonatal ICU nurse and a mother of two. She understands the special vulnerability of children and knows that medicine is just one part of the healing equation. She's putting that motherly mindset into practice.
Family plays a vital role in healing. In a traditional hospital, walking into a patient's room may reveal family members lying on floors or draped over chairs and window sills. Not only are parents emotionally drained from their child's illness and treatment, but they are physically exhausted.
LCH is sending a different message to families. "We've designed all aspects of this facility with family support and comfort in mind," says Whitecotton. In fact, there is a concerted effort not to separate patients from their loved ones unless absolutely necessary. This effort is evident in everything from engaging families in treatment and healing to the hotel-style "day rooms" complete with beds and showers.
A happy environment is a healing environment.
Let's face it—children weren't meant to spend their days in a hospital bed. It's hard enough to be sick, but sometimes harder to be treated as a patient and not a normal kid. LCH has created a place that feels fanciful and fun, with toy rooms and teen rooms, cafes and atriums. In the planning stages, Whitecotton gathered a group of local moms and asked "What do we need to put inside this hospital to make it work for kids?" and the LCH team responded to those ideas.
Framed drawings of castles, flowers, race cars and puppies decorate the walls thanks to the 700 school children who participated in Charlotte Parent magazine's "Art From the Heart" contest. The colorful art hangs in hallways and hospital rooms to help young LCH patients take their minds off their treatment or illness.
For Whitecotton, overseeing a place that helps kids heal gratifies not only the medically-minded nurse in her but the nurturing mother in her as well. She hopes parent will never have to spend time with their kids in Levine Children's Hospital—no matter how amazing it is.
But it's nice to know it's there—just in case.
Heather Hayes is a freelance writer and mother in Charlotte.