Kids in Weddings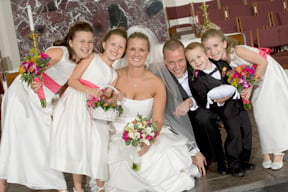 There are few cuter sights than a tiny flower girl tossing petals as she walks down the aisle or a little boy in a tuxedo proudly presenting the rings at a wedding. Children can be an adorable addition to a wedding party, but their unpredictable behavior can give parents colder feet than the groom.
Last summer, Roxanne Boylan's cousin asked her if her son, Conner, would like to be a ring bearer in his Jan. 3, 2009 wedding. Boylan was thrilled, but concerned her 3-year-old would not be up to the task when the big day came. "I was a wreck about his behavior," she says. "I wanted him to do a good job — not scream, run, or decide he wasn't going to go down the aisle at all."
The Boylans spent the months leading up to the wedding preparing Conner for his very important role. "We talked a lot about the service and his big job as ring bearer," says Connor's mom. "More than anything, we reiterated that there would be a lot of people there. We made sure he understood that he had to do a good job, because it was important to my cousin, Blake."
At the rehearsal Connor's parents talked him through what he needed to do: walk down the aisle, holding the flower girl's hand. "We promised (to buy) him a big, blue race car, because a little bribery can go a long way," Boylan jokes, noting their concerns were real. Conner had not been impressed with his tuxedo at the fitting. "His first words were, 'Mommy, take it off,'" says Boylan, "but on the big day, he put it on easily and only complained about the flower being pinned to his lapel."
In January, as Conner lined up with the bridal party for his big moment at the back of the church, everything seemed to be in place. Boylan says, "During the holidays, we would see the dinosaur at Target that yawned, stomped and roared. Conner loved him. While waiting to walk down the aisle he decided he would mock the dinosaur, and he roared in the flower girls' faces! I'm sure he ruined the bride's quiet, nervous moment before walking down the aisle."
In the end, Conner did a wonderful job, and Boylan could not have been prouder of her son. "We were nervous about him not getting enough rest for the day with all the excitement, and we all knew 5 p.m. is the witching hour. He did great though — all the kids did," says Boylan. "As the service ended, I was at the end of the aisle, and he ran up to me and shouted 'Mommy! Good job!' Everyone heard it and giggled."
Calm Nerves, Go with the Flow
Connor's parents felt their 3-year-old was able to comprehend everything that would expected of him. Age and readiness can be important factors when accepting an invitation for your child to participate in a wedding, says Sara Cockfield, a wedding planner from Charlotte Arrangements, who suggests children should be at least 3 or older.
"If children can't walk without assistance, they really don't grasp the concept of what they are supposed to do," she says.
In addition, allowing for enough practice walking up and down the aisle, as well as getting a child comfortable with his or her wedding wardrobe can calm nerves for the big day. Cockfield also has seen children do well when the bride adds some extra incentive.
"I had a bride a few weeks ago who had two young flowers girls. In each of their baskets, under the petals, was a bag of M&M's," explains Cockfield.
There can be as much anxiety for the parents as there is for the child during the service, and you may find yourself not being able to enjoy the wedding. But even if things don't always go according to plan, Cockfield says children often can be counted upon to bring an unforgettable and funny moment to the ceremony. She remembers a recent wedding during which two flower girls, (ages 3 and 5) stole the show with a little mistake that brought a lot of laughter.
"The 5-year-old did great grabbing handfuls of her petals and sprinkling them, but she had no idea that the 3-year-old was behind her picking the petals up and putting them back in her basket!"
Plan a Child-Friendly Party
Having a bride and groom involved with getting the children excited for the wedding can be the most important factor. When Krysta and Will Friedrich made the decision to get married in 2007, they knew they wanted to include the special children in their lives.
"I know some brides don't want children at the wedding, but we couldn't imagine our ceremony without the children who were important to us," says Krysta (Morganthall) Friedrich, who was then a kindergarten teacher at McKee Road Elementary. The flower girl was Olivia McKoy, a beloved student. Friedrich also chose children for whom she had been a nanny the previous summer: 4-year-old Cole Maher was the ring bearer, and his older sisters, Verena and Kylie, were the junior bridesmaids.
"Cole froze up when we were taking pictures and then again when it came time to walk down the aisle," Friedrich remembers. "We folded his special blanket under the ring-bearer's pillow, and he held a groomsman's hand and walked right down (the aisle). All the kids did a great job."
Being included in an age-appropriate way is a great way to make children in a wedding party feel part of the day. Krysta and Will chose to take the children in their wedding party to paint pottery at Dish It Out, instead of making them sit through a formal rehearsal dinner.
"Each child painted their handprint with their name and date on a pot," says Friedrich. "It was a great way for Will to spend time with the kids, and they loved doing it."
PHOTOS:
Krysta and Will Friedrich pose with (l-r) Kylie Maher, Olivia McCoy, Cole Maher and Verena Maher. Photo by Sean Busher.
Kelly Yale is a Charlotte Parent blogger, a freelance writer and mother of two boys.