Keeping Healthy at Camp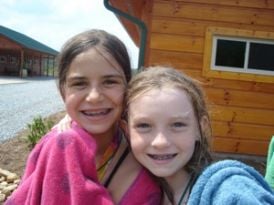 More and more children are spending their summers inside, as parents' concerns about safety and the proliferation of electronic media grow. With many parents working outside the home, kids are spending extra hours in front of the television or computer, and making frequent raids on the pantry.
This means even children who are at a healthy weight could be at risk of adding pounds. With more than one-third of North Carolina's children ages 10-17 already overweight or obese, according to a recent report "F as in Fat: How Obesity Policies Are Failing in America 2009," and given what is known about the long-term risks of being overweight — diabetes, heart disease, stroke, plus a host of other chronic conditions — the childhood obesity epidemic is one of America's top, current health challenges.
The good news is that parents can challenge this trend and inject extra fun into summertime by taking advantage of another of childhood's treasures: summer camp.
Picking Up the Pace
"Researchers have found children may be more susceptible to obesity during the summer months," says Karla Henderson, professor of Parks, Recreation and Tourism Management at N.C. State University and a frequent contributor to research on the benefits of summer camp. Structured programs, such as day camps and residential camps, can combat weight gain by engaging children and teens in activities that encourage exercise in a fun way. The emphasis on recreation also can reduce stress and enhance their sense of well-being, she says.
"Sometimes (kids) forget how fun it is to be outside interacting with others and playing," says Dave Bell, camping director for the YMCA of Greater Charlotte.
Julie Toone of Winston-Salem sends Noah, 10, and Ben, 7, to Camp Eagle's Nest in Pisgah Forest knowing they will enjoy their time outdoors. "Each day they can choose from a variety of activities, from art to music to sports," she says. "These activities are presented in a fun, age-appropriate and noncompetitive way that demonstrates that physical activities should be a part of our everyday life and are fun to do."
Camps that offer children many options for physical activity — including skill development, games, and outdoor adventures, such as hiking and canoeing — provide a range of new interests that campers can take home, making them more likely to stay active.
"Kids who get better at activities gain confidence and increased enjoyment and are, therefore, more likely to continue the activity outside of camp," says Bell.
Putting Down the Junk Food
The other culprit in summer weight gain is, of course, food — specifically, the highly processed, high-fat foods kids are tempted to reach for when they're free to make their own choices.
As a licensed dietitian and nutritionist, Mary Brown sees first hand how weight can creep up over the summer. "Parents will have the best intentions to have healthy foods available to their kids during the summer, but (when) ease of preparation is important, convenience foods find their way into the kitchen," she says. "When the child has free range in the refrigerator and pantry, it can be easy to gain weight without realizing it."
If your child tends to head for junk food during the summer, camp may be one way to get eating habits back on track. Many camps emphasize fresh fruits, vegetables and whole grains in meals, and campers are encouraged to try new foods that provide them with the fuel they need to keep up with the increased activity.
Camp Eagle's Nest features a garden-to-table program that involves campers in meal preparation. "(They are) helping harvest basil from the garden that becomes the pesto for our pasta or making the dough for the pizza we serve for lunch," says camp director Paige Lester-Niles. As a result, "campers understand where food comes from. They also taste the difference of our food versus fast food and are able to feel how much better they feel after eating whole foods," she says. The rigorous pace of the day also helps discourage snacking due to boredom or restlessness.
Brown applauds this, saying, "Routine is really important for meals. It keeps us from thinking too much of food as a reward."
Weighing a Weight-loss Focus
For children and teens that struggle with weight concerns, the additional support provided by a camp with an explicit weight-loss component could be the key to attaining that goal.
Camp Shining Stars, a nonprofit program based at Barton College in Wilson, provides campers with healthy meals and a structured day, offering a variety of activities. It also offers nutritional education, enhanced social and emotional support, and a system of rewards to help kids meet their weight-loss goals.
"The five (pillars) of our program are structure, support, accountability, freedom to be honest and a reward system," says Ira Green, Camp Shining Stars director. The close relationships campers develop with one another and with staff members provide continued support as campers strive to maintain their progress at home. Campers who update Green about their weight often receive gift certificates from him to celebrate their success.
"I made some of the best friendships of my life there," says Nicolle Murray, a former teen camper who went to slim down and combat a family history of diabetes.
Brown affirms that the emphasis on mutual support and noncompetitive activities could be especially beneficial to overweight children or teens who lack the self-confidence to want to participate in a traditional camp. "Weight-loss camps will likely tailor their activities to put these kids at ease and help them feel comfortable in any new activities they try," she says.
Making it Stick
Whether the interest is weight loss or just an emphasis on healthy behaviors, a fun-filled session at a quality camp can send children home with wonderful memories, new friends, and a commitment to keeping that spirit alive through engaging in the activities they enjoyed there. Parents can support their children in their newfound skills and interests by making time for healthy activities throughout the year.
Nicolle's mother Pam says they joined a gym so Nicolle, a high school athlete, can stay active when she's out of school. The change has been more than physical. "Her self-esteem, how she feels about herself, her whole attitude is better," says Pam.
"I learned to be comfortable in my body, no matter how it looks or what the scales say," Nicolle adds. "It's about feeling good and being healthy."