Inspire Kids to Make A Difference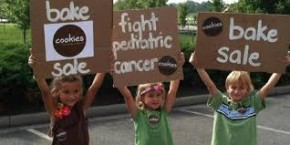 My kids are so lucky! They are healthy. They live in a nice house, have plenty to eat, clothes to wear, and (according to me) have everything they need (notice I didn't' say 'want"). My kids recently learned just how lucky they are when our neighbor, and good friend, Pieter, died of cancer at the age of only 5 years old.
This tragedy has really shaken my kids up and they ask the typical questions like, "why?" Why did this happen to Pieter? Our conversation about how bad things happen to good people has extended from children dying of cancer, to why some kids in Charlotte are homeless and sleep in a car, to why children in other countries have no food to eat and die of starvation. These are tough questions with hard and complicated answers.
But, what comes after the conversation? To me, the answer is to get kids involved to help solve the problems that they are concerned about!
Teaching kids that they can make a difference to the lives of those in need is an amazing lesson. It may be that they help in a small way like helping you bring food to a homeless shelter, or baking cookies for a fundraiser, or collecting money on Halloween for UNICEF. They may even decide to get really active and start their own charity, run their own bake sale, or raise money for a charity in some creative way. Just getting kids involved will help them learn compassion, empathy, generosity, and to be grateful.
Please encourage your children to help make a difference to others in need. Below are just some ideas, but I would recommend finding out what your children are passionate about before choosing a charity. They need to want to help and be committed.
Cookies for Kids Cancer – Kids run or participate in a bake sale and all proceeds go to pediatric cancer research. Click HERE
Trick-or-Treat for UNICEF – Order free UNICEF boxes online for your children and their classes and have them collect money from family and neighbors on Halloween. All money collected goes to help kids around the world. Click HERE
Local Charities – Here is a website which lists a ton of local charities. Click HERE.
Raising kids who are polite and have nice manners also includes rasing kids who are grateful for what they have, care about others, and want to make a positive impact on others.
If you have any etiquette questions please email me at aimee@finesseworldwide.com or go to my website to look at the many videos I have on various etiquette topics. I am also running a children's etiquette workshop on November 2nd at Carmel Country Club from 2:00 – 5:00 for 5th – 7th graders. To sign up click HERE.