In Step With… Cara DeFelice
The latest in our series of conversations with Charlotte parents to know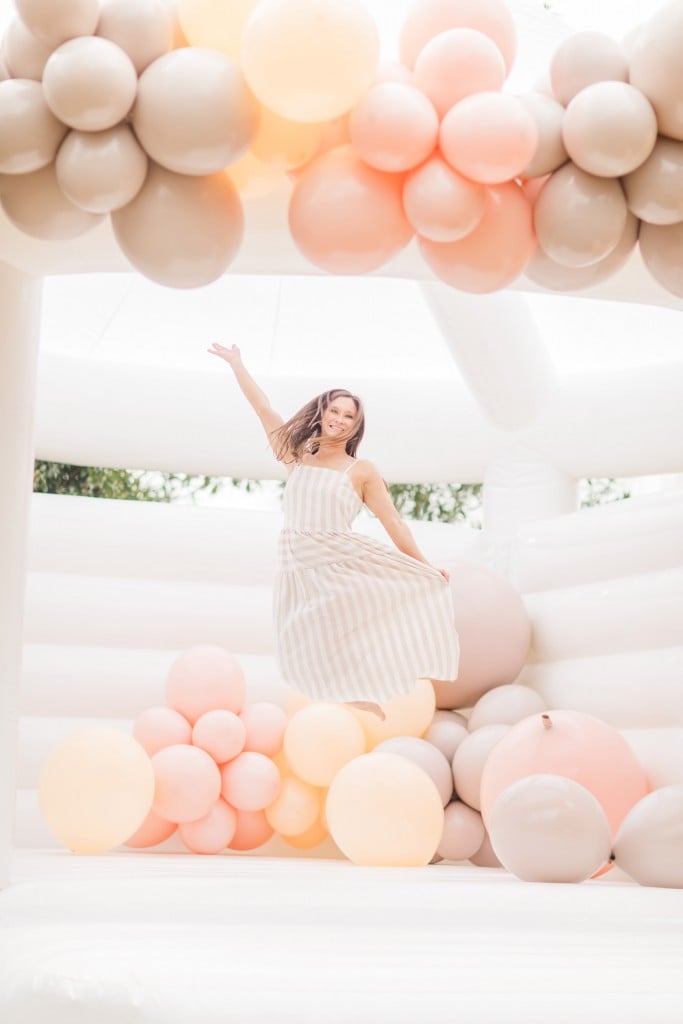 Meet Cara DeFelice, owner of The White Bounce House of Charlotte, a luxury inflatable that can be customized for birthday parties, baby and bridal showers, wedding receptions, bat mitzvas, and more. We caught up with this busy wife and mom to find out how special events are bouncing back after a tough year.
Age: 27
Family Status: Married mother of two girls, ages 3 and 1
Hometown: Weddington
Currently Lives: Waxhaw
Currently Reading: Present Over Perfect by Shauna Niquist
Favorite Sports Team: Carolina Panthers
I first got involved in special events when I… was planning my daughter's first birthday. I was really wanting to rent a bounce house for the older toddlers attending but didn't want the typical primary colors with my "one sweet peach" birthday theme. I was really wanting an elegant bounce house but couldn't find one, so I purchased one! Here I am today with The White Bounce House of Charlotte.
I have been running The White Bounce House for... three months.
One thing I want parents to know about The White Bounce House is… It's a beautiful blank canvas of fun that can be dressed up with balloons and florals to match any theme or color scheme, but we don't compromise safety for beauty. Our bounce houses are fully insured, cleaned, and inspected.
One thing I want kids to know about The White Bounce House is…We want you to have the most fun possible!
The COVID-19 pandemic has forced me to change… The White Bounce House was born as Covid restrictions were being lifted. We have always taken sanitation very seriously, and each bounce house has to pass our in-house inspection sheet.
After the pandemic, I'm most looking forward to… parties, celebrations, and connectedness! I will never take that for granted. I think it will be like the 70s again!
If I'm not at work, you're likely to find me… Moming. My love language is quality time, and I think that's why I have such a passion for the event industry. If I'm not working, I'm out supporting other great, local, small businesses with my family!
Visit The White Bounce House of Charlotte or follow them on Instagram or Facebook to see customizations for various events.