How To Pack A Better Lunch In 5 Easy Steps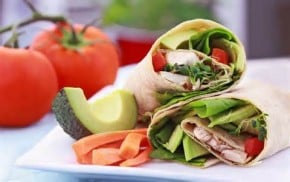 Packing your lunch for school or work not only saves you money, but it's also a great way to maintain a healthy lifestyle. To make sure your lunch is nutritious and balanced, be sure to include at least three of the five major food groups. Include grains for energy, lean proteins to satisfy your appetite, a rainbow of nutrients from fruits and vegetables, and dairy to keep your bones and teeth healthy. It's okay to include a small treat, but avoid lunch pitfalls, such as highly processed lunch meals and sugary soda's.
Start with a grain.  Grains contain carbohydrates, fiber and B vitamins which provide the physical and mental energy you need to fuel your day. Choosing a whole grain, will not only provide energy, but also provides fiber and nutrients. Fiber contains important nutrients to keeps your colon healthy, and make you feel full longer. If you love sandwiches you can use 100% whole grain breads, tortillas, and pita's. Make half of your day's grains whole!
Second, be sure to include a protein source such as a lean meat, tuna fish, beans, nuts or eggs. Protein is a powerful nutrient. Protein foods are an important building block for muscle tissues, but they also help fight infections, repair and maintain other body tissues, as well as help to satisfy hunger.
Next, add a rainbow of nutrients. This is where your fruits and vegetables come into play. Choose your family's favorites or try something new. Be creative and have some fun with these healthy ideas:
-Top sandwiches with assorted greens, fresh basil, sprouts, sliced cucumbers, onions, and/or tomatoes.
-Dice up a large fruit salad on Sunday night. This provides quick, ready to go lunch sides for everyone!
-Take a couple of fruits such as apples and plums, slice them up and place them together in a zip lock  bag.
Add a serving of dairy. Choose non-fat/low-fat versions of yogurt or milk, or alternatives. Greek yogurt is a great choice because it packs a large amount of protein. Other good choices include low-fat cheese sticks and cheese cubes.
Last, but not least, hydrate! Water is best: Other options include 100% fruit juice or skim and 1% milks.
Freeze & Go Lunch Time Savers:
Make a week's worth of sandwiches ahead of time, and wrap them in Glad's Press and Seal wrap, then label and freeze. Each night, simply pull out the amount of sandwiches needed and place in the refrigerator to defrost for the next day's lunches. Or, you can place the wrapped sandwich in your lunchbox in the morning, and it will defrost by lunchtime.
Just remember, mayonnaise and most fresh toppings such as tomatoes and lettuce do not freeze well and need to be packed separately in a zip lock bag or a container.
To keep foods cold: Use an ice pack and an insulated bag or try a frozen water bottle or juice box to keep foods cold until lunchtime.
With 19 years of experience in the health field as a registered and licensed dietician, Tricia Azra's passion for "helping people live a little healthier" has not waned. She loves her job as the registered dietitian at the Carolinas HealthCare System's LiveWell Health Center at the McCrory YMCA. Tricia looks forward to inspiring change and serving as a resource to the Bacons and McMasters during the 2015 Fit Family Challenge.
Want your family to get healthy, too?
Join the challenge to get moving with your family toward a healthier lifestyle and to win fun family prizes. Find out more and sign up here.